Hey, wanna Kik me?
No?
Well, I wasn't aware that Kik had been verbified either – but it's no surprise. The dead-simple messaging app is nothing short of a runaway hit among the text-crazed, sociallysavvy younger set. And with SMS text messaging on the decline for the first time ever, non-SMS alternatives like Kik are soaring. To put that in perspective, over the last few months, Kik has added 100,000 new users – per day. Kik is now 30 million Kiksters strong – with no signs of slowing down.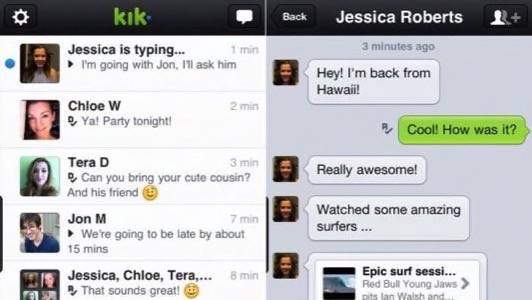 New Kinds Of Content To Swap
On Thursday, Kik expanded the kind of content users can share on the service. Up till now, the service was just a method of texting without incurring SMS charges. With the update, Kik now lets its massive user base send three new types of content – but that's just the pilot set. Kik founder Ted Livingston envisions the app as a platform for instantly sharing content – any kind of content – plain and simple.
In a Skype interview, Livingston's casual enthusiasm for his product belied both his precocity (he is 24) and his earnest commitment to maintaining the general, shall we say awesomeness, of his product. "We haven't really added any user-facing feature since South by Southwest 2011. And the reason why is like, we looked at our app; for us, this is exactly what we want. We want it to be very clean, we want it to be simple, we want it to be this very raw messenger."
Keep It Simple, Kik
Livingston insisted on developing the new release at a snail's pace to keep from wrecking the service's essential simplicity. The update handles this dilemma cleverly, offering two branching paths: keep using Kik as is, or swipe to the left and access the new feature set.
The new Kik launches with Image Search, YouTube and Sketch, a Draw Something-esque option that lets users swap digital doodles. The app conjures the new content offerings as "Cards," designed to slide to the fore and be hidden just as easily. Kik's Cards are built entirely in HTML5 and woven into Kik's existing native mobile platforms. The result is a surprisingly smooth kind of optional upgrade, so users loyal to text-exclusive Kik can ignore the new stuff altogether. "If you just want the core experience, it stays exactly the same," Livingston says. "We watched like a lot of other apps add all these features and try to innovate, just to rip out all the features 18 months later – and sort of alienate their user base along the way.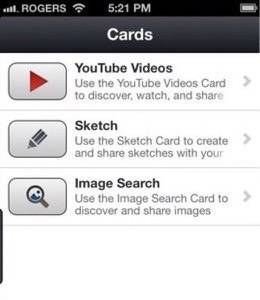 Kik's appeal is easy to see. The messenger is simple by design, accessible on every platform imaginable (even BlackBerry, how kind!) and user handles aren't linked to a phone number. According to Livingston, Kik is the perfect unifier. While SMS alternatives like iMessage are platform specific (no iOS or OS X? no iMessage), Kik is universal and not linked to anything like an Apple ID. Just pick a handle, hand it out and Kik somebody.
It's All Free – For Now
So far, Kik really isn't all about the Benjamins. With $8 million in funding tucked away, Livingston declines to litter ads throughout the app, and dismisses premium models as arbitrarily holding features hostage to turn a buck. "We make zero dollars of revenue today," says Livingston, who explains that the newly multimedia-rich Cards could also be Kik's ticket to profitability – though that bit hasn't quite been hammered out yet.
One of the most interesting things about the messaging app, is that Kik has actually crept onto other social platforms. A search for #kik on Instagram yields more than 4 million results, and that's just the tip of the hashtag iceberg. Hybrid Instagram/Kiksters – most of them teens posing for their front-facing cameras – generously sprinkle tags like #kikme #kikback and even #kikmeimbored into their photo posts, inviting adds on the messaging platform.
Joining Kik, I thought my 20-something cohort might be better represented among those 30 million users, but Livingston remains my only friend on the app. It'll be interesting to see where Kik's enthusiastic, duck-faced users steer the social chat app next.