With Microsoft and Salesforce.com locked in market and legal combat, the "open-source" (see update below) SugarCRM is quietly building its own empire. The company has landed over 6,000 customers with its focus on customization and openness. With the newly released SugarCRM 6, the company is attempting to improve its user experience while retaining the flexibility that's gotten it this far. Also, SugarCRM is also now available on Windows Azure and has integrated document collaboration via Box.net.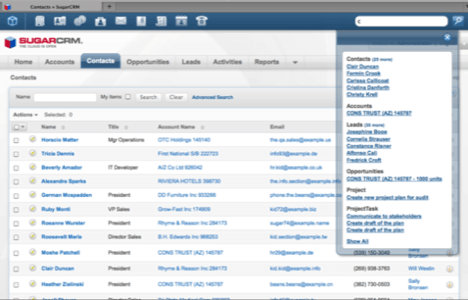 As we reported in April, SugarCRM 6 focuses on improving its speed, search capabilities, and user interface. Notable in the new version is the use of AJAX menus to facilitate multitasking.
Update: However, SugarCRM has said on its forum that the new SugarCRM 6 theme will only be available in the Professional and Enterprise editions of the product, not in the free Community Edition. It appear that SugarCRM is not releasing the source code for these changes, leading some to question the company's commitment to the open-source community. SugarCRM has been criticized in the past for abusing the term "open-source."
Much of SugarCRM's power comes from its integration with other applications and the apps in its SugarExchange marketplace. The company has worked with its partners to ensure that SugarExchange apps would work with SugarCRM 6 right out the gate.
The latest addition partner to integrate with SugarCRM is cloud storage provider Box.net, enabling SugarCRM uses to collaborate on documents in the cloud from within the CRM suite. (With Box.net competitors Memeo offering Google Docs integration and Nomadesk offering integration with Zoho, perhaps the next killer app will stitch together various cloud drives.)
SugarCRM has built much of its business on the fact that, by virtue of being open-source, it's far more customizable and flexible than proprietary competitors. Salesforce.com Enterprise, for example, has a limit of 25 custom tabs and 200 custom objects (Update: Salesforce.com Unlimited has unlimited custom tabs and objects, but costs twice as much as Enterprise). We've said before that the flexibility of open-source applications will be a boon to enterprises dealing with information overload. Comments from our April post suggested that customers particularly like the ability to hide irrelevant functions and information from certain users. Update: Those access controls are only available in the Enterprise and Professional Editions.
Yesterday, SugarCRM announced that its product is now available for Microsoft's cloud platform Azure, expanding the softwares options for cloud deployments.