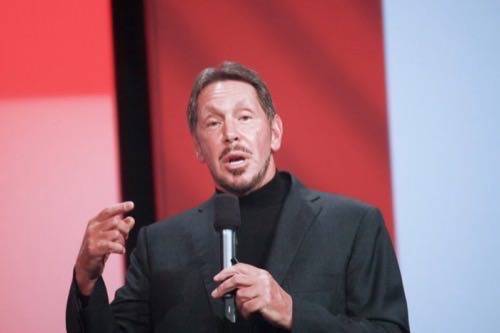 Ruthless competitiveness is what Oracle Chief Executive Larry Ellison uses to win in business. So no one should be surprised that how he defines the cloud depends on what's needed at the time. Inevitably, this sometimes shows the emperor has no clothes, or at least is down to his Armani skivvies.
While something in Oracle's massive portfolio may fit the industry definition of a cloud service, it is not the company's new integrated hardware and software bundle that's meant to provide the infrastructure for private clouds, according to David Linthicum, chief technology officer and co-founder of cloud consultancy Blue Mountain Labs. What Oracle is really selling, or in this case renting, is preconfigured application servers for the data center.
"Now we know how Oracle is addressing this shift in the market: by renting its stuff and calling it a cloud," Linthicum says.
Oracle's Cloud Strategy
Oracle's cloud strategy has been challenged before. Charles Babcock, who has covered the cloud for years for IT trade magazine InformationWeek, named Oracle the number one "cloud washer" of 2011. That term refers to companies whose cloud products are mostly old technology with the word cloud added to the name.
At the time, Babcock took aim at the Oracle Exalogic Elastic Cloud, "a name that contains so many contradictions of the definition of cloud computing that it threatens to render the term meaningless."
"It's an old-fashioned appliance that's been renamed 'a cloud in a box,'" he wrote.
Oracle Can't Move Fast Enough
Multi-billion-dollar companies like Oracle can't simply turn a switch and re-architect their technology to meet customer demand for something so dramatically different as cloud computing. This is why Ellison refused to acknowledge the cloud even existed until Oracle OpenWorld in September 2010. With startups eating away at his software business, Ellison needed to do something fast. Confusing customers with verbiage was the quickest way to buy time.
Fast-forward two years to this year's Oracle's OpenWord conference in San Francisco, and cloud became Ellison's favorite word to essentially describe renting Oracle data center technology, and letting the company handle the maintenance. Instead of real cloud computing, Ellison introduced what was mostly a new way of buying last-generation technology.
What's In Store
This year should get really interesting. Oracle is expected to start feeling even more pressure from true public cloud providers, such as Amazon Web Services, Google, Microsoft and Rackspace, as well as private cloud providers like Eucalyptus. If history is an indicator, then Ellison is likely to release the attack dogs in his marketing department to try to discredit rivals and confuse customers, while the company plays catch up.
For example, Oracle responded last year to tough competition from IBM in the hardware business by releasing ads with unsubstantiated claims that Oracle servers were much better. Three times the National Advertising Division of the Better Business Bureau pressured Oracle into removing the ads that appeared as full-page spreads in The Wall Street Journal and other publications.
The last ad, pulled in November, claimed Oracle's Exadata server would run five times faster than IBM's Power Server "or you win $10,000,000." The NAD found that the ad did not provide "any speed performance tests, examples of comparative system speed superiority or any other data to substantiate the message."
Ellison is sure to use this kind of bare-knuckles competitiveness in battling cloud rivals. It's in his DNA. Let's not forget that in January, Oracle Team USA, the America's Cup champion team owned by Ellison, was fined more than $15,000 for spying on the Italian team.
So cloud watchers should sit back and get comfortable. Ellison is likely to provide quite a show and a lot more smoke and mirrors.
Photo by ShutterStock.