Written by Alex Iskold and edited by
Richard MacManus.

With all this buzz around the potential
Yahoo! acqusition of Facebook for $1Billion, we think it's time to do the social networking
faceoff.
Arguably of all services in the new social era, the social network sites hold most
promise. The reason for this is that these community-driven sites have the ability to
leverage their user base across other social web verticals. For example Facebook is also
a photosharing service, MySpace is also a music sharing service and LinkedIn is a
vertical search engine for Jobs. So the stakes in the social networking game are much
higher. Naturally then, the social networking space has received major attention from
premier venture capitalists. Please refer to our Web VC Chart post,
where we we worked out the portfolios and sizes of the investments in this space.
Another natural trend that we are seeing in the space is demographic
segmentation. Most social networks target a segment of the population – either
explicitly as part of their business plan, or as a byproduct of the rules of network
formation. LinkedIn is focused on Business Professionals, Facebook is focused on college
students (although it has ambitions to go into the business space), while MySpace targets
teenagers, college students, music and hip culture.
In addition to those three, Bebo is making some major waves and has surpassed
MySpace in UK and New Zealand. Bebo's focus is quite similar to MySpace, although the
pages are not as chaotic. And now there is also an interesting twist in the whole social
networking space – the trailing and tired Friendster recently was awarded
a patent on some key ideas used in all social networking sites. Knowing that
Kleiner Perkins is behind the company, we can expect some moving and shaking soon.
The Social Network Faceoff Chart
(*) The active user estimate is based on the assumption that MySpace has 70M users. We
then used Alexa daily pageviews number to estimate the number of active users for other
social networking sites. Note that the number for TagWorld agrees with the number
given by TechCrunch in March of 2006. This is not surprising since it appears that
the traffic for TagWorld had been on decline. On the other hand there is a big
descrepancy in Bebo's value. This can be attributed to either inaccuracy of Alexa data
outside of US or inactivity of Bebo users. Note that TechCrunch gave
the number of registered users, while we estimate the active users. The truth is probably
somewhere in between.
Traffic Dynamics
We can gain additional insights by looking at the traffic dynamics over the past year.
Alexaholic only allows 5 sites to be compared at once, so we had to make 2 charts. Note
that LinkedIn appears in both to help correlate them.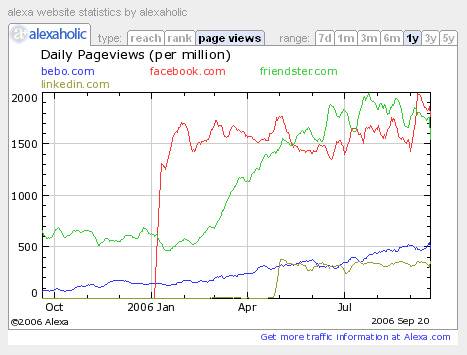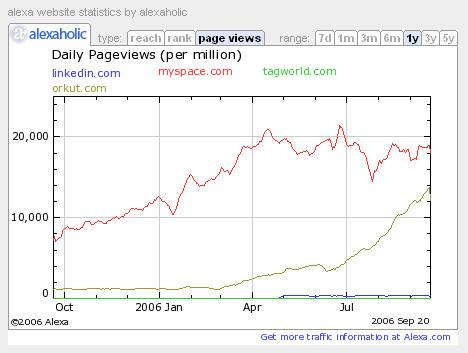 Orkut is rising?
From the charts we clearly see that Orkut is gaining, but why? The feature set and the
user interface are not impressive. The answer has to be its affiliation with Google, but
we found another interesting chart, within Orkut itself: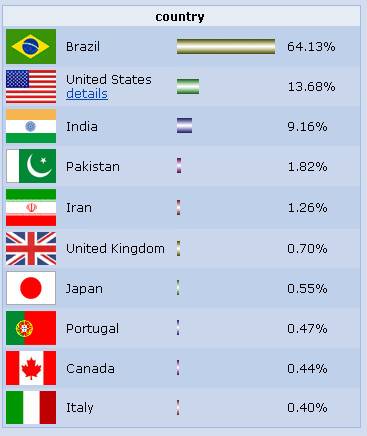 But perhaps it is not just that Brazilian users dominate, but also the attitude and confidence of Orkut. Here is a
paragraph from Orkut's about page:

Conclusion
MySpace is an undisputed leader on all counts, but Orkut is on the rise and it's
moving very rapidly. Facebook is in excellent shape – hence the interest from Yahoo!. It'll be interesting to watch if LinkedIn expands its user base and offering. At this point, TagWorld looks
shaky, while Bebo does not look as strong as it has been portrayed recently. And the
old timer Friendster is not out of the game yet – it's doing just fine. All and all it
looks like the battle for the gold (MySpace, Orkut) and for the bronze (the others) is going to heat up.