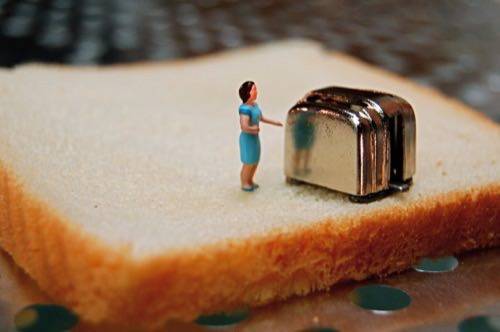 Guest author Scott Gerber is the founder of the Young Entrepreneur Council.
Feel like a big fish in a small pond? Sales numbers healthy but not growing anymore? There are a lot of moving factors to weigh before you start seriously scaling your business. When should you pull the trigger and take things to the next level?

I asked 15 entrepreneurs from the YEC how they knew it was the right time to scale their businesses and why. See what they had to say, below.

When I Outgrew Old Goals
The timeline that I had set for myself when I originally started was hit in a shorter time period than I had anticipated, and I knew I had reached that point of being a "big fish in a small pond." My goals were too big, my vision was too great and I knew I needed to expand and scale my business into something greater.
It's just that simple. Once you've realized you've made your original goals too attainable by the standard you've set, then scale—expand, but make sure you have the right resources and funding to do so.
—Rob Fulton, Exponential Black
When I Calculated My Efficiency Ratio
The efficiency ratio is calculated by dividing operational expense by revenue. A lower ratio demonstrates higher efficiency. When the ratio is low, demonstrating higher efficiency, I tend to initiate scaling.
When We Made Magic
At RTC, it took us eight years to refine our model because we were inventing an approach to our industry (book writing and thought leadership) that never existed. We had to invest significant time and energy to arrive at a model that loves our clients (authors/thought leaders) through their entire journey (writing, branding, publishing, community building, monetization).
Over the years we created a collaborative writing model, publishing house and design divisions. While our quality has always been good to great, earlier this year we started seeing our work become beautiful, magical. Then later this year, we became a HubSpot Agency Partner to solve for community building. Now it's time to scale. My first step was to free my staff to do whatever it takes to create their most brilliant work.
—Corey Blake, Round Table Companies
When We Reached 80 Percent Capacity
We scale a little before we feel we're ready. If you wait till you feel 100 percent ready, the moment has likely already passed you by. First step: We add resources—both foreign and U.S. service companies—to scale. This has been easier and faster for us than going the employee route. The rule of thumb we use—when you're at 80 percent capacity, scale up.
—Joshua Lee, StandOut Authority
When We Had a Strong Financial Buffer
As an advocate of bootstrapping, I knew it was the right time to scale when we had more than enough funds to hire new team members and operate comfortably for the next few months even if sales took a sharp downturn. We made sure that we would never have to lay off anyone after hiring too aggressively, and knew our own limitations in terms of how quickly we could scale.
With this self-awareness, we avoided a lot of other problems overambitious entrepreneurs run into, which is excessively high burn rates and underwhelming growth. We want to build a business that has staying power, and have made enough mistakes in the past that we now know how to avoid them.
When We Increased Monthly Sales Growth
We knew it was time to scale our business because we were running out of inventory all while having month over month sales growth. The first step we took was effectively starting to forecast, which we didn't do prior, especially as a startup not knowing which bags would sell the best and at what volume.
We now look six to 12 months out and we start planning our manufacturing so we know what we'll have on hand and when. We also make sure it's reflective of our overall sales objectives for the coming year. It's all about effective planning. That's key.
When We Realized the Opportunity Cost Was Too High Not to Try
About 18 months into building Modify, I started to think about our growth and what could be next. We had a strong brand, a small but passionate fan base, some major licenses (Major League Baseball), distribution (Best Buy) and press (New York Times, Men's Health), but we just weren't scaling. And I realized that everyone on our team could be more successful if they worked elsewhere.
We had a nice foundation, but in a meeting, our entire team decided that we would rather aim high and flame out than not even try. After building consensus, our first step was to build an investment pitch deck that revolved around a vision that we could stand by. We had so much alignment that if an investor said she would give us money only if we followed our plan exactly, we would say yes. We then raised money!
—Aaron Schwartz, Modify Watches
When We Didn't Want to Lose First Mover Advantage
One of the best ways to know you're ready for scale is when you start to notice competitors trying to shift into your space or offerings. You should start to scale more rapidly to not lose first mover advantage. It's important to start scaling once you really understand your business in-depth and have the systems in place to run smoothly even at larger growth.
Once we determined we were ready for scale, we raised additional capital to grow our resources and bandwidth so that we could pursue larger market share and solidify our position in the market with our unique offerings.
When We Had to Turn Down Potential Business Opportunities
We otherwise would have accepted this business, but our resources were engaged and we wanted to associate ourselves with good brands and interesting projects. We also discovered that the pain points we address are the same across state boundaries. We knew if we could replicate our model in two different cities in different states, then we were onto something. We knew it was time to scale.
When We Reached a Point of Comfort
Our user experience was fantastic and our processes were in line. At this stage of our product, we realized it was time to scale. We began by building our team and putting the right hires in place. We focus on bringing in those that can both lead a team and help build our infrastructure.
—George Bousis, Raise Marketplace
When We Were Able to Define a Repeatable Sales Model
Once you've taken an entire sale from prospect to close in a predictable and controlled fashion, you're ready to teach that model to multiple salespeople, partners, resellers, or automate it. When we landed our first Fortune 500 company via intentional efforts, we realized that this model can be repeated by others many times over. We hired a number of salespeople and empowered a number of partners to do so and started to see the process grow faster than linearly.
When Sales Growth Stalled
When my business started to hit ceilings and generate similar sales from previous quarters, I knew it was time to scale. When it comes to scaling a business, my approach has always been the same—to grow the business by becoming a stronger brand.
The first step was finding the right person for the job. I hired an employee with experience in branding and made sure to hire someone with experience in the social media marketing, content marketing and public relations. Upon hiring who I felt best fit my requirements, I explained the situation and the goals and worked on creating a plan of action and a timeline, allowing us to work on everything step by step and move forward.
—Stanley Meytin, True Film Production
When Successful Realtors Wanted to Join Us
We knew that a franchise model was a logical next step because we were constantly getting inquiries from successful brokers who wanted to know more about our model. When we chose our first franchisee, we deliberately aligned ourselves with a professional who had a solid reputation for ethics and high performance. That's a strategy we've used in every market we enter.
—Kuba Jewgieniew, Realty ONE Group
When We Noticed Healthy Customer Traction
Don't wait until you have a huge customer base to reinvest in your business. Scaling can mean different things to different people, but early on, we knew to keep investing in our business. This doesn't happen instantly or at a specific point in time, but I think you can say: If you're getting customer traction, they're paying for it, they're happy and they're continuing to use your product, then keep investing.
Then you can scale in different ways, like raising your first investment round. Those investors will want to see that customer traction. Then you start scaling in terms of adding salespeople or building more product.
When We Had Proof of Concept and a Scaleable Infrastructure
In order for it to make sense to scale, you need to know that there are enough buyers for your product, so you should start by determining the addressable market. When we started Yodle, it was always our goal to scale because we knew we had a large addressable market—small business owners.
We knew that the time was right when we had a product that could scale. Don't try to go big on a minimum viable product. Before you decide to scale your business, ask yourself, "Do I have proof of concept? Have I proved that the product will sell? Do I have the infrastructure in place to scale?"
Lead image by JD Hancock