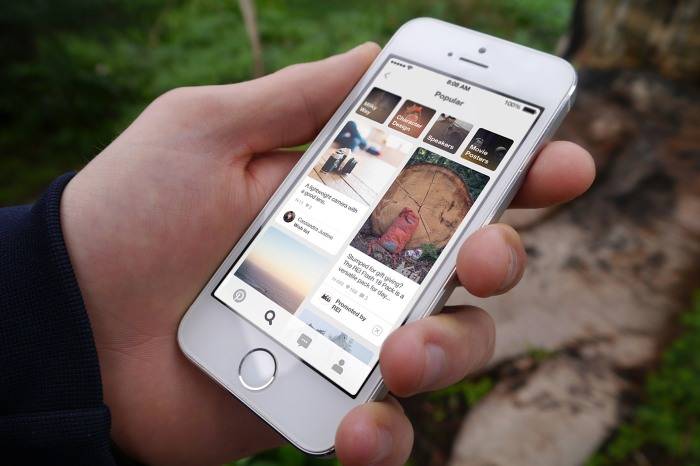 You'll soon see increased ads on Pinterest—if you squint. After nearly a full year of testing, Pinterest is launching Promoted Pins. The image-sharing site's highly stylized brand of targeted advertising launches on January 1, the company announced.
Pinterest first announced Promoted Pins in October 2013, eight months before it made the program available to advertisers. This May, Pinterest opened a beta to select advertisers like the Disney—ABC Television Group in order to test the way they worked on the site.
Unlike organic pins posted by Pinterest users, Promoted Pins are sponsored by companies. They look very similar to organic pins—especially since Pinterest insists brands follow its popular aesthetic. The main difference is that these pins include the words "Promoted by X" below the image.
See also: How Pinterest Predicts You'll Be A Rug-Stenciling Lumbersexual in 2015
Much like the targeted advertising that shows up in Facebook News Feeds, specific Promoted Pins appear in dashboard that match user interests and relevant search results. For example, a Pinterest user who has a lot of pins about gardening, might see a Promoted Pin featuring the photo of a garden sponsored by a company that makes gardening products.
Every step of the way, Pinterest has been extremely cautious. An image-sharing network that allows people to organize pictures they love, Pinterest's entire model depends on the site being an enjoyable experience.
"Partnerships [with brands] aren't just, 'Go get ad dollars.' That's not how we think about it here," Joanne Bradford, head of partnerships at Pinterest, told ReadWrite in May. "We're really about teaching partners how to be their best on Pinterest and connect consumers in a very authentic way."
See also: How Pinterest Is Slowly Learning How To Make Money
According to Bradford's announcement, Pinterest's assessment of the beta has shown that Pinterest users don't groan when they see a Promoted Pin. Promoted Pins were repinned, or reblogged onto users' accounts, an average of 11 times, which is the same as organic pins.
Now, Bradford is launching the Pinstitute, a program for "businesses to learn how to connect with Pinners." While the incentive for increased engagement is clear for business goals, the announcement's language focuses on an improved user experience. Because on Pinterest, users don't just have to see your ad; they need to like it, too.
Photo via Pinterest blog