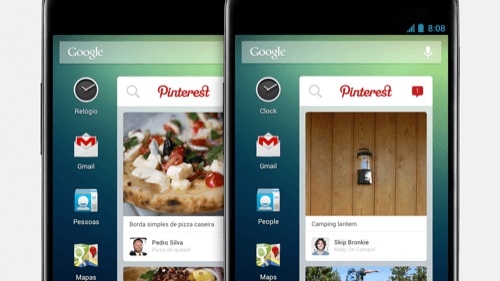 Here's one good way to pick up new users fast: distribute your app on the devices your potential audience already has.
Pinterest, which is estimated to have 70 million users, stands to soon triple that number thanks to a new exclusive partnership with Telefónica Digital, the Spanish mobile carrier giant with 316 million users in Europe and Latin America. The carrier will soon give all its users access to a custom Pinterest app designed for Telefónica phones.
Built by Pinterest, the widget will be installed by default on new Telefónica phones and available as part of the Pinterest Android app in Google Play. Even Telefónica users who are not yet on Pinterest will still be able to use the app's search function, a Pinterest spokesperson said.
While the app will roll out over time to all of Telefónica's millions of users, O2 network users in the U.K. can start pinning as early as Thursday. Soon the widget will come pre-installed with any new Telefónica phone, which will make it one more piece of bloatware for uninterested subscribers. But the app isn't crapware, Pinterest says; users can delete it if they want to.
Pinterest Without Borders
Americans will be surprised to hear that Pinterest looks very different across the pond. While the image-sharing network enjoys a female majority in the U.S., more than half of the U.K.'s Pinterest users are male.
Perhaps because of the network's solidly feminine reputation in the U.S., Pinterest has eased up on attracting more demographics of users domestically in exchange for looking abroad. The Telefónica partnership is only the latest of these efforts.
Pinterest has been available in several foreign languages since 2012, but the company redoubled its efforts this year by adding localized mirror sites for both the U.K. and France.
Why create so many foreign apps and mirror sites? Probably because Pinterest is temptingly imitable, with dozens of clones. A Pinterest clone directory lists 25 lookalikes for China alone. If Pinterest doesn't make the original easily accessible in other languages, it risks foreign users opting for whichever clone they can find.
In the case of Europe and Latin America, the solution came as a mobile app that users don't even have to download themselves. Hard to think of anything more seamless than that.
Image courtesy of Pinterest.