If you are a product-driven organization, you need to manage several product-related operations such as product inventory, prose, attributes, available quantity, required quality, and more. How do you manage such a large volume of data?
How do you manage your product data? You may use conventional ways like spreadsheets, ERP and PDFs — but these methods are becoming less efficient than they once were. The pace of business and data have evolved at such speeds that businesses are in a continual search for innovative solutions for storage.
What is Product Information Management (PIM) and how will it help businesses engage with its customer base?
Product Information Management (PIM) is a process of collecting, storing, managing, enriching, and distributing the product data as and when required. PIM allows you to promote and sell the products through different sales channels such as marketplaces, eCommerce websites, print catalogs, social media platforms, and more.
Every product-driven B2B and B2C businesses can leverage the PIM regardless of industry domains. Manufacturing, retail, distribution are the premier sectors that utilize the Product Information Management system extensively.
Manage Product Information
PIM allows you to store and manage the product data in a single platform to ensure that every page of your site delivers highly relevant information that addresses the customer's needs. Moreover, you have the freedom to update your product description at any point in time.
Centralized Management of Product Data
Whenever you want to update any product data all you need to do is simply update the required information in your centralized database and push it to every page of your website and platforms where you are selling your products.
Digital Asset Management
PIM contains a framework of digital asset management where you can manage the images, videos, documents, and other resources that help your customer in making the buying decision. You can upload a number of images and videos as per your requirements.
Before considering any product information management platform, you need to know everything about PIM to judge how PIM is the best fit for your business.
How Product Information Management Systems Help Grow Your Business?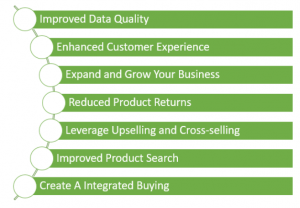 Improved Data Quality
Almost every product-driven business face data quality issues. This is a critical one as it impacts your customers' buying decisions significantly.
If you own an eCommerce store or your market and sell your products on different marketplaces, you need to populate the product attribute values constantly to keep your product content SEO friendly, accurate, and relevant.
With the PIM, you can update the product information as per the changing regulatory and legal requirements. Also, it allows you to maintain compliance as global laws change.
PIM helps you address issues like inconsistent attribute values and incomplete attribution. With an advanced PIM, you can enforce data compliance and completeness with legal and regular requirements.
Enhanced Customer Experience
Using a PIM, you can display your products with better relevancy by managing massive amounts of data through a single source of through. Centralized management of product data allows you to distribute accurate product information across the varied sales channels and customer touchpoints by eliminating inconsistencies.
Moreover, it allows you to create demographic-specific and channel-specific product descriptions to create and deliver a more relevant experience to the customers.
PIM notifies you about the data error and helps you to improve the future customer experience by informing you about the data error, quickly correcting issues, and pushes the changes to all the channels.
Expand and Grow Your Business
PIM allows you not only to update the content as per your changing customer needs and business requirements but also to publish the content automatically to all the sales channels accurately and quickly.
Integrating your eCommerce website and ERP software with PIM, you can manage all your product information and website content in a centralized platform. As PIM is scalable enough, you can enhance it as your business grows.
In the future, when your business expands and you need to manage thousands of products with hundreds of attributes, PIM helps you to manage it seamlessly and effectively.
Moreover, if you want to establish your business in other countries and regions, PIM helps you stay relevant to your foreign audience by offering multi-lingual, multi-currency, and many other features like these.
Reduced Product Returns
With the help of PIM, you enable your customers with complete and accurate product information.
When customers have the correct information about the product, there are fewer chances that they mistakenly buy a product that they do not want.
This results in reduced numbers of product returns and fewer irritated customers. By providing up-to-date and accurate information, you can not only avoid the product returns but also reduce the overhead cost that your business pays for product return as well as you can deliver a better customer experience for your brand.
Leverage Upselling and Cross-selling
Along with product data management, PM allows you to group similar products together to make shopping easier for the users while they visit your website. The platform allows for data matching and data mapping features that allow you to show customers products that are similar to the one they are interested in.
Enabling shoppers with multiple options to address their same needs, you can help them in making the most cost-effective buying decision.
Improved Product Search
Buyers are becoming competent at conducting online research for any product purchases. Usually, people use search engines to start the product search.
There is cut-throat competition when it comes to eCommerce platforms. Just like you, many of your competitors have an online store or registered with leading marketplaces to promote and sell their products. It helps you stay ahead in the competition, you need to take care of all the SEO aspects.
PIM allows you to create SEO friendly product content that helps you to gain prime visibility on popular search engines. This improves the speed to market of the products as the customers can find your product quickly and make a buying decision instantly when you have a reliable Product Information Management system in place.
Create A Integrated Buying
Don't forget that you are dealing with tech-savvy customers who access your product data from different devices for online shopping. Thus, it is very essential for you to deliver them a uniform experience across all the channels regardless of desktop or mobile. It empowers your brand image and makes your customers' life easier than ever before.
PIM helps you create an integrated buying experience for your customers and encourage them to make a shop. The platform ensures that the same product information displays across all the customer touchpoints no matter what device buyers use to view the product. It helps you create a trustworthy and professional brand image.
How to Choose the Right PIM for Your Business?
If you check on any of the leading search engines, you will get a long list of Product Information Management platforms available in the market. But, you need to identify the best fit for your business that allows you to build a custom PIM solution by utilizing their different components as per your specific requirements.
One of the most trusted PIM platforms is Pimcore. It allows you to utilize Digital Asset Management, Content Management, eCommerce Platform, Customer Data Platform, Master Data Management, and Digital Experience Platform to create an end-to-end compelling experience for your customers.
Image Credit: canva studio 3; pexels