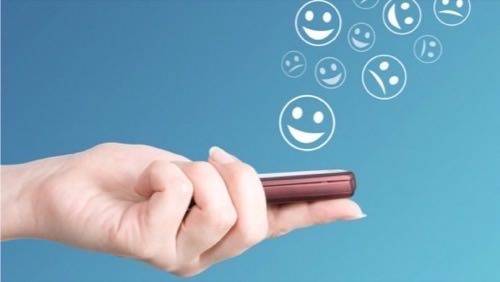 No doubt about it, mobile is now the primary avenue for growth in social media. If you did not know that already, analytics firm Nielsen released a report today showing that social media use on mobile devices rose 63% between native apps and the mobile Web in the United States in 2012.
Between PCs and mobile devices, Americans spent 121 billion minutes on social media in July 2012, an increase of 37% (88 billion minutes).
More people than ever are using Facebook's native apps to access the site, including 78.4 million Americans alone. Native-app use for Facebook eclipsed the mobile Web, which had 74.3 million users.
If you add those groups together, the aggregate of mobile users topped those using a PC to access Facebook by almost half a million people. In the United States, 152 million people accessed Facebook from their PCs against 152.7 million through either native apps or the mobile Web.
Granted, there is likely some overlap accessing Facebook on both the mobile Web and native apps, but mobile and PC use of the social network is fairly even in the Unites States. It's also apparent that most people who use Facebook on a PC are also likely to do so on a mobile device.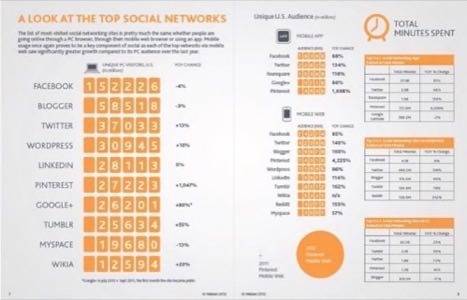 We have watched all types of mobile use explode in 2012. In the United States, we have hit an inflection point where most people will be accessing the Internet primarily through their smartphones and tablets. The question becomes how much more can social-media companies like Facebook or Twitter grow on mobile?
Mobile-analytics company Flurry reports that there are 181 million iOS and Android smartphones active in the United States. Conservatively, iOS and Android make up 85% of the domestic smartphone market. From there, we can extrapolate that there are about 208 million smartphone owners in the country. Facebook can now claim 73% (at most) of those people as their mobile customers. What that means for Facebook is that it has likely hit near-saturation in the number of moble owners it can acquire.
Member acquisition, on PC or mobile, has never really been a problem for Facebook. Nor has been getting members to spend time on the site. Facebook is built to get people to use it, and they do. A lot. Facebook saw native-app users spend nearly 27 minutes a month on the site, a 61% increase over the same period in 2011.
Facebook's problem is making money off those mobile people. This became apparent when the company filed its S-1 document with the Securities and Exchange Commission prior to its initial public offering in February.
The biggest risk Facebook owners said they faced in sustaining growth and financial health was their ability to turn mobile members into dollars. As such, Facebook has launched a variety of ads on mobile, such as sponsored stories and ads that appear in member newsfeeds.
Facebook is a very quick and iterative company when it comes to building new products, and it always has dozens of small teams working on projects that can advance both its utility as well as its monetization features. If consumer use trends in 2012 have taught Facebook anything, it is that it should ramp up the output of these teams to take advantage of the shift from PC to mobile devices.
Other social networks have seen a spike in mobile usage in 2012, according to Nielsen. For instance, Twitter sees more users from the mobile Web (42 million) than it does via PC (37 million) in the U.S. Twitter received 22.620 visitors through its native apps. Burgeoning social-network Pinterest saw the biggest growth rate of the year on any platform, with 14 million users through the mobile Web, a 4,225% increase year over year from 2011.
Pinterest had 27 million members on PCs, a 1,047% growth rate. See the Nielsen chart below for overall mobile-Web and native-app use across all social-networking sites in the U.S.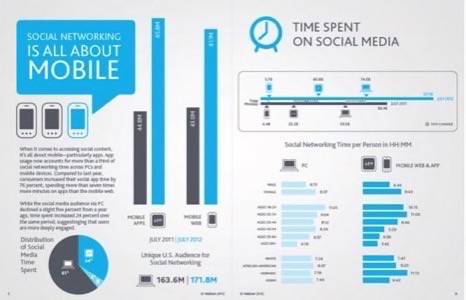 While Facebook may be near its saturation point, there is still a fair amount of room left for companies like Twitter, Pinterest and Foursquare to cultivate mobile members. Facebook has set the standard for the social-mobile industry, now it is up to the competition to match it.