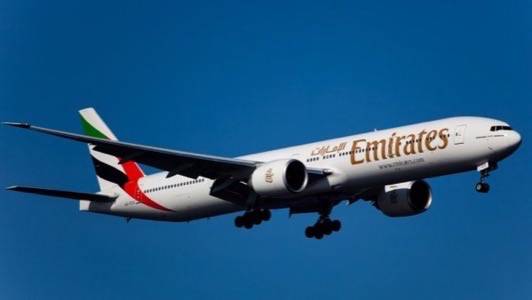 As Microsoft rolled out Windows 8 in Dubai, the Middle East's commerce hub, the company focused on showing corporations how to use the new operating system to create their own line-of-business applications.
Key examples inlcuded an in-flight customer management application used by Emirates Airlines, as well as an education initiative that will be broadly rolled out to thousands of schools across the United Arab Emirates, if all goes as planned. Microsoft also had a representative of British Telecom show off how its field engineers are using new Panasonic Toughbooks to collaborate and respond to service requests.
One Loooooong Junket
Although Windows 8 may already be old hat in the United States, Microsoft's latest operating system and its associated hardware is relatively new in developing markets.
(Disclosure: As part of its promotional efforts, Emirates Airlines flew me halfway around the world to Dubai to show off its in-flight app. Airfare, hotel and some meals were covered by the airline, and in some cases split with Microsoft. It's by far the longest-distance promotional toot I've ever been on. More on the trip coming soon.)
"If you ask what Windows 8 brings to corporate customers and enterprise customers, it's that brings device experiences that people will love, complete with a new generation of devices for business," said Erwin Visser, the senior director of Windows Commercial Product Marketing for Microsoft. "At the same time we are making no compromises" for enterprise IT departments, he added.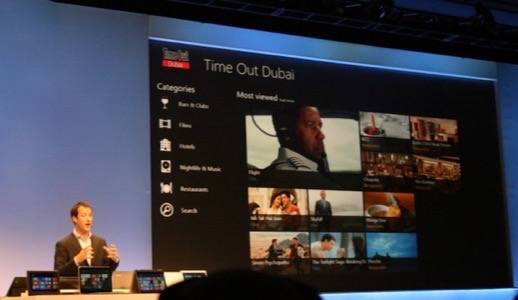 Other customers said that the new Windows 8 hardware was as attractive as the software. Peter Scott, director of end-user technology at British Telecom, said that older ToughBooks took on the order of ten to twelve minutes to boot up. Now, the company has deployed about 5,000 of the newer Windows 8 models out with field engineers, who will use Microsoft's Lync software to communicate and collaborate in the field.
Both the Emirates and UAE applications shared some common design elements: both took advantage of the large, visually striking design elements within the new Windows 8 interface, and used the horizontal swipe interface to extend the display.
Emirates Gives A KIS To Windows 8 Tablets
On the long flight over from the U.S., Emirates Airlines showed off the first use of its Knowledge-Driven Inflight Service, or KIS, which will eventually roll out to all of its aircraft. KIS is basically a passenger-management application for crew members that's now being delivered to pursers on a Windows 8 tablet. When the rollout is complete, some 1,000 devices will be in use.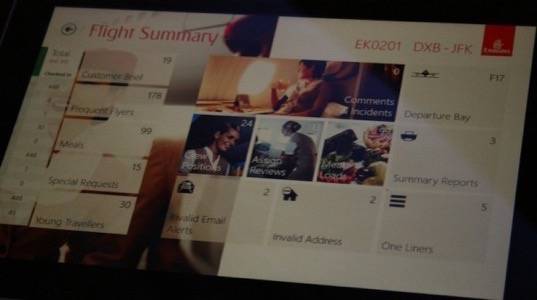 Emirates has used a version of KIS for several years, although previous versions were tied to a laptop that the the company brought on board, and asked its pursers, the crew managers, to tote around.
The problem was that each flight doesn't use the same crew; staff shuttles about depending upon their flight readiness as well as the languages each crew member speaks. Years ago, a flight to Japan may have had only one Japanese-language speaker aboard. Now, with the knowledge of the passengers' nationalities, Emirates can place a French-language speaker as a crew member near a block of passengers flying from Paris to the Middle East. Emirates' staff represents 130 nationalities.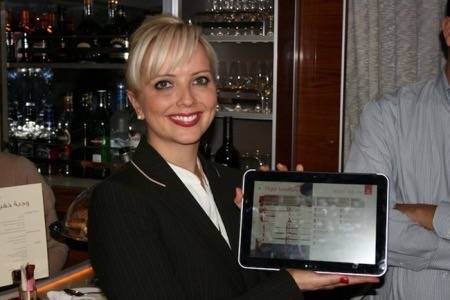 And it's even more complicated: according to Sarah Boyd, the purser aboard our flight, she often doesn't know which crew members will be joining her until a few hours before takes off. In some cases, crew members may not have worked with each other before. Matching names to faces is the first step in building a cohesive team.
Putting the app on a tablet given to pursers makes it much easier to use. "So when I attend my briefing, I can see the nationalities of all the crew, and the postions they work in… and then see all the customers, and where they're from," Boyd said. "And then I can use this information to assign the crews. Sometimes it's challenging to remmeber all the faces with the names, so this is a really nice feature."
"It's much more convenient than carrying a laptop around, and it looks more elegant, too. It definitely makes our life easier," Boyd concluded."
To date, the Emirates KIS versions have used Windows XP, said Patrick Brannelly, vice president of corporate communications, product, publishing, and events. Brannelly described the app and the Windows 8 OS as much more intuitive than previous versions. "You have to imagine that many of the crew, when they join Emirates, are not particularly computer-literate," he said.
So is the new app running on a Microsoft Surface?
Nope.
Emirates will be the first global customer of the HP ElitePad 900, a new, 1.5-pound, Windows 8 business tablet that can be fitted with several "jackets," or docking cases, that will maintain the tablet form factor but also add capabilities such as additional battery life, to a total of 18 hours; additional I/O ports; or audio connectivity. (See HP's New ElitePad Business Tablet Is All About The Accessories.)
Although Emirates has signed on with the ElitePad 900 for now, that doesn't preclude Emirates from using a smaller tablet in the future, or even a Windows Phone. "The beauty of this is that we're launching with a tablet, and it's launching on a sort of bring your own device sort of platform," Brannelly said.
UAE Hopes Windows 8 Tablets Will Close The Digital Gap
In January, the UAE will roll out a combination of laptops and tablets to 50 schools, with the goal of launching the program in the fall of 2013. The idea, according to Khalid Ahmed, development director for the UAE, is to engage parents, students and educators. 'We need to close this digital gap environment within the school," Ahmed said.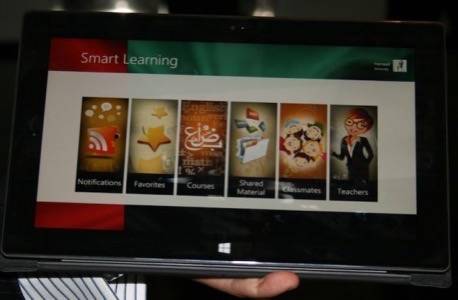 And that gap is is in flux. For example, students who may be more interested in technology as a hobby typically step in and solve technology problems for the teacher – not necessarily the best outcome in a country when student discipline is important, Ahmed said in an interview. At the same time, another UAE official described teachers as "semi-pros" in Microsoft Office, from their frequent use of the technology.
In a private demonstration, the app served both as an icon-driven tool to provide information on classmates and teachers and also as a repository to share information, such as coursework, supplemental classroom material and eventually things like quizzes.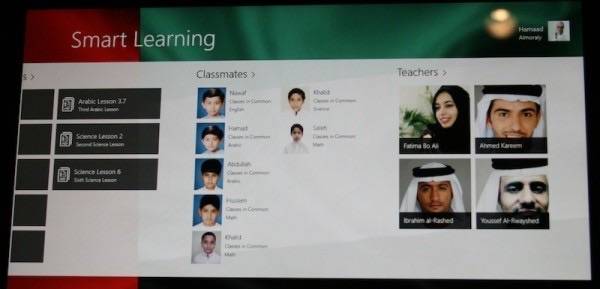 Khalid said that although the app was designed with a bring-your-own-device (BYOD) mentality in mind, that both tablets and laptops would be used. For now, the UAE is using a mixture of Windows 7 and the Windows 8 Customer Preview editions, but plans to upgrade all the devices to the full version of Windows 8 over the holiday break.
The UAE rollout will even include "gamification" aspects, assigning trophies to students to show extra acheivement, such as devoting extra time to watching a calculus video, Ahmed said.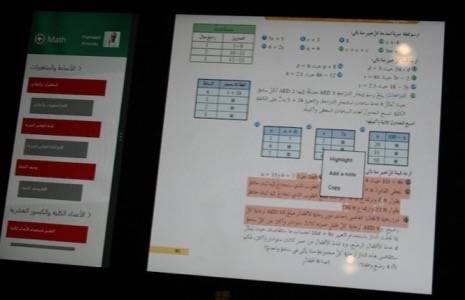 "We would like this device to be [the student's] own teacher, his own academic guide, so that the application is capable of giving him extra materials, video, even interactive games if it feels that he is weak," Ahmed added.
The total cost will be about 250 million UAE dirhams, officials said, about $68 million U.S. dollars.
More Windows 8 Business Apps In Dubai
Microsoft also showed off other Windows 8 apps including ones from Bank of America and furniture store RoomstoGo, as well as a health app created by Idea.
Brad McCabe, a product marketing manager in the Windows Commercial business, said that the new Windows 8 was "business ready by design," but not everything went perfectly. Fox Entertainment debuted an internal partner app, but distributed it on the Microsoft store, where general consumers will be able to download it. (Since it requires a password, they won't be able to use it.)
Deploying line-of-business apps is a critical accomplishment for Microsoft, however. Consumers buy Windows 8 in ones and twos. But if Microsofot can convince enterprises to develop their own applications for Windows 8, high-volume corporate sales are likely to follow.
Lead image courtesy of Shutterstock. Other images by Mark Hachman.