Developers are the new kingmakers, and nowhere will this resonate more than in the growing Internet of Things market. In fact, the easiest way to pick winners in this emerging field is to look for Internet of Things companies with the biggest developer populations.
The hitch, however, is that Internet of Things companies don't always label themselves as such.
So while IBM, Cisco, Jasper or Sierra Wireless like to position themselves as leaders in the field, the reality is very different. Again, with developers in mind, the big winners so far appear to be Apple and Google, as a new VisionMobile report concludes.
And The Developers Shall Inherit The Earth
As I've written, to flourish the Internet of Things market needs millions of developers by 2020. Fortunately, the market is actively minting new developers each day, with the global Internet of Things developer population set to top 4.5 million by 2020: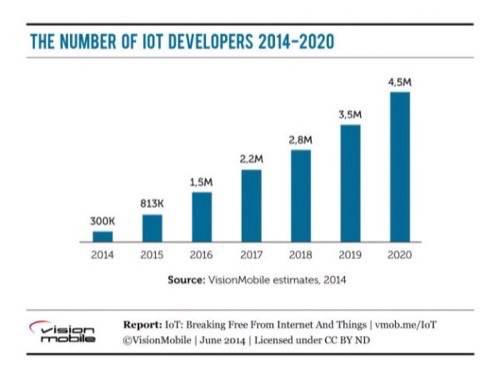 A significant percentage of those developers live in the Asia-Pacific region, as I've noted before. But the reality is that many Internet of Things developers don't yet self-identify as such. They're just mobile developers, waiting to be transformed into Internet of Things developers.
And Apple and Google are in the pole position to do so.
Developers, Developers, Developers
As VisionMobile Q1 2015 Developer Economics survey data reveals, 53% of mobile developers are already actively working on Internet of Things projects. The top two markets within the field are smart homes (37% of relevant developers are working in this area) and wearables (35%).
But the real story isn't how many developers are working on Internet of Things, but how many are getting paid to do so.
According to VisionMobile's survey data, most developers working on these projects do so as a hobby (30%) or as a side project (just under 20%), even as they continue their day jobs building mobile apps. A further 12% are independents.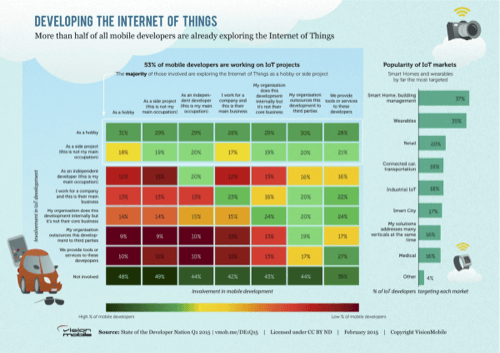 With roughly half the Internet of Things developer audience doing so on the side, the platforms that attract them will be those that require the least investment in learning new skills.
Which means an Internet of Things specialist like Sierra Wireless or PTC is at a disadvantage against a mobile generalist like Google or Apple.
To The Victor Goes The Spoils
After all, Apple (HomeKit, Apple Watch, etc.) and Google (Nest, Android Wear, etc.) already offer significant tools specific to the Internet of Things. But as important as these are, it's even more important that they're raising a generation of developers to prefer their mobile platforms, generally.
In an earlier report, VisionMobile concludes, "The only way to make a profit in the Internet of Things is to build a network of entrepreneurs who create unique value on top of commodity hardware, connectivity and cloud services." Those entrepreneurs, in turn, are fueled by developers, and Google and Apple command fealty from millions of developers.
Over five million of them, combined.
As VisionMobile's latest report argues:
Established technology companies like IBM, Cisco or GE, and incumbent IoT specialists like Jasper, PTC or Sierra understand the enterprise [Internet of Things] market very well. But they are not specialists in connecting developers with users.
The company with the most developers wins. Google and Apple have amassed the most Internet of Things developers, positioning them to dominate the market for years. It's that simple.