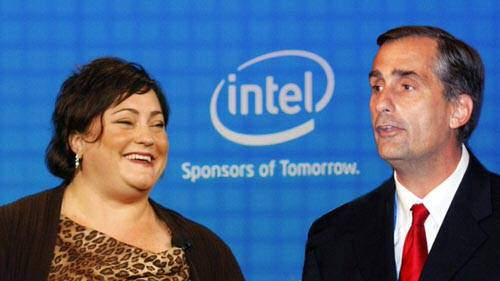 If Intel's future chief executives continue rising through its ranks, then the real news isn't that Intel named Brian Krzanich its sixth CEO. It's that Intel software chief Renee James may be in line to succeed him.
It's hard to escape a back-to-the-future feeling with the Krzanich announcement, which basically represents the company's continued focus on making chips smaller, cheaper and, now, less power-hungry — Intel's traditional secret sauce. Like outgoing CEO Paul Otellini, Krzanich served as chief operating officer and previously held several manufacturing positions across the company since he joined Intel in 1989.
Intel CEOs generally emerge from the president's office or that of the COO — Krzanich's old job, and one that Intel hasn't filled yet. Intel historically has swapped CEOs when they've turned 60; Krzanich, 52, will have eight more years before a successor takes over.
Last November, when Otellini unexpectedly declared his intention to step down later this month, chairman Andy Bryant took the unusual step of naming what some saw as four possibilities to replace him: Krzanich, James, Dadi Perlmutter, the head of Intel's chip business; and Arvind Sodhani, head of the company's internal VC unit, Intel Capital.
The Rise Of Intel Software
Of the four, only James represents something strikingly new for Intel. In a company traditionally dominated by old, balding white engineers, James has been the face of Intel's software business since joining the company via its acquisition of Bell Technologies in 1988.
Although she holds business degrees from the University of Oregon, that's not necessarily a black mark; Otellini himself was an economics major. But James also served as chief of staff for former chief executive Andy Grove, giving her the stamp of legitimacy. James even carries a red pen — a notorious Grove trademark — as a reminder of her roots.
James was instrumental in three major acquisitions: Intel's 2007 acquisition of physics middleware developer Havok for an undisclosed amount, the 2009 acquisition of embedded software company Wind River for about $884 million; and Intel's $7.68 billion purchase of security giant McAfee in 2011. Intel contributes to the Linux kernel, developed its own Hadoop implementation, co-developed the Tizen mobile OS with Samsung, and writes its own software compilers for its microprocessors.
"I can see a day where a future Intel CEO could have extensive software experience," Patrick Moorhead, a former executive of Intel rival AMD and now an independent analyst, said. About 70 percent of a smartphone's research and development costs now derive from software, Moorhead said.
Wait A Second. Software? Intel? Really?
Can software really mean that much to Intel? After all, this is a company that owns over 80 percent of both the PC microprocessor market, about as much in the server market, and is busy trying to make inroads into phones, tablets, and low-power convertible Windows tablets.
Sure. Moorhead, for instance, argues that Intel's strategy is to combine chips and software in a way that make each indispensable to the other. Rolling your own software and fabricating your own silicon can allow a company to optimize their combined performance in ways that other manufacturers can't match. In a business sense, selling the software and silicon together also allows customers to save money and simplify their own development efforts.
Put that way, Krzanich's appointment as chief executive, with James just below him on the executive ladder, makes sense. Intel's not about to try a RIM/BlackBerry-styled double chief executive, but for a number of years, Intel operated out of a two-in-the-box strategy, where responsibilities for certain divisions were shared not by one, but by two executives.
For Now, Krzanich Minds The Store
Manufacturing prowess remains key to Intel. When the company ships its next-generation "Haswell" processor this June, the chip's smallest features will be just 22 nanometers wide, putting it a full generation ahead of AMD's expected "Piledriver" chip. Smaller chips with finer "linewidths" are traditionally more powerful; now that the focus has turned to mobile, Intel can reduce the power those chips consume instead.
Which isn't to say Intel doesn't have a lot of catching up to do. It has fallen badly behind in producing processors for smartphones and tablets, in an eerie repeat of the way it was initially late to the notebook PC market.
Krzanich's job will be to turn that around. Ideally, Intel needs to design the best chips it can, shrink them down as small as possible, and then them them with optimized software to maximize their potential.
James' appointment is as much reward as recognition of her strategic role. In 2009, soon after the Wind River acquisition, the notoriously grouchy Grove was asked to characterize Intel's history in software. "The results have been very consistent," Grove, then 73 and retired, told The Oregonian. "They amounted to nothing." Now, they're everything.