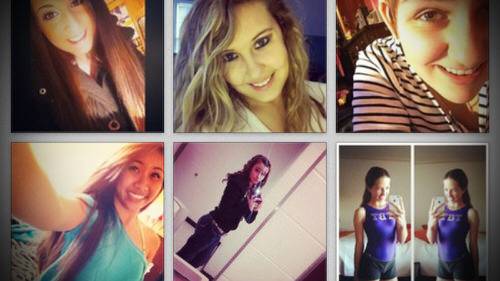 Those of us who use Instagram everyday like to think of it in glowing terms. Not only is it a rapidly-growing social media success story, but it's a place where we can go to see gorgeous, often creatively composed imagery. Our friends are there, documenting their world for us and reliably tapping the Like button every time we share our own photos. It's awesome.
That is, until you take a step back and look around.
As it turns out, Instagram is a breeding ground for many people's most narcissistic tendencies. It's a reality that comes into sharp focus as soon as you step outside of your circle of friends and look at what everybody else is posting. Turns out that as a group, Instagrammers are a pretty self-absorbed bunch.
See also: Me, My Selfie And I: Why Selfies Aren't Narcissism
Sure, you might say, we knew this. Mirror-shot, pouty-faced self portraits of teenagers find their way to the "Popular" (now called "Explore") tab as often as sunsets, celebs and food pics. But Instagram narcissism is more than a stereotype. There's actually data to back it up.
90 Million Selfies… And Counting
Consider this: The third most frequently used hashtag on Instagram is #me. Under it, you'll find more than 90 million self-portraits taken primarily by younger users, very few of them with any irony, or even much creativity.
Of course, there's nothing inherently wrong with publishing self portraits. After all, your appearance is very significant part of the life you're documenting using social services like Instagram. Taken tastefully and periodically, the "selfie" can add personality and context to your never-ending streams of lattes, power lines, cats and skylines. And sure, just like in the real world, our brains love the ego boost we get from the compliments.
Scrolling through the #me photos, you see images of varying quality, all displaying faces of different people. In a way, it's kind of fascinating to peruse. Here are all these people, broadcasting their own faces to the world. In one photo, you'll see an American kid with his collar popped and earbuds in, probably shirking some school-related responsibility. In the next, there's a Saudi Arabian man dressed in a traditional gutra headdress, snapping a self-portrait in the mirror. Some people have new haircuts. Some have new babies. One guy has several large nuggets of marijuana.
Some of these images feel a little too intimate. As you scroll through, you start to get the feeling that you're peeking through a window of a world you're not quite supposed to have access to. But mobile and social technology have given us millions of little windows into the worlds of others, so we keep scrolling.
The stream exposes nothing explicit, but it's peppered with what feels like far too many young, teenage girls laying in bed. Or 15-year-old boys standing shirtless in front of a mirror. Some of these kids are showing skin. Just about all of them – male and female alike – are seeking some kind of approval from their peers and the larger community, which thanks to the Internet, is now effectively infinite.
The Rise Of The Narcissistic Social Media Star
Some are getting the approval they're seeking in a big way. Michael Saba is a 15-year-old from Boca Raton, Florida, whose Instagram photos often find their way to the app's Explore tab among teen pop stars, professional athletes and professional photographers. But despite his 45,000 followers and hordes of teenage fans, Saba is not a celebrity. He is, as his Instagram profile says, "just a kid who takes pictures."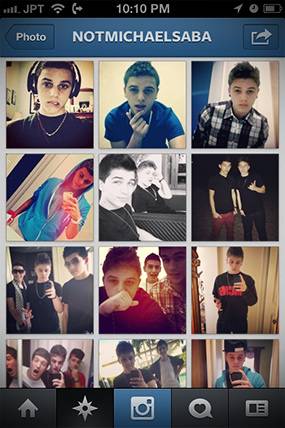 Saba's photo stream is comprised entirely of self-portraits, each one garnering between three and five thousand likes and hundreds of comments, mostly from adoring teenage girls who fawn over Saba with almost Bieber-esque intensity – and shower him in heart-shaped Emojis. The pictures are not particularly interesting or varied. It's just him, in similar-looking outfits, day after day. Sometimes in the mirror, sometimes making well-rehearsed "cute" faces directly into his phone's camera. Quite often, Saba poses with two other friends, also heartthrobs. Every photo is a massive hit. Meanwhile, he follows only one other user.
In our weird new world, it's not uncommon for young people to achieve this new type of psuedo-fame, fueled solely by social media. And we're not just talking the type of notoriety you can get from a viral YouTube video, which tends to require at least a sliver of talent, humor or skill. Instead, these kids are amassing huge followings just for being attractive. It's like a high school popularity contest on digital steroids, but this homeroom has more than 45,000 kids in it.
Instagram And Self Image: Is The Impact Good Or Bad?
Is this necessarily a bad thing? One has to wonder what this kind of existence must do to the ego of a 15-year-old kid. Or the weird new social dynamics it could produce at school. But some psychologists think that the self-image boosts offered by social networks like Instagram could be a good thing.
It used to be that most of the photographs of other people we encountered were carefully crafted images of the flawless-looking individuals portrayed in popular media and advertising. Psychologists have long had concerns about the distorted effect that's had on normal-looking people's self images. Instagram and mobile photography more generally may be changing that.
"I like to think that Instagram offers a quiet resistance to the barrage of perfect images that we face each day," writes Sarah J. Gervais in Psychology Today. "Rather than being bombarded with those creations… we can look through our Instagram feed and see images of real people – with beautiful diversity."
Of course, as Gervais acknowledges, there hasn't yet been much research into what sort of impact Instagram in particular is having on self image or anything else. Indeed, when I reached out to Microsoft's Danah Boyd and several other academics who study social media and its affect on society, I wasn't able to turn up much.
The psychological impact of technology more generally has been a popular topic for a few years now. Narcissistic personality disorder has been on the rise for 20 years, according to a paper coauthored by Dr. Larry Rosen, who also wrote a book called iDisorder: Understanding Our Obsession With Technology and Overcoming Its Hold On Us.
Some research suggests a correlation between social media and narcissism, but the condition's increase long predates the rise of smartphones, says Jean Twenge, a researcher at San Diego State University who studies issues related to social media.
"It's probably both that higher narcissism causes people to use social media in narcissistic ways, and that some social media causes higher narcissism," says Twenge. "But it's definitely a two-way street."