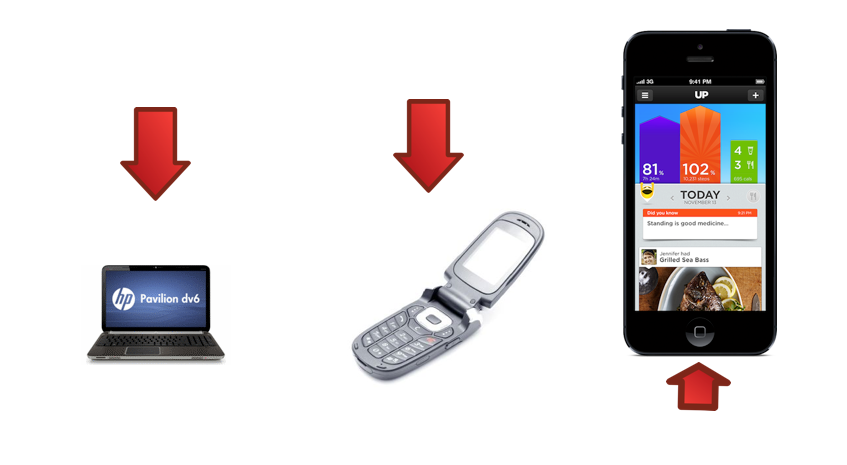 The PC is market is expected to shrink. Again.
The smartphone market is expected to grow. Again.
On Monday, IDC predicted that PC sales will fall 1.3% in 2013, and that smartphone sales will continue their explosive growth, topping 50% and displacing the legacy feature phone as the dominant mobile phone platform.
Although IDC released the two reports separately, they're best considered together, for context. What IDC predicts merely reflects the conventional wisdom: that the age of the PC is ending, and that the smartphone is the dominant platform. And, if the Apple iWatch is real, and Google Glass becomes a viable platform, then we have the past, present, and future of the computing market: the PC, the phone, and wearable computing.
The Windows 8 Phenomenon
The 2012 performance of the PC market could be written off as a consequence of Windows 8: the pause in sales before the launch, followed by what might be called a "mild" reception by the market. PC sales fell 3.7% for the year, IDC found, with an 8.3% drop in fourth-quarter shipments. U.S. PC sales fell 6.5% for the fourth quarter and 7.6% for the year.
"The PC market is still looking for updated models to gain traction and demonstrate sufficient appeal to drive growth in a very competitive market," said Loren Loverde, an analyst for IDC, in a statement. "Growth in emerging regions has slowed considerably, and we continue to see constrained PC demand as buyers favor other devices for their mobility and convenience features. We still don't see tablets (with limited local storage, file system, lesser focus on traditional productivity, etc.) as competitors to PCs – but they are winning consumer dollars with mobility and consumer appeal nevertheless."
Gartner hasn't yet released its 2013 PC forecasts, but has already said that PC sales dropped 4.9% in the fourth quarter, as it seems consumers just didn't really care about them any more.
Smartphones: A Worldwide Phenomenon
Smartphones, meanwhile, have worked their way through "mature" markets like the United States and into the high-volume, lucrative BRIC (Brazil, Russia, India, China) countries, IDC reports. As the smartphone begins selling in high volume in those regions, look for even higher shipment numbers: IDC predicts that more than 1.5 billion smartphones will be shipped by the end of 2017, worldwide, or more than two-thirds of the phone market. In India, for example, less than half of the phones sold there in 2017 will be smartphones, IDC predicted – and yet it will be the world' third-largest smartphone market.
Gartner, meanwhile, said that sales of mobile phones actually fell 1.7% during 2012 – not because of lack of demand, but due to consumers turning to smartphones instead of feature phones.
Meanwhile, IDC reported earlier this month that tablet sales reached record levels, 52.5 million units, during the fourth quarter.
PC sales may yet rebound – Microsoft seems to believe that, and it still maintains close ties to enterprises and consumers. But, increasingly, the PC seems be a legacy device of interest to a slowly declining number of users.