The 1990s Britipop band Oasis' song "Live Forever" was written by bandmember Noel Gallagher in 1991, shortly after his foot was crushed by a pipe while working. With more time on his hands, he was able to focus on song lyrics. This is how it ends: "We're gonna live forever / Gonna live forever / Live forever / Forever." After he finished it, he showed it to his younger brother Liam, who was so pleased that he asked Noel to join the band Oasis. Like most era-defining pop songs, Oasis' "Live Forever" has become a fixture of the collective pop culture conscience.
On social networks, normal humans who are not pop culture celebrities or pseudocelebrities exist, update their profiles, have an audience comprised of friends and followers, and broadcast everything from articles to random thought blurbs. So when someone dies on social networks, does the world celebrate them? Do they become a zombie? Or do they just live on in the collective social media conscience, which is of course a byproduct of pop culture? And more importantly, do they "live forever"?
Ex-Tribe.net Community Manager on What Social Networking Death Feels Like
"There's no typical reaction to someone dying on a social network," says Walter Thompson, a veteran community manager and social media specialist. "In smaller communities I think disruptive would be too big of a word, but in smaller communities there is a bigger impact."
Not long ago, he was at a business pitch for a company that was trying to come up with a business for people who were dead on social networks. Already, he discovered, there were 30 million accounts on Facebook for people who have died.
When Thompson was a community manager for Tribe.net, a social network that numbered 400,000 when he left, he experienced the death of one of the community members – and there were no rules on what to do.
"In 2004, a user on our site was suffering from an illness and passed away. I received emails from both the sister and the daughter of the deceased – the sister asked that we delete her brother's account. The email from the daughter indicated that she'd like to keep the account up because her dad had put a lot of effort into it."
It was a tough decision for Thompson who, as a community manager, is always first and foremost concerned with how to keep the community running smoothly.
"I had to go for a long walk and put on my King Solomon hat," he says. "Then I realized, in this case [the decision-making power] went to the closest living relative, which was the daughter. I gave her the password after I verified that it was her."
As with any profile, however, unless someone has the login and can authenticate it, there's no way to delete it.
This begs the question: Should people provide their passwords to a next of kin, or leave them in a will?
"People are starting to incorporate their digital property and online presence into their wills," says Michaelanne Dye, who holds an MA in cyberanthropology from Georgia State University. "Although this has not yet become a common trend, I think that one day it will be fairly common for people to make plans for their digital real estate before passing.
Thompson tends to differ on that front, instead believing that the companies themselves should be held accountable.
"I think companies should be creating a process, expect the fact that none of us live forever and people invest a lot of energy into these services," says Thomson. "So I think there should be something on the corporate side, and then there should be a process for verifying if this person has passed away – and then there's a process for it."
The Early Days of Social Networking Death: Memorializing the Dead on MySpace
Jed Brubaker, a PhD candidate in informatics at the University of California at Irvine, focusing on digital identity, social media, and human centered computing, says that people jokingly refer to himself as the "death guy." But in terms of personality, he's quite the opposite of morbid. His stumbling into the area of studies in death on social networks was a system error of sorts.
In 2011, Brubaker published a paper called "We will never forget you [online]," an empirical investigation of post-mortem MySpace comments. Starting with this early social network, Brubaker began identifying trends which bled over into Facebook, where we're more likely to find online memorial services occurring nowadays.
"What's surprising [about MySpace], is we saw people come back and continue engaging with the dead people, year after year to say I miss you," he explains. "We also found MySpace analysis, post-mortem social networking practices. People were sharing memories, pictures, stories with that person, as if that person were still alive."
Twenty-one year-old Juan Lopez died in August 2005 at the age of 21, when strong rip currents pulled him into the depths of Lake Michigan. His MySpace page remains alive. Six years after his death, a friend still commented on his profile.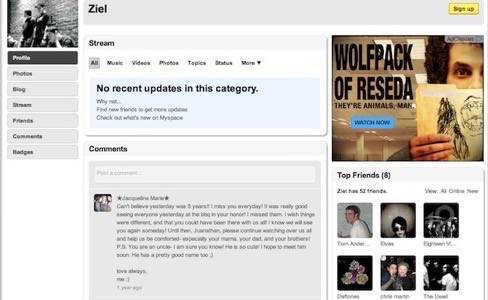 MySpace redesigned in 2010, which Brubaker says altered the appearance of many such deceased users' pages.
Brubaker and his colleagues also discovered a post-mortem phenomenon particular to MySpace. Parents logged onto their deceased kids' profiles; these young people, explained Brubaker, usually died a tragic death – car crash, drug overdose or violence. But once parents jumped onto the profile, there was that awkward moment of being in unfamiliar territory – like a mom crashing her teenage son's band practice, and trying to join in with an old acoustic guitar.
"Usually you have parents who don't know how to act in these spaces, and the MySpace circle of friends who were expected to take on these roles," Brubaker says. "So you see this misalignment – parents trying to respect this space that they don't know what it is, and friends acting as arbiter of someone's death."
This research led him and his team into Facebook territory, where the phenomenon becomes not only much broader, but also quite serendipitous and, at times, baffling.
What Happens When People Die on Facebook
"A woman we spoke with told us that she had a nice chat over Facebook IM with a friend. She saw it was his birthday about nine months later, and went to post happy birthday only to find out that he had died nine months prior."
Essentially, the woman knew nothing of her friend's death, until awkwardly stumbling across it on Facebook.
Then we have more purposeful visits. Genevieve Spinella writes that she lost two friends who she knew in real life and on Facebook.
"When they first passed, I didn't really know what to do with them on Facebook," she says. "I used their walls to write a farewell message, but then didn't know what to do next. I thought of deleting them as friends, but could not bring myself to do it. I felt

like it was disrespectful."
For Spinella, visiting their Facebook profiles every once in a while helps her keep their memory alive.
"Now its been about a year since they passed and once in a while I visit their profiles and look through their old pictures and posts."
Bert Martinez lost his niece, Yliana Rios. Facebook serves as an important place for him and his family to post pictures and notes to their deceased loved one. "We still post on her wall as a tribute, to feel connected," writes Martinez.
When it comes to a casual connection – a friend from kindergarden who one has not stayed in touch with, perhaps – it's natural to feel sad, but is it necessary to say anything?Probably not. On social networks, however, that all changes.
"There is more tension in these casual connections," Brubaker says. "In the system, you are required to have a response. More importantly, you have to decide if you are going to remove them from your group of friends. And given that we do not lose friends, there are a great more number of deaths that we will be dealing with."
Facebook's current policy, according to a Facebook spokesperson, is to memorialize all deceased users' accounts on the site when they are reported.
What's most interesting about the Facebook death, however, is the chance that it will show up in the news feed.
"Facebook takes reactions from the first group – the people who are engaging with and memorializing the dead person – and broadcasting it into the group of the second," he says. "You can see an interesting contextualizing of these messages that are inside of what would otherwise be the day-to-day mundane list of announcements, things that seem to be in a different context than what we're used to doing with death."
A Facebook spokesperson explains that memorializing an account changes the privacy so that only confirmed friends can see the profile (timeline) or locate it in search. Once an account is memorialized, no one can log in or out, and only friends and family can leave posts in remembrance. No one can download data from another person's account, so the memorial must stay on Facebook – there will be no data available. Memorialized accounts remain on Facebook forever unless a family member requests that it be taken down. Any special requests regarding the deceased should be sent using this form. To report a deceased user or account that needs to be memorialized, go here. And please, think twice before unfriending the deceased. That connection can't ever come back.
Twitter: Is 140 Characters Enough to Say a Proper Goodbye?
Facebook is a far more personal space than Twitter, which Brubaker refers to as "an ephemeral system."
Walter Thompson had an experience on Twitter that speaks to the less personal aspect of this platform. A few years ago, he followed an amateur screenwriter who also blogged. Thompson did not know his name – rather, he just knew him as the Twitter handle @MMOnFilm.
"He was an amateur screenwriter, one of those anonymous Hollywood executive types," says Thompson. "He would write from behind the scenes. He stopped updating, and about a month later I found out that he had died."
Thompson never found out who he was, nor did he know the man's real name.
On Twitter, death – just like everything else – does not feel as monumental as, say, Facebook.
"People do tweet to the dead and what not, but it's all broadly public and it's all text," says Brubaker. "The engagements are less personal and robust. It's common for someone to say RIP on Facebook, but 140 characters on Twitter?"
Twitter is not a space for long-lasting connections, or memorials to the dead in the same way that Facebook can be.
While people definitely turn to Twitter to share their grief and commemorate those who have passed, all of this activity is not as easily visible or organized as it is on Facebook," says Michaelanne Dye. "It's even difficult to search through Twitter past six months."
A Twitter spokesperson directs users to this policy information page, which explains how to contact Twitter about a deceased user. A person who is authorized on the behalf of the estate or verified immediate family member of the deceased has the power to deactivate the account. The only requirements are the Twitter account's username, a copy of the certificate of death, a copy of the authorized person's government-issued ID and a signed, notarized statement. All requests must be mailed to Twitter directly.
LinkedIn: Saying Professional Farewells to a Colleague
Death on LinkedIn is much less complicated. This social network is not a space for personal messages or condolences.
"Traditionally, mourning on LinkedIn has been more directed towards the passing of professional contacts or celebrities," Dye tells ReadWriteWeb. "Typically, people don't turn to LinkedIn to mourn close family members or friends."
She points out that there is one main exception: People who have linked their Twitter updates to their LinkedIn accounts. In this case, any tweets about the deceased will appear in the LinkedIn stream.
Like most features on LinkedIn, the deceased member – verification of death form is very straightforward. It helps close the account of a deceased LinkedIn member by simply clicking on the "Verification of Death Form" attachment, and submitting it either online or via fax. The person who submits the form must have the deceased LinkedIn user's email address.
Google+: Go Somewhere Else
Google+ is still young, and it is entirely entangled in a user's Gmail account. The Search Plus Your World option also further complicates what it means to die within Google's massive Web because it makes Google+ users even more searchable. Plus, Google+ doesn't deal nearly as much with personal topics as Facebook or even Twitter. Keeping the news-first angle in mind, Google+ users generally direct others out of Google+, sending them elsewhere on the Internet.
"To date, it appears that people use Google+ to show their support of those who are mourning by directing them to other websites (such as online support groups) or by sharing helpful articles," explains Dye.
Because Google+ is the network where people talk about other networks, the following naturally happens: "Additionally, there is a lot of discussion on Google+ about what should happen to people's accounts once they die and how the mourning process is carried out on other social networking sites."
We reached out to a Google+ spokesperson about how to deal with the Google+ account of a deceased person, and she sent us a link to accessing a deceased person's mail.
In that way, Google+ is perhaps the simplest social network of all. Deleting the email account of a Gmail user will also take care of the Google+ account. There might be something to that, namely that it's the opposite of the oft-times messy, overly emotional nature that makes up Facebook in all its young vulnerabilities.
Image via Flickr user zero159.