The COVID-19 pandemic saw a significant increase in the growth of the freelance industry. According to Website Planet, there were about 1.1 billion freelancers worldwide in 2021.
So, what is driving these professionals to adopt freelancing?
Besides better financial prospects, freedom and flexibility to choose the type of work are the main reasons why professionals switch to freelancing.
However, freelancers face their own share of challenges.
What Are the Challenges Freelancers Face?
Here are a few obstacles freelancers face when managing their work lives.
Improper time management – Freelancing requires a person to wear multiple hats. They have to juggle various tasks and functions, from sales and marketing to accounting and project management. Juggling multiple responsibilities can consume a lot of time and effort, provided they organize themselves. That is why having excellent time management skills is an essential skill in the freelancing world.
Lack of focus – The idea of multitasking various projects simultaneously is exciting because of the exposure and experience one gets. However, the drawback here is that the freelancer finds it tough to focus or delve deep into a task assigned. This ultimately affects their quality of work.
No motivation – In a workplace environment, we often have colleagues and seniors to challenge and push us to achieve more. However, freelancers have to go on from one task to another by themselves. Therefore, they need to motivate themselves to achieve objectives. Unfortunately, that's not always possible. More often than not, freelancers face a dip in their motivation levels, causing their work to suffer.
Besides the points mentioned above, the absence of an organized workflow significantly impacts a freelancer's motivation and productivity.
But the gig economy is here to stay! Freelancers focused on improving their working style and boosting their productivity have perennially depended on technologically advanced tools.
Tools like customer relationship management (CRM) platforms, communication tools, project management platforms, and time trackers have helped freelancers overcome various challenges they face.
For instance, technology has brought people across all locations closer. This means freelancers can collaborate with customers and other stakeholders anywhere around the globe and have easier access to opportunities than before.
This globalization is triggered by digital transformation that has enabled freelancers to opt for flexible engagement models at their convenience. As a result, freelancers are getting an opportunity to pick desired projects based on their expertise and irrespective of the demographics.
Among all the digital advancements that have helped freelancers stay organized, the role of the Kanban approach has been phenomenal.
Let's understand the Kanban approach and how it can help freelancers improve their performance.
How Kanban Approach Can Help Streamline Your Freelance Business
Kanban approach is a workflow management approach for defining, managing and improving your processes to deliver the best to your clients. It helps you visualize your processes and your work to maximize its efficiency.
This approach to project management helps you identify the potential bottlenecks in your workflow processes and fix them to yield desired results faster and cost-effectively.
Let us now understand how the Kanban approach can help you organize your business processes effectively.
1. Track and Manage Client Projects
Kanban is the most-used project management approach for managing client projects. Kanban board provides an excellent overview of your projects. It helps you create and manage tasks, set deadlines, and keep track of the project's progress.
In addition to managing tasks, you can also set priorities and deadlines for your tasks to ensure their timely completion.
You can also use Kanban boards to keep tabs on your client meetings, phone calls, and other details. Using Kanban for client work eliminates the need for additional software apps as you can organize multiple projects and plan out the delivery of tasks at your convenience.
With the Kanban approach, you can invite your client to collaborate with you on your board. In addition, some project management boards like Jira offer role-based permissions to the users for seamless project management.
Basecamp, a project management tool, offers an excellent chat feature (campfire) to chat with clients in real-time.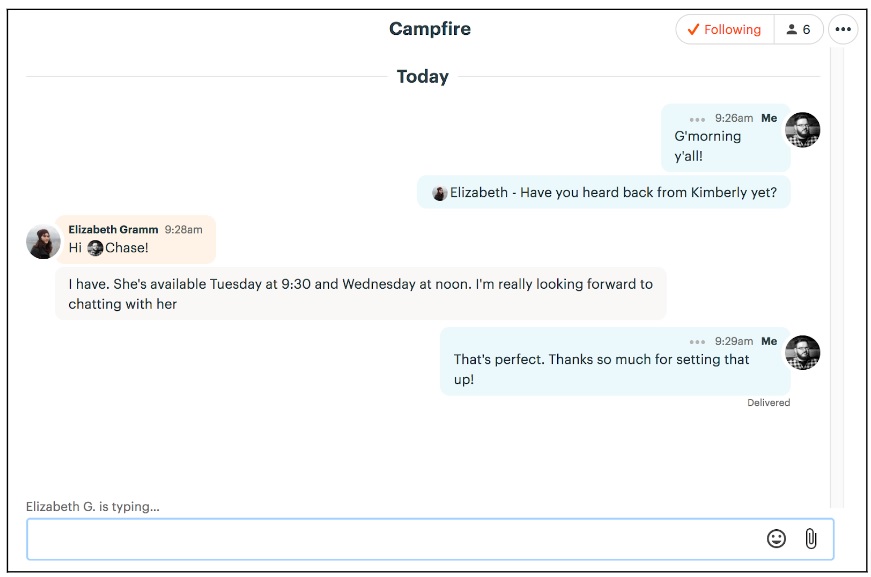 Image Credit: 3.basecamp-help.com; provided by the author; thank you!
Similarly, the Jira-Slack integration enables users to chat with their clients via Slack.
Image Credit: img.polontech.com; provided by the author; thank you!
Here are some tips that you can follow to expedite your processes.
Write a quick project scope document for every project and share the same with your client.
Create email templates for outreach, sales pitch, and other marketing-related tasks.
Use invoicing software like FreshBooks or Invoicely. Jira also comes with a module to create, save, and send invoices to your clients in a few clicks.
2. Gather Content Ideas
The Kanban approach can be a perfect medium to brainstorm, confirm, and plan your content before they are sent to your editorial calendar. Collect content ideas for your freelance business by conducting dedicated brainstorming sessions, doing market research, and keeping track of content requests from your audience.
You can use a Kanban board to save all ideas for future blogs, articles, eBooks, and other types of content pieces without disturbing your ongoing work. By following this approach, you will never lose out on content ideas in your head.
RescueTime, a productivity and time tracking app, uses the Kanban approach for managing content ideas for their blog. This idea board is a centralized repository of content ideas for their future blog posts.
Image Credit: rescuetime.com; provided by the author; thank you!
3. Build and Manage Your Editorial Calendar
Take out the struggles of content publishing by having a dedicated editorial calendar for your freelance business. From topic ideas and drafts to finished content, you can track the entire lifecycle of your content pieces and manage everything seamlessly with the help of the Kanban approach.
With the help of Kanban cards, you can store content details like the keywords, resource links, reference links, and other details on your task directly. You can also create custom checklists for your content pieces to ensure you do not miss any step of the content creation process.
Buffer, a social media post scheduling tool, uses Trello to manage their editorial calendar.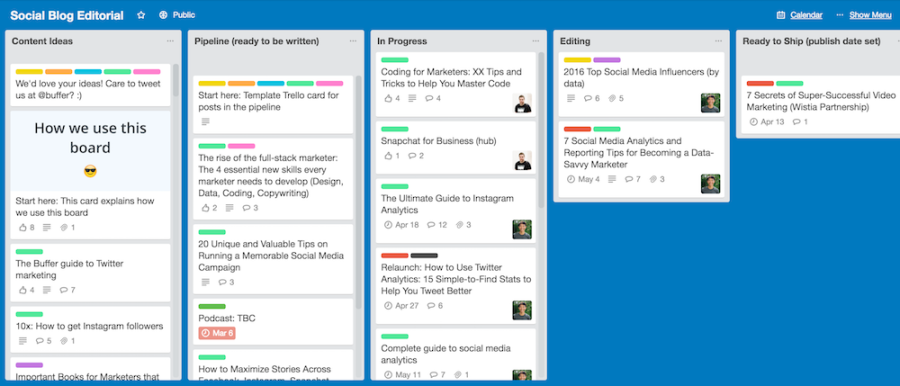 Image Credit: zapier.com; provided by the author; thank you!
Their simple workflow consists of six stages – Content Ideas, Pipeline, In Progress, Editing, Ready to Ship, and Shipped. The Buffer team tracks the task status as they move across this workflow.
4. Manage a Social Media Calendar
Keep a pulse on your social media marketing initiatives by following a Kanban approach. Strategize, organize, and post branded content on your social media pages without breaking a sweat.
You can plan out your social media strategy in small actionable steps. You can create tasks for –
Brainstorming post ideas
Creating content for the posts
Designing assets for the posts
Post scheduling
Tracking the performance of the posts
Engaging with your audience
Here are some quick tips for managing your social content better.
Leverage design tools like Canva for designing your social posts. Canva offers over 400K+ design templates for various social media channels.
Use online cloud storage, such as Google Drive, OneDrive, or DropBox, to store media files, namely images, videos, and infographics.
Sign up for a social media scheduling app like Hootsuite or Later and take away the pains of manually posting content on every social page.
Kanban for social media marketing can organize your social campaigns and ensure posting on social accounts is done promptly.
5. Track Outsourced Work
Managing and tracking outsourced work is a hassle for most freelance businesses. There is generally a gap in collaboration, communication, and information sharing. A Kanban approach to such situations can reduce this gap significantly.
A simple Kanban board can help you track the tasks and keep a complete hold over the project progress. Share tasks with a well-written description explaining the work expectations, set a priority and deadline, and other information, if needed. This will ensure the outsourced team will be in sync with you.
You will be able to see who is doing what and identify the challenges you could face. Kanban board also eliminates the need for multiple software apps as it offers you everything you need to manage your outsourced work.
Here are effective tactics that will help you with outsourced team management.
Sign your contracts, proposals, invoices, and documents using a digital signature. This will significantly quicken the signing process and help save both time and cost.
Communicate with the outsourced team frequently. Conduct regular standups and weekly meetings to discuss the progress of your projects.
Share the required assets – writing guidelines, design guidelines, project scope, and other information about your company and the projects with the team before starting the work.
6. Share a Public Roadmap
Listening to your audiences and providing a solution to their pain points contributes significantly to strengthening your brand image. Likewise, audience feedback is also a strong factor that should not be ignored.
Having a Kanban board to capture your customer's feedback and requests is the most beneficial approach. You can further make this board public and give your customers access so they can drop in their comments or thoughts seamlessly.
Trello, the famous project management software, has a dedicated board for managing feature requests from its customers.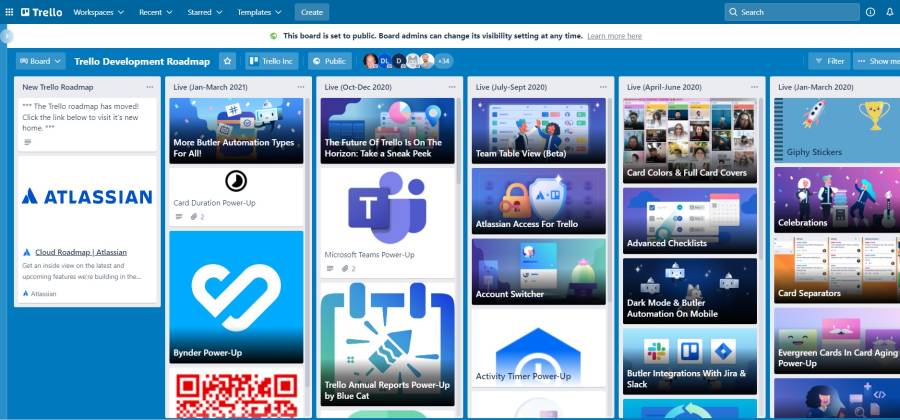 Conclusion
To improve productivity and streamline their processes, freelancers should focus on making their workflow seamless. One way of achieving this is by using the Kanban approach.
If you are a freelancer looking to streamline your business, this approach will help you speed up your work delivery. It will set the right balance between priority and deliverables at hand. So, go ahead and use the Kanban approach to stay organized and boost your productivity and revenue. Happy freelancing!
Top Image Credit: Pexels; Thank you!
Try Out Productivity Tools We Are Using
| | | | |
| --- | --- | --- | --- |
| | Best Productivity and Management Tool | | |
| | Best Calendar and Scheduling Tool | | |
| | Best Social Media Scheduling Tool | | |
| | Best Time Management Tool | | |
| | | | |
| | | | |