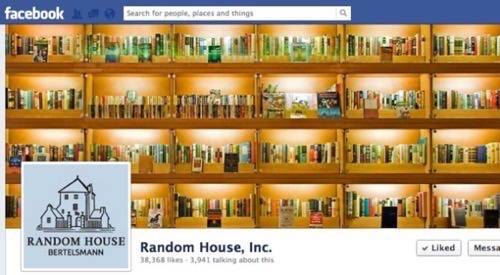 In the fifth and final part of our series, Social Books, we explore how the "big six" book publishers use social media. So far in the series we've looked at the largest social network for book lovers (Goodreads), a new social network for book writers (Writer's Bloq), how public libraries use social media, and whether book highlights are being successfully socialized. We've learned so far that almost everything to do with books – writing them, reading them, borrowing them, making highlights in them – has been impacted by Web technologies. So surely the biggest book publishers in America will have adapted to online technologies too, right? Let's find out!
The so-called "big six" in trade book publishing across North America consists of Hachette Book Group, HarperCollins, Macmillan, Penguin Group, Random House and Simon & Schuster. There are hundreds of other publishing firms, some of them subsidiaries of the big six. But for the purposes of this post, we'll focus on the biggies and highlight three of the main social networks they use: Twitter, Facebook and Tumblr.
Twitter Book Clubs
Penguin USA has done an innovative thing with Twitter, holding a monthly book club with the help of hashtags and tweeting authors. Every month Penguin staff selects a book by one of its authors and invites people to tweet about it using the hashtag #readpenguin. It holds "mini book club meetings" during the course of the month, in which the book author answers questions from readers. The current book of the month is Laura Lamont's Life in Pictures by Emma Straub.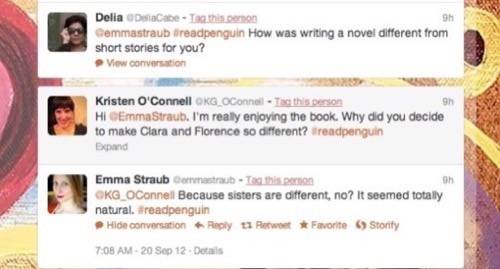 Simon & Schuster also runs book club type activities on Twitter, plus Facebook.
Facebook – Differing Strategies
The big six don't all use Facebook in the same way. Hachette irregularly updates its Facebook page (there are only 3 updates in September so far) and probably as a result it only has 3,998 likes currently. Compare that to Random House, which appears to do 3-4 Facebook updates per day on average and has 38,369 likes.
However, it could be that Hachette is simply trying a different Facebook strategy from the norm. Because instead of focusing on its corporate brand page, Hachette promotes the Facebook pages of its authors and fan pages for Hachette books.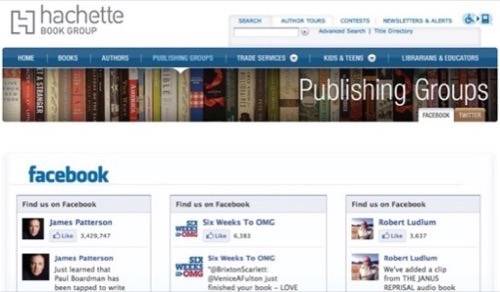 One of Hachette's leading authors, novelist James Patterson, has 3.4 million likes. Patterson appears to be regularly – and personally – updating his Facebook page. He's not quite as prolific as Paulo Coelho, the master of social media among authors, but it's still a good effort.
Tumblr Is Popular With Book Publishers
Blog advertising company Blogads did some research In January this year and found that Tumblr is especially popular with book publishers.
HarperCollins, which has a presence on just about every social media service, has a couple of good Tumblrs. The corporate HarperCollins Tumblr features blog posts by staff, alongside quirky promotional ideas like "Seen on the Subway" (photos of everyday people reading HarperCollins books). One of the company's divisions, Harper Perennial, also does a colorful Tumblr.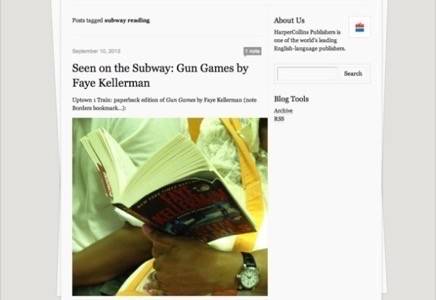 The Author & Reader Take Center Stage
That's just a taste of what book publishers are doing with social media. I got the sense that it's incredibly varied and that each of the big six is experimenting with social media in a different way. They all had one thing in common though: the author and her audience is paramount when it comes to social media.
Whether it's helping promote an author's Facebook page, blogging about an author on Tumblr, or organizing a Twitter discussion between an author and her readers, the publishing houses understand that the Social Web is all about authors engaging with their readers.