The Internet of Things — or IoT as we know it — has introduced a new era of connectivity. From autonomous vehicles to smart kitchen appliances, IoT technology aims to create vast networks of connected devices. It has been considered a colossal milestone in the development of modern technology and has the potential to revolutionize the business landscape.
IoT-enabled management systems are a boon for small business owners. With many small and medium enterprises (SMEs) struggling to stay afloat, those that have incorporated advanced IoT systems into their daily processes have seen great benefits.
However, despite the potential of IoT to bring sustainable growth and address or eliminate issues within a business operation, some SME owners remain in the dark about how IoT technology could help them and their business.
Industry 4.0 is a new phase in the Industrial Revolution that heavily focuses on various technologies that will have a significant impact on all types of business operations. There is automation, machine learning, and interconnectivity.
Internet of Things will play a key role in the development of Industry 4.0 with its ability to connect physical devices to digital platforms to create a more suited environment for manufacturing and supply chain management.
While every industry operates on a different level, IoT is the common solution to face the upcoming challenges such as connectivity, real-time data flow and maintaining a vast network of "smart" devices.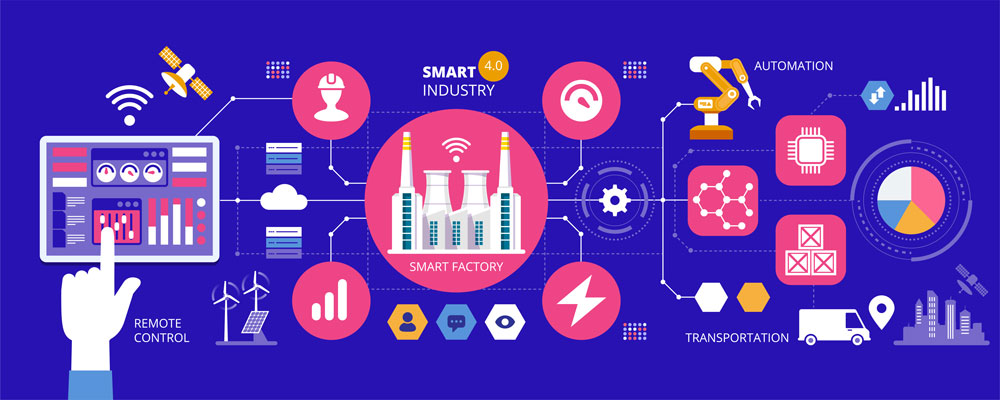 What's the core benefit of IoT?
The IoT has introduced a new way of thinking when it comes to connectivity and the potential of connected devices. With the ability to connect devices at a higher level and transmit information at greater speeds, companies of all sizes are able to utilize IoT-enabled systems to improve their business operations.
Once, the term connectivity was reserved for computers and smartphones. Today, the list of items with the ability to interact with each other, and exchange information over the cloud. Currently, the remote operation has extended to everything from smart heating systems that can be controlled via a mobile device to smart frying pans that can prepare your food just the way you like.
Want dinner ready before you even arrive home? You can have that done remotely, by phone, too.
IoT systems consist of a set of sensors and "smart" devices that, in a sense, talk to each other over the cloud. Sensors and devices detect the changes in the condition of their environment or collect the requested data from their designated target for the software to process, and then decide on an automated response such as issuing an alert to the responsible parties.
IoT is essentially about gathering information and using the accumulative data to improve existing business practices and promote machine-to-machine communication. Although an advanced management system can seem like a big investment for small companies, the quick ROI and drastically reduced expenses mean that IoT systems basically pay for themselves.
When Magnet 360 moved into their new office building and required an upgrade to their HVAC system, local IoT startup 75F built a sensor network for the company that cut their energy costs by up to 70%.
Different industries have different problems, and many IoT systems have been developed to accommodate their needs. Below are just some of the ways IoT systems can help different types of business.
1 – Logistics
Regardless of their size, distribution and transportation operations can be a logistical nightmare. The requirements of the transportation industry and the expectations of consumers have evolved to the point that it is no longer possible to simply plan for a series of pick-ups and hope for the best.
An experienced transport manager could plan a reasonably efficient route and attain an acceptable result a few decades ago but today, regulatory laws such as GDPR affect everything from driver hours to how IoT and telematics data are used in fleet procedures.
Compliance with the regulations as well as last-minute adjustments makes delivery schedules and transport routes more complicated than they used to be. Their complex nature is exacerbated by the huge amount of information that needs to be conveyed to coordinate different branches of a business.
IoT technology enables enhanced data flow by building a network of devices that can connect and share data. What's more, IoT-based fleet management systems can significantly improve fuel economy, increase vehicle uptime, and boost vehicle and driver safety through continuous vehicle monitoring.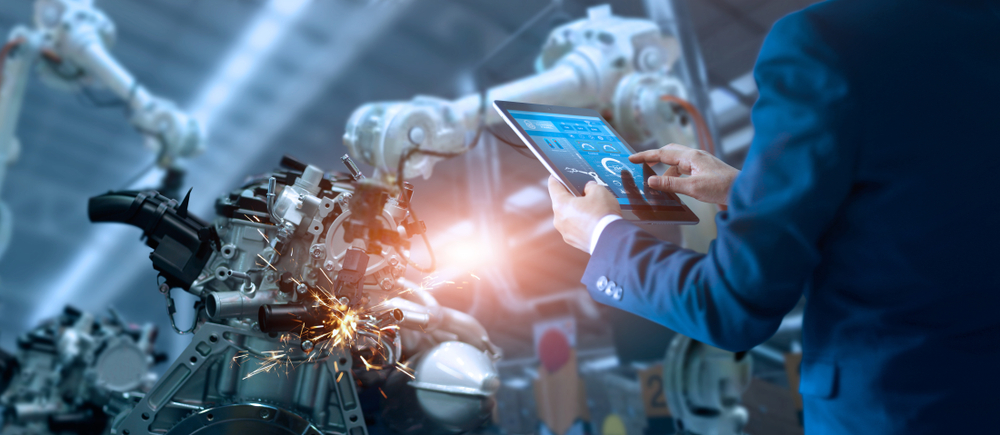 2 – Manufacturing
Coordinating the manufacturing of goods can be tedious without the right tools. Effective resource management is particularly important for SMEs, as they typically have limited resources that they cannot afford to waste.
IoT technology allows businesses to oversee their manufacturing processes in detail so that they can identify existing issues and any areas that could be improved. IoT technology can be applied to ensure proper asset usage, extend equipment service life, and provide the highest possible ROI on assets.
58% of manufacturers surveyed agreed that IoT technology was required for them to transform their industrial operations; however, the biggest obstacle preventing the adoption of IoT systems is cost.
The data gathered by the IoT devices can be used to program assembly lines to work in unison. Production output will increase as a result of the improved workflow, additionally, collected data and sensitive sensors will allow for automated fail-safes and proactive maintenance measures to be introduced.
The global usage of IoT in manufacturing is estimated to reach $45 billion USD by 2022 due to the increasing number of intelligent connected devices all over the globe.
3 – Productivity
SMEs usually have different goals and quotas to large businesses, but the basic principles are always the same: increase productivity, and revenue will increase as a result. The emergence of highly sophisticated IoT-enabled devices has had a massive impact on business productivity.
Company managers now have access to accurate and actionable data on-demand, which significantly improves decision-making processes and helps them to respond promptly to important events and emergencies.
There are several ways IoT systems can make SMEs more productive: improving collaboration between departments, streamlining fleet operations, lowering operational costs, tracking the movements of vehicles, and many other benefits.
IoT systems are so powerful in this aspect, they are expected to generate $1.2 trillion to USD worldwide through improved productivity over the next decade. Companies can utilize information gathered by IoT-enabled devices to deliver their products faster, reach their target quotas more consistently, and improve their supply chain.
With more jobs completed and the accurate estimated time of arrivals, SMEs can improve productivity, have a happier customer base, and ultimately generate more money to invest in their business.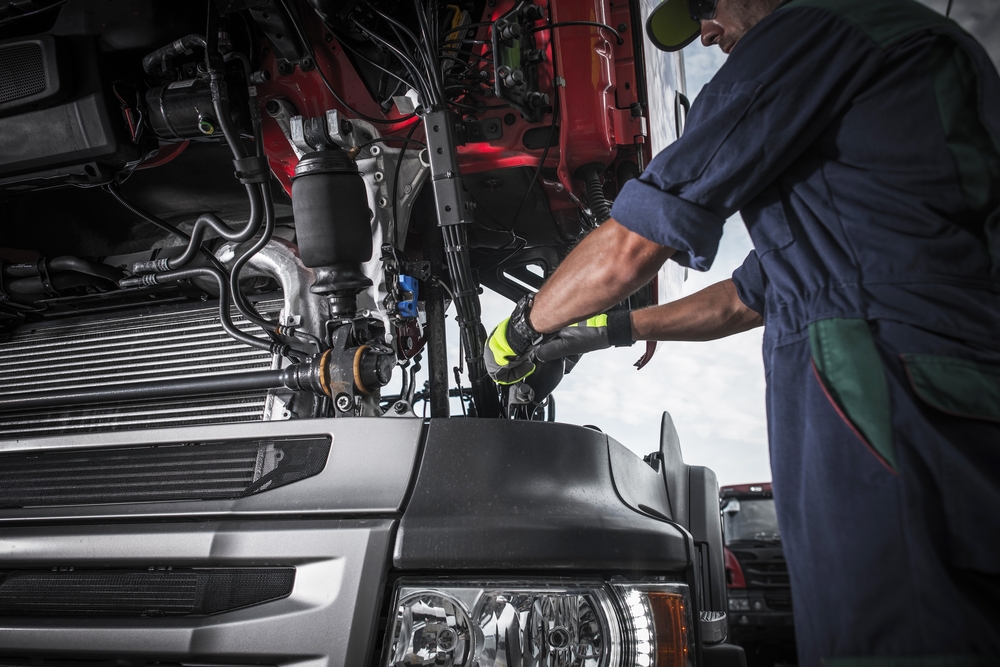 4 – Maintenance
Keeping company assets adequately maintained is a crucial but often a complex task. For example, without proper servicing, commercial vehicles may break down during transport, causing unexpected downtime. This could spell doom for an SME without a robust contingency plan.
What's more, heavy-duty vehicles and vehicles on the road for long hours tend to suffer damage at an accelerated rate.
IoT-enabled car trackers can detect and transmit malfunctions before they lead to more serious situations. The devices connect through the OBD-II port, giving them access to engine error codes and diagnostic reports.
OBD-II is an onboard computer that monitors vehicle data such as mileage, speed, and emissions, it can be accessed via a 16-pin port that is usually located under the driver's side dash.  Analyzing these diagnostic reports is key to identifying which vehicles need repairs and when to schedule preventive maintenance.
Research from Volvo shows that IoT-enabled preventive maintenance solutions can reduce diagnostic times by up to 70%, with a 25% reduction in repair times. Proper maintenance can help assets outperform their operational efficiency.
5 – Consumer Satisfaction
IoT systems can provide SMEs with accurate, real-time information to their customers. On-time shipments are a necessity for retaining and extending a customer base. Customers are understandably frustrated when an order has a long delivery time or extended delays. And unfortunately, shipments sometimes get lost or suffer damage during transport.
Damage and loss are especially problematic when shipping perishable goods, that need to be kept in a controlled environment until delivery. IoT-enabled devices can be augmented with sensors that can detect even the smallest changes in the condition of cargo or the vehicle itself.
As well as ensuring the integrity of shipments, IoT-enabled devices can help companies keep their customers informed with precise condition data and real-time delivery information. By keeping customers updated and keeping a steady flow of information about their shipments,  businesses will see an increase in their ROI by retaining their existing customers as well as attracting new customers with their top-end quality of service.
Matt Schron, the general manager of Jergens Industrial Supply — a distributor of industrial products including safety glasses, drills, and boots — revealed that integrating IoT systems into his business helped to boost sales, lower customer costs, and improve customer satisfaction.
Jergens used IoT technology to improve their customer experience by speeding up the approval process for when their frontline workers need safety glasses and other items.
When a "smart button" is pressed on one of the racks, shelves or other locations, one of the on-site managers is alerted to approve the request by connecting to one of the wireless networks.
6 – Security and Safety
In 2017 alone, there were over 4,000 workplace deaths that could have been prevented with proper maintenance and better control over the work environment. IoT solutions offer significant advantages for the safety and security of a company's workforce, property and goods, and vehicles and cargo.
IoT solutions can automate many security procedures and identify security flaws within an operation, helping to eliminate any vulnerabilities. Employees who feel safe and protected are frequently more productive, which can dramatically improve profit margins.
IoT-enabled fleet management systems that monitor and manage a fleet remotely provide real-time access to the location of vehicles and instant alerts in the event of accidents and emergencies, which can greatly enhance driver safety and reduce response times to accidents and emergencies.
From collision avoidance to remote immobilization, there are countless safety-enhancing innovations to look forward to.
The technology of the future – Conclusion
The Internet of Things has truly reshaped the way SMEs can conduct their operations. Technology plays a big part in managing the different aspects of a business and enhancing the quality of services. The benefits associated with IoT devices are essential for SMEs to transition into the digital age of business management.
While their business model may heavily rely on smart technologies such as AI, it doesn't necessarily mean these small businesses are equipped with the right set of tools to manage their logistics operations and communication between different branches.
With minimal investment, IoT solutions [rewiresecurity.co.uk] can help companies improve their operational capacity, reduce expenses, and manage their resources better, giving rapid ROI. In addition, IoT solutions can be utilized to create a safer work environment, with real-time event alerts and on-demand access to vehicle and driver location data. While larger enterprises are among the pioneers of the IoT revolution, SMEs can also reap the benefits of building a sophisticated network of connected devices.
Try Out Productivity Tools We Are Using
| | | | |
| --- | --- | --- | --- |
| | Best Productivity and Management Tool | | |
| | Best Calendar and Scheduling Tool | | |
| | Best Social Media Scheduling Tool | | |
| | Best Time Management Tool | | |
| | | | |
| | | | |