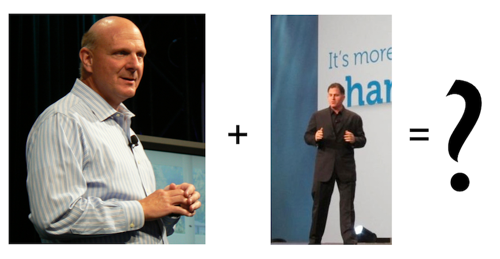 With an eroding PC market causing mayhem among its allies, Microsoft is reportedly talking about investing big in Dell to help take the troubled company private.
(See Why Would Microsoft Invest $3 Billion Into Dell?)
Such a dramatic move would inject Microsoft much deeper into the hardware business, giving it the chance to help drive the kind of innovation that has recently eluded the PC industry. But it would also blow up its longstanding partnerships with computer makers.
Shaking Up The Industry
Microsoft is only in discussions to join an investor group for a Dell buyout, and has made no commitment, according to The Wall Street Journal. If Microsoft were to follow through, than its investment would likely be around $2 billion. And Microsoft refuses to even discuss the report. "We do not comment on rumors or speculation," a company spokesperson said. Computer makers are also staying mum. Asus, Lenovo and Hewlett-Packard either declined comment or did not respond.
However, there's no reason why the rest of us cannot have a little fun exploring the implications of a deep Microsoft/Dell partnership.
First of all, this would simply be another step in Microsoft's push to shake up the moribund PC industry. Microsoft has good reason to take charge of its own destiny, rather than leave it to a bunch of partners that are moreKeystone Copsthan PC innovators. Since the release of the first iPad in 2010, tablets have joined smartphones in eating away at PC sales. During the last quarter of 2012, shipments fell more than 6%, marking the first time in over five years that the PC market has recorded a decline during the holiday season,according to International Data Corp.
So far, PC makers' most promising response has been the ultrabook, a thin and light laptop that is the Windows version of Apple's MacBook Air. Ultrabook specs, including size, weight and battery life, are dictated by Intel, which owns the name. So far, manufacturers have been unable to produce ultrabooks at a price low enough to attract consumers. As a result, PC makers are confusing customers with cheap alternatives with names like Sleekbook, which is made by HP.
That's clearly not good enough for Microsoft, which has made a radical overhaul of its operating system with Windows 8 and launched its own tablet after computer makers failed to slow sales of Apple's iPad, which dominates the tablet market today.
Microsoft + Dell
Microsoft has apparently grown tired of this bonehead behavior, and Dell offers a way out. For starters, the computer maker has deep expertise in PC manufacturing and support, neither of which Microsoft knows how to do well.
Besides the consumer market, Microsoft could steer Dell toward being more focused on the Windows platform for the data center, rather than "trying to do everything for everybody," said David Johnson, analyst for Forrester Research. In addition, Microsoft could get access to Dell's enterprise sales force.
Finally, a Dell/Microsoft partnership could lead to "converged infrastructure" that unifies the silicon, the hardware, the operating system platform and the management and operation tools. Such systems, which are a relatively new trend in the enterprise market, enable companies to use the same infrastructure for multiple purchases, such as running applications and storage. "It would be a potential game changer," Johnson said.
Of course, other computer makers would unlikely be happy with Microsoft working so closely with Dell – and perhaps giving it preferential treatment. However, Microsoft has already become a competitor with the Surface tablet, and largely gotten away with it.
(See Acer Begins Competing Against Microsoft's Surface Tablet – In The Press)
Microsoft's hardware partners would likely have even bigger issues with a Microsoft-Dell hookup, but there's not really much they can do about it. "Once you decide you're competing with the OEMs (original equipment manufacturers), you're competing with the OEMs," said Michael Cherry at Directions on Microsoft. "You're already there. The investment just makes [Microsoft] a bigger OEM."
No one knows whether Microsoft will actually structure a deal to make Dell a premiere partner. But if it does, then Microsoft will effectively redefine its relationship with PC makers, creating a far different industry than exists now. And that could be a very good thing.
Best of all from Microsoft's perspective, investing in taking Dell private could give it most of these benefits for less than $3 billion, not the $24 billion and major complications a complete buyout might cost, if Dell were even for sale.
Image source: Dell and ReadWrite.