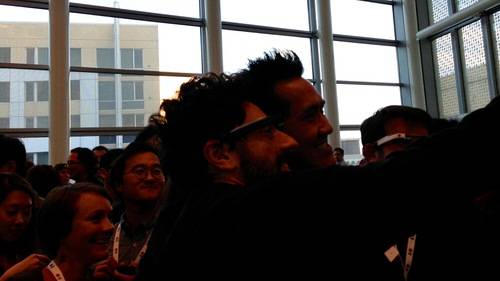 At the Moscone Center West, where Google's been holding its annual I/O conference for developers, we've seen a fair number of people wearing Google Glass, the face-mounted display-and-camera gadget Google introduced last year.
The most prominent Glass-toter was Google cofounder Sergey Brin, who drew a crowd at an after-hours party for press attending the event. He first talked to reporters, then chatted up SlashGear writer Vincent Nguyen, also a Glass-wearer.
There's A Right Way And A Wrong Way To Take A Selfie With Glass
Then Brin put his arm around Nguyen, drew him close and made an unusual gesture: He whipped off his Glass headset, spun it upside down, and clicked the camera button to take a photo of the pair.
"So you can take a selfie with Google Glass?" I asked Brin.
"The team debated this," Brin told me. Some felt the camera should turn off when you take the headset off, to avoid accidental photos. But Brin felt Glass users should be able to take a self-portrait. Normally, wearing Glass, you can only take a photo of what you're looking at.
Of course, with Glass off your head, you avoid the consumerist showiness of displaying the fact that you possess a $1,500 headset. But unlike those who snap fake Glass selfies in a mirror or with—gasp—the smartphones Glass is supposed to obviate, Glass owners who follow Brin's prescribed whip-reach-and-click routine can rest assured that they're doing it the right way.