On the 100th anniversary of the Pikes Peak International Hill Climb, can a Tesla set a new record on what's considered one of the world's most dangerous races?
Race car driver and serial entrepreneur Blake Fuller will take the wheel in the modified stock version of the Tesla Model S, the first time the world's best-selling electric car has competed in the race.
"To return to Pikes Peak for the 100th Anniversary as an invited competitor is an honor," says Fuller. "To be able to compete in the first Model S to do so makes this year even more special."
He says his team has "been wanting to see a Model S compete Pikes Peak. We kept waiting for someone to do it, and now we don't have to wait any longer."
Fuller is no stranger to victory in this quick-but-gruelling race competition. He earned "Rookie of the Year" honors in 1999 at Pikes Peak and won the prestigious Open Class in 2002.
Along with hundreds of professional motorsports podium finishes since, he's managed to launch a couple of an innovative battery startups – the latest being GO PUCK, which let's you take more power with you on the go to keep your electronics powered up.
Fuller actually began in motorsports working on the battery concept behind the scenes. In 2001, he developed a new battery for his 2002 race-winning Pikes Peak hill climb vehicle that was 80% lighter than the car's original battery. In the decade since, his batteries have powered championship winning vehicles in NASCAR, Indy Car, and Formula 1.
He took that experience to develop GO PUCK's versatile battery for consumer goods, and his belief in the lithium ion technology is what's enticing him back to racing.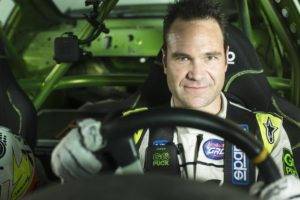 Electric production class record at stake?
For the electric production class – stock production vehicles in which few modifications are allowed – the current record holder is the electric version of the 2012 Honda Fit, with a time of 12:55.59 set in 2014.
But if you've driven in the, uh, economical Honda Fit, you'll quickly notice a difference in size between the compact starter car and the Tesla Model S.
For racing purposes, larger means heavier, and heavier could mean slower. And the Tesla Model S packs on over 2000 extra pounds of weight than the Fit. Fuller has lightened his Model S by 800 pounds before installed required safety equipment.
The car has already seen testing at Sonoma Raceway and private tests in the forests of Northern California.
"Being the first to enter the Model S into competition poses many unique challenges from advanced electronics to unique vehicle dynamics," Fuller said. "At each stage of the preparation, we are discovering new possibilities and areas for innovation in which we endeavor to help bring to fruition." 
Although it's only 12.42 miles, the Pikes Peak course has 156 turns. It begins at 9,390 feet and finishes at the mountain's summit, 14,115 foot up. Drivers have been known to pass out due to the altitude.
Full details of final race spec will be released on or about the first testing dates at Pikes Peak June 4-5th, but here are the current stats for the GO PUCK Tesla Model S:
HP: 750hp+
Top speed: 145-160 mph
CD: .24-.26
Wheelbase: 116.5 in
Length: 196.0 in
Width: 77.3 in
Height: 56.5 in
Curb weight: 800lbs lighter than stock, pre-roll cage.
Seats: 1 Sparco racing seat- (7 Seats OEM)
Wheels: Wheel Pros
Tires: Toyo Tires
Safety: Sparco Racing Seat & Harnesses, Kertz Fab Roll Cage, Fire Extinguishers, Window Nets, Open Eyes
Team Partners: GO PUCK, GoPro, Kilpsch Audio, ROBRADY Design, Toyo Tires, T Sportline, Wearable IOT World, Wheel Pros