Garmin's stock price rose to its highest level in 52 weeks after reporting better than expected earnings and revenue for the second quarter.
Investors were pleased to see Garmin transition from the lacklustre automotive industry to the growing fitness market. The automotive segment accounted for 39 percent of the company's revenue in 2015, but now only accounts for 30 percent. Fitness, outdoor, and marine segments all grew this year, with fitness now accounting for 26 percent of revenue.
See Also: U.S. health policy can't stop wearables data-bleeding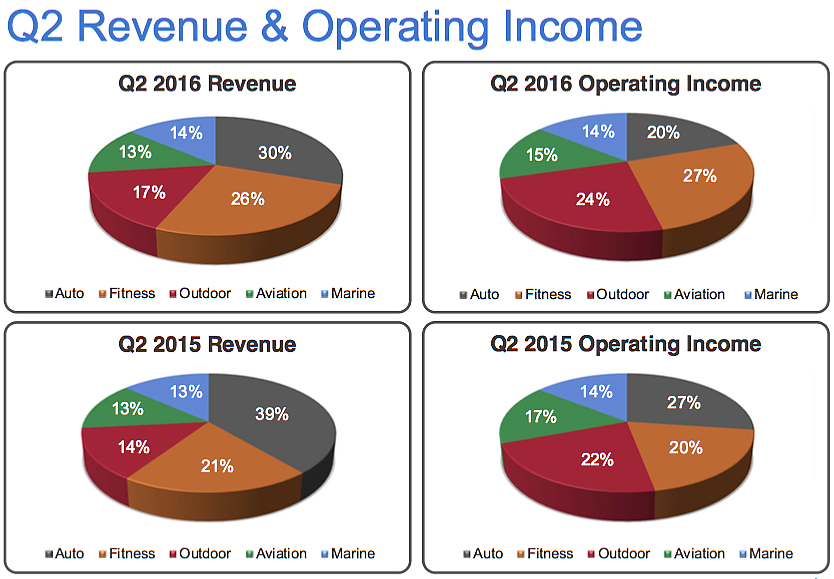 Garmin focused on fitness
Garmin sells a wide range of wearables for all types of sports and adventure customers. In the past, that market has been overshadowed by GPS and dashboard sales, but sales have been dwindling for a few years as smartphones and in-house dashboard GPS start to take over.
The Vivoactive, Forerunner, and Vivomove trackers were the most popular, according to Garmin. It did not mention individual segments of its fitness sales, like cycling, a market Garmin has been trying to corner with a variety of wearable devices.
"Fitness and outdoor achieved impressive revenue and profit growth driven by our strengthening position in the wearables market," CEO and President Cliff Pemble said. "Aviation and marine also delivered revenue and profit growth while auto remains a solid base of profit contributions to the overall business."
Even with the surge in consumer demand for its fitness wearables, Garmin remains below the leaders in this segment, Fitbit. Xiaomi, the Chinese tech giant, also holds more marketshare with its range of inexpensive wearables, available in Asia.
Garmin is ahead of Jawbone and smaller fitness tracker providers and sells more wearables than any Android Wear manufacturer. It currently also sells more wearables than Samsung, which is surprising when you consider the breadth of Samsung's wearable range.