IoT growth is skyrocketing, with an annual growth rate of 23%. The number of IoT devices is on track to surpass the number of smartphones to become the largest category of connected devices by 2018. The low cost and wide availability of sensors and radios used to connect everyday objects, like traffic signals and thermostats, to the Internet have tipped the scales in favor of IoT, including IoT in the medical market.
See also: Will data analytics change the healthcare system?
Healthcare IoT has already emerged as an expanding market, but it may be poised to grow even more rapidly. Here's why —
#1: Moving past healthcare uncertainty
There is plenty of rancor over the future of healthcare in the United States. Regardless of the actual impact of any policy, so much noise was made over Obamacare's 2.3% excise tax on medical device companies that it contributed to investors shying away from device startups with long pathways to profitability.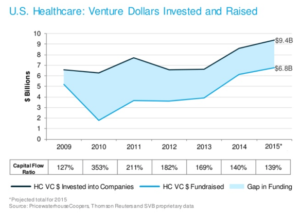 Companies' chief complaint was that the tax was calculated based on gross sales rather than profits, cutting into margins of once-attractive investments. But now, it appears that investors and entrepreneurs are no longer willing to wait for stability before making investments in med-tech. Instead, they've offset those risks by shifting away from complex devices like implantables, and toward medical devices for diagnostics and monitoring, both ripe categories for internet connectivity.
#2: Big manufacturers pursuing IoT
The premium cost of implementing new technologies has never been a huge barrier to the medical device industry. Device innovation has often led to the use of more expensive hardware technologies, like those involving exotic materials, complex assembly, and micro-miniature part fabrication. New technologies also often meet resistance when it comes to quality and regulatory hurdles that aren't a factor in the development of traditional consumer electronics.
Traditionally, FDA regulation governing the sales and marketing of medical devices has been slow to react to technological developments. Currently, however, the FDA seems to be preparing for medical IoT development; it has established a Digital Health Unit and released relevant non-binding guidances for certain topics, like radio frequency wireless technology, mobile medical applications, and cybersecurity. Most analysts are hesitant to attribute FDA action to forward thinking; in fact, it may be that this action is partly caused by highly publicized articles touting the ability to hack and control life-sustaining devices like pacemakers.
Even though the guidances may be non-binding and relatively straightforward, FDA action signals that the medical IoT boom has already begun. Furthermore, the FDA's issuance reduces the potential risk medical device manufacturers face in meeting new regulation by putting forth an expectation of what those future requirements may be. As the development leaders move forward, they are backed by an army of more conservative startups and large corporations waiting to capitalize on the learnings of early adopters, especially in previously unestablished areas like risk management, quality control, and security.
#3: Implementation barriers are lower
Achieving regulatory clarity is not the only challenge that will lead to increased medical IoT development. Only a few years ago, hospitals struggled to implement internet-connected devices. Multiple networks, a lack of wireless connectivity options, and a myriad of security layers made conducting small clinical studies with connected devices extremely difficult. Today, hospital IT systems are being built to accommodate the growing need for flexibility with regard to connected devices, and the knowledge around building IoT products that meet these requirements are also better understood.
#4: Compelling use cases driving development
Given the high barrier to entry in the medical devices market, connectivity will be driven by discrete clinical benefit. There are some incredibly compelling and practical reasons to connect a medical device to the Internet in 2017.
Here are three:
Monitoring, data mining, and machine learning: Big data has been an area of investment interest for some time now. But how does all of that data get gathered, especially when it is personalized medical data that must be retrieved from patients, and not easily gathered in a clinical setting?
Enter the world of medical monitoring – removing therapeutic benefit in lieu of simply collecting data, which typically comes with much lower FDA scrutiny. Once biosensor data is collected, the resulting information can be used for several applications, like the customization of alert parameters for individual patients.
Sentrian is one company doing exactly that. Their "remote intelligence" platform uses machine learning to create an algorithm that could detect 88% of hospitalizations five days in advance, with only a 3% incidence of false positives.
Harnessing the power of the cloud: Medical devices can leverage internet connectivity to do more heavy lifting.
For example, one tech solution sends pre-operative imaging to the cloud in order to reconstruct the human heart in three dimensions and to calculate and model tissue death caused by heart attacks. The model can be used to conduct an analysis of the heart's electrical pathways and map precise treatment, potentially sparing patients with abnormal heart rhythms hours under anesthesia and saving physicians the trial and error of tedious electrophysiology mapping procedures. Cloud and edge computing can revolutionize real-time surgical capabilities and knowledge.
Popular health wearables: The soaring popularity of fitness wearables may be on the decline, but it has ushered in the era of the health wearable. Since fitness wearables have failed in accuracy, companies are eyeing an opportunities to bring them up to medical device quality standards, and also have their sights on the more attractive accompanying margins and longer product life cycles.
Earlier this year, consumer electronics company Jawbone, once valued at $3 billion, announced that it was dissolving its existing business and raising capital to focus on the medical wearables market. One key factor in the future growth of health wearables lies in companies' ability to open up insurance reimbursement, as the cost of meeting medical quality standards will make it difficult for consumers to pay for these devices out of pocket.
Many challenges to medical device IoT have yet to be solved, but the sector is well positioned for rapid growth.
The author is a founder of and shareholder in Cardiosolv, which provides some of these solutions.