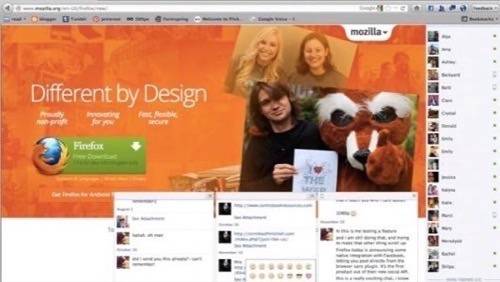 Trying to break your addiction to Facebook's non-stop party of social micro-happenings? If you use the Firefox Web browser, that uphill battle might just have just reached Sisyphean heights. Tuesday, Mozilla cracked open its social API with native support for Facebook's chat feature, Facebook Messenger.
I spoke with Jonathan Nightingale, VP of Firefox Engineering, and Gavin Sharp, Firefox Engineering manager, about what inspired Firefox's new support for social integration:. "We're trying to recognize that social is a different kind of thing," said Nightingale. "People don't use social the way they use the rest of the Web." Since users aggressively tab-hop to stay plugged into sites like Facebook, the team wanted to develop a way to let social notifications "float above" the browsing experience in a more persistent, less cumbersome way.
The new Facebook integration goes above and beyond the existing add-ons that thrive in the Firefox ecosystem, draping Facebook's social sidebar and chat boxes right over the browsing experience. Facebook Messenger for Firefox also adds a toolbar that lets users check notifications and friend requests, and easily toggle the the appearance of the sidebar on or off.
Nightingale and Sharp drew a distinction between Firefox's flexible new social tendencies and the class of social-by-definition browsers like Flock (R.I.P) and RockMelt, which haven't exactly caught on among Web users. Nightingale notes that in true Mozilla fashion, users can opt into new features like Messenger for Firefox or ignore them altogether. "We want to be sure that, at the end of the day, users have choice."
The built-in social tool is just the first in Firefox 17, Mozilla's latest build of its famously open source browser. The feature has been floating around in the beta since October 22, but Tuesday marks its official debut in a final Firefox release. While Facebook and Firefox worked together to develop the integrated social sidebar, Mozilla's new Social API will open the doors for other social products. "We see potential for Social API integrations beyond traditional social sites, too – imagine using the sidebar as an easy way to keep up with group projects, email or new music," the company writes on its blog.
To install Facebook Messenger for Firefox, you'll want to be sure Firefox is up to date, then click the big green "Turn On" button over at Facebook's hub for the new feature. As for turning it off? Firefox makes that easy enough in theory, but after that first dopaminergic jolt of Facebook notifications right in your browser, you might find it harder than expected to live without.