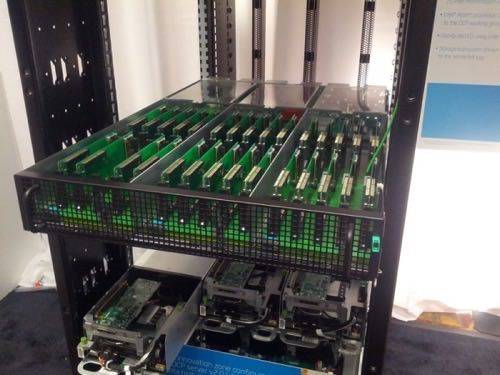 At the heart of a PC or server, the microprocessor beats thousands of times a second. And until now, if you wanted to exchange it for a newer, more powerful model, the transplant was almost doomed to fail. Until Wednesday.
Yes, PC owners can upgrade an AMD processor, for example, to another processor that uses the same electrical socket. But on Wednesday, Facebook announced "Group Hug," an awkwardly-named daughtercard that does something quite wonderful: allow a customer to replace an AMD chip with an Intel chip on a server- or even something completely different, such as an ARM processor.
For someone used to buying an off-the-shelf PC and replacing it wholesale a year or two later, this might not seem like a big deal. But DIY computer builders know that when it's time to upgrade, they find themselves holding onto components like hard drives, just because they're loathe to throw them away. But the combination of a PC motherboard and CPU often costs a couple of hundred dollars or so; in the server space, it can cost much more. The ability to "right size" a server with a CPU that's optimized for a particular task often requires selecting a server out of a catalog. And in a couple of years' time, it means selecting another server, rather than just upgrading a chip.
"I'm going to be able to take the older [components] out, and leave the ones still of value, still of use, in the rack," said Frank Frankovsky, director of hardware design and supply chain operations at Facebook, at the Open Compute Summit on Wednesday.
Open Compute: Enterprise Hardware Hackers
On a technical level, the Open Compute Project, as its known, is essentially a homebrewed server, from a custom chassis design to influencing the design of many of its components. From a business standpoint, the OCP challenged the traditional hardware hegemony. Just as homebrew computer users construct their own PCs, two years ago Facebook had the bright idea of designing their own servers. (Google has done this as well.) Facebook decided, however, to share what it learned with other hardware providers, improving the quality of the industry as a whole.
While hard drives use a serial ATA connection and graphics cards use PCI Express, each CPU provider has used their own socket connector and bus interface, preventing one microprocessor from being swapped for another. Group Hug places the microprocessor on a daughtercard or add-on board, communicating with the rest of the server via a generic x8 PCI Express interface. Exchanging an AMD or Intel chip would be impressive enough, but to be able to add in an ARM chip – which runs an entirely different instruction set – takes this to a new level.
Even more impressively, AMD and Intel have signed on, as have two ARM providers, Applied Micro and Calxeda. One would think that AMD, for example, would try and build in roadblocks to being swapped out for an Intel chip. "But each manufacturer is so convinced that they're the best that I'm not sure this matters to them," said Nathan Brookwood, an analyst with Insight 64.
It's not clear, at the moment, whether or not Facebook and the OCP will have to develop protocols to allow the processor's instructions to essentially be "abstracted," or packaged in a generic fashion that could be understood by the other components within the server. Like the "Graph Search" technology Facebook showed off a day earlier, Frankovsky implied that there was more work that needed doing before the "Group Hug" boards could be considered a reality. Still, manufacturers showed off Group Hug hardware here at the show, indicating that the future isn't that far off – assuming, of course, that both AMD and Intel choose to offer more than just a small number of Group Hug parts.
One might argue that the declining PC market has forced microprocessor designers to accept solutions which may not have been palatable a few years ago. By designing CPUs with a generic interface, Brookwood pointed out, it might mean that customers would be far more willing to swap new ones out, increasing both CPU turnover and sales. And, at least in the server market, traditional hardware makers like Dell and HP have adopted the role of solutions provider, selling value-added, high-margin software services in conjunction with servers that are always in danger of commoditization.
Is This The Future Of The PC?
It's not hard to see this trend making its way to the PC, where finally enthusiasts will be able to swap out which parts they want. The question is, of course, whether there will be a viable enthusiast PC market by that time.
Still, Group Hug represents a revolution of sorts. A decade ago, consumers and enterprise customers alike bought a collection of parts that AMD, Intel, and its partners handed down. As a result, there was little difference from one PC to the next. With Group Hug, the pendulum has swung back to the customer, who will be able to chop any product that doesn't cut it, and replace it with one that does.