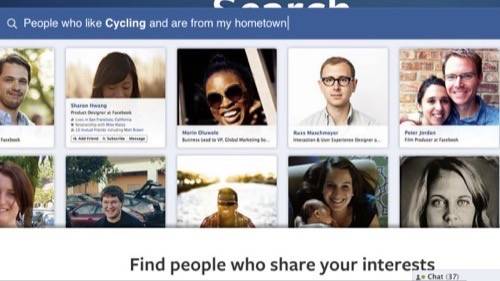 If you've ever run the virtual gauntlet of online dating, you're well aware that most people are creepy. But the stigma of online dating is fast dissolving – and starting with Graph Search, Facebook is right there at the doorbell, tie straightened and bouquet of flowers in-hand.

On Tuesday at a press event at its Menlo Park, California, headquarters, Facebook took the wraps off of its newest feature, a search engine for people, places, photos and interests within a user's web of Facebook friends. During the presentation, Tom Stocky, Facebook Product Director, brought up one big use case that caught many off guard: online dating. "For single people, friends of friends tend to be a good start," Stocky said.

With Graph Search, you can query the social network for phrases like "friends of my friends who are female, like "Homeland" and are single" and get a custom-built singles search culled right from your own social graph. And since Facebook commands a pool of data as deep as it is wide, it has a lot of dirt on its one billion users – from the stuff they Like to the people they hang out with to their core demographic information like location, age, gender and sexual orientation.
If Mark Zuckerberg were to take you out for a night on the town, he'd even know to order a bottle of that local pinot you love. (Graph Search, for all its other implications, is also the perfect pick-up line generator.)
A Really, Really Big Phonebook
Seemingly content with the fact that just about everyone who might consider signing up for an account is already a member, Facebook now wants to fuel more social discovery – connecting people online first, so they can connect offline. The dating use case is obvious, but Graph Search could also prove handy as a recruitment and job hunting tool, Facebook noted.

"Mark says we're going back to our roots," a Facebook spokesperson told me following Tuesday's announcement. "In the beginning… before we had News Feed, [Facebook] was like a directory service – you had to use it to find people. With News Feed it became way more about picking up with the people you already knew. And now we're hoping that one of the things about [Graph Search], being the third pillar, is that people will start to find ways to make new connections, whether that is friends, people who share the same interests, dating, recruiting – whatever."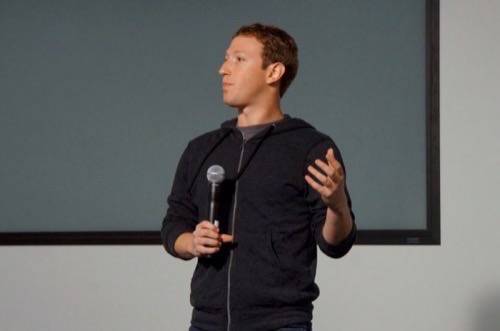 How Online Dating Sites Work Now
Dating sites like OKCupid, eHarmony and Match.com obsessively tinker with their romance recipes, but Facebook has a huge advantage: it already knows your friends. By eschewing the layered anonymity that's the cornerstone of the online dating community, the social giant might have just tapped into key the secret ingredient.

Sophisticated algorithms might not stand a chance against the insight and connections of the people we choose to surround ourselves with in real life – but they can try. Match.com pairs you up with so-called "behavior twins" behind the scenes and then nudges you toward the people that they've interacted with. Circl.es, another Web matchmaker, hooks into Facebook to use users' real names and interests, but it blocks out your existing Facebook friends so you get only fresh faces – and not embarrassing encounters with exes.
Hooking Up In The Early Days Of Facebook
I signed up for Facebook on May 21, 2004. The social network, then still known as The Facebook, had just expanded to New York University, the ninth school it added (Harvard being the first). Before I arrived at college, I did something kind of creepy on the nascent social network. Using Facebook's search tool, I hunted for NYU students who I might want to get to know – namely other female students who identified as "interested in women."
From my outpost in suburban Texas, I Friended some of them -others I just sort of observed at a distance. Facebook profiles were pretty open back then, but they didn't have much info. Still, that sexual orientation tidbit in the Basic Information section was a telling one, and I wasn't the only one using it to connect to people I'd later befriend (and later, er, "date"… in at least one instance).

Because the Web makes winnowing the human population down to people who might consider sleeping with you in the first place a lot easier for those of us seeking same-sex partners, the LGBT population tends to be over-represented in online dating stats. But while sexual orientation may not have been salient to my straight classmates in the same way – plenty of them used Facebook to date too, back then.
Before it was a running joke, we're talking roughly eight years before Poke made its second coming as an app, meeting someone cute at a party and poking them the next day was just what you did (no, really, it was!). These days, Facebook isn't really a social discovery engine in the same way. People still use it to hunt for potential partners – in fact, i've been asked on more than one date via Facebook in recent months by a friend of a Facebook friend – but usually that's only after some sort of real-life encounter.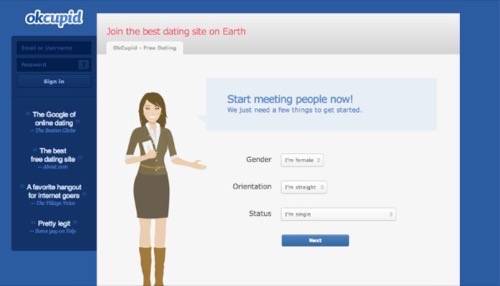 Online Dating Is Broken
Online dating is a booming business – to the tune of $2.1 billion in early 2012 – but it's also a broken one. According to the co-author of a meta-study of online dating outcomes, all of those mysterious romance recipes might just be leading us on. Eli Finkel, Associate Professor of Social Psychology at Northwestern University, summarizes the findings in "The Dubious Science Of Online Dating," a takedown published in The New York Times:

"[Online dating] sites tend to emphasize similarity on psychological variables like personality (e.g., matching extroverts with extroverts and introverts with introverts) and attitudes (e.g., matching people who prefer Judd Apatow's movies to Woody Allen's with people who feel the same way). The problem with this approach is that such forms of similarity between two partners generally don't predict the success of their relationship."
Graph Search Could Evolve
Will Graph Search evolve into something better? Facebook admits that it doesn't really know how users will end up using any new product as it rolls out – and that includes Graph Search.
In an ancient version of its FAQ, the company explained that this ambiguity was the exact idea behind everyone's favorite retired-then-resurrected Facebook feature. "When we created the poke, we thought it would be cool to have a feature without any specific purpose," said Zuckerberg. "People interpret the poke in many different ways, and we encourage you to come up with your own meanings."
Of course, Graph Search has many implications beyond the world of online dating, but it's a pointed example of how Facebook's third "pillar" casts a wide net. And true to recent form, the company intends to trawl up just about all the competition while it's at it. Will users burned out on established online dating sites sculpt Graph Search into the next Match.com?
Could be, and the one social network to rule them all apparently doesn't mind casting a line in that direction.