Facebook stunned the tech world last week when it scooped up the messaging application WhatsApp for $19 billion.
The deal was largely heralded as a win for both sides: Facebook gained a much-needed service it hasn't yet delivered on, and the small startup cashed in big time. But the downside of the acquisition fell heavily on the shoulders of users—those 450 million people whose private data is now in the hands of Facebook.
If you're a WhatsApp user who wants to break up with Facebook, or someone looking for a great new messaging application, we've put together a list of mobile messaging apps you should try.
Telegram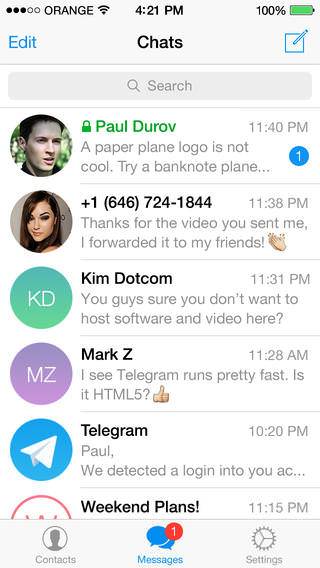 Almost five million people signed up for Telegram after Facebook bought WhatsApp. As a messaging service, it is sleek and easy to use.
Telegram, which is built by a Berlin-based nonprofit, is cloud-based and heavily encrypted so users can use several devices to access their messages and documents including both mobile and desktop. The company also claims Telegram is a free service that will remain so in the future, meaning no advertisements or subscription fees will ever be levied on customers.
Telegram is available on iOS and Android. Developers can access and implement the app's API through Telegram's open source code.
Wickr
Snapchat's sophisticated competitor Wickr brings government-strength security and encryption to your messages. Wickr lets you send self-destructing messages, documents, photos, videos and voice calls that disappear after a select amount of time.
Wickr is entirely anonymous, as the application doesn't ask for any of your personal information. Wickr is also exceeds top secret and HIPAA compliance, so people in medical, law enforcement, and journalism fields can feel confident using Wickr for secure messaging knowing it can't be traced or reproduced.
Wickr is available on iOS and Android.
Line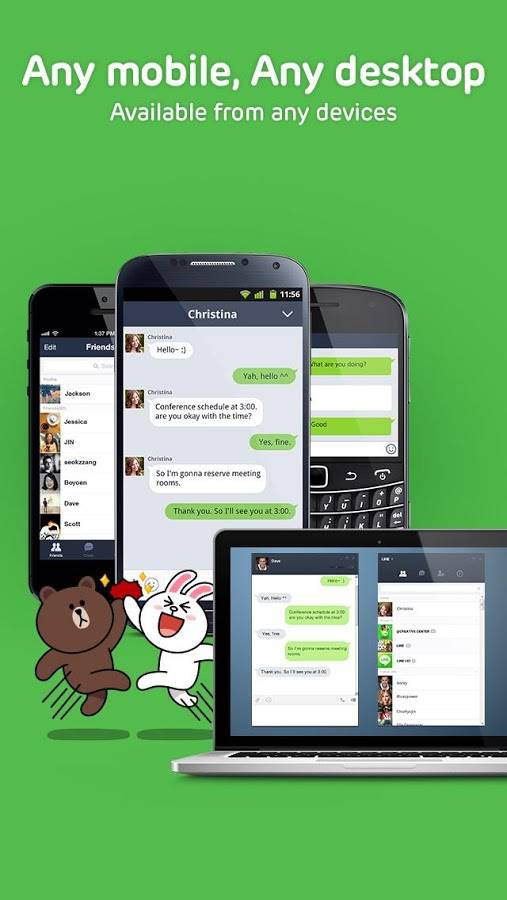 Line is one of the most popular messaging services on the market for free voice and video calling.
The app is massively popular internationally, especially in Asia, and it finally entered the U.S. market earlier this year. Line is more than just a simple messaging application—it has branched out to offer in-app games and a variety of standalone apps like Line Camera and Line Tools. While the app is free, additional services like stickers and games provide revenue for the company. In the first quarter of 2013, Line made $17 million off sticker sales alone.
Line is available on iOS, Android, Windows Phone, and Blackberry.
Kik
Kik is the world's first messaging application with a built-in browser. The application boasts over 100 million users, a majority coming from North America and Western Europe.
Kik has over 30 HTML5 experiences built into the application for sharing pictures, videos and gaming, according to the company, and recently launched the in-app browser. Kik has also created open source tools to help developers build and optimize their websites for mobile.
Kik is available on iOS, Android, Windows Phone, and BlackBerry.
Tango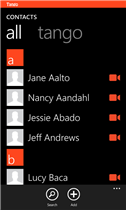 Tango, like Line, offers an all-inclusive social app with games, music, video, and voice and text messaging. The San Francisco-based company says the app has 150 million users.
Because of the additional features that extend beyond voice calling and messaging, users of more traditional messaging services like WhatsApp may find the interface a bit confusing, but users can personalize their profiles to find and make friends or discover people you may know nearby.
Tango is available on iOS, Android and Windows Phone.
Breaking Up Is Hard
It's inconvenient to switch to an entirely new messaging service, especially if all your friends are dedicated to one app. But you shouldn't feel forced to turn over your data to Facebook either. All these applications provide messaging services that rival WhatsApp, without the commitment to Facebook services, meaning you're not turning over your mobile phone book and payment information to the social network in exchange for an efficient messaging service.
Lead image by Susan NYC via Flickr. All other images via app stores.