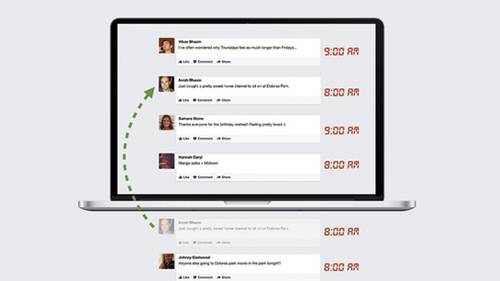 Between advertisements you never asked to see and unnecessarily hidden status updates from your closest friends, it's no wonder that Facebook has come under pressure from users to explain itself. Today on the Facebook business blog, the company outlined how it decides what to show you in a News Feed FYI that is itself a rare display of transparency.
According to News Feed engineer Lars Backstrom, "every time someone visits News Feed there are on average 1,500 potential stories from friends, people they follow and Pages for them to see, and most people don't have enough time to see them all." That figure comes from an internal study of 7,000 active users over one week in July 2013.
Pay No Attention To That Algorithm Behind The Curtain
Without exposing any company secrets, Backstrom described the key components underlying the most recent update, and why you're seeing the status updates you see at any given point in time. Basically, your likes and comments serve as big signals to the Facebook algorithm that you'd like to see more of the same. And yes, the algorithm also puts a high ranking on stories you hide because you don't want to see them anymore.
Why not just keep your feed primarily unfiltered, the way Twitter does? Apparently, we the users have vetoed that alternative.
"Our ranking isn't perfect, but in our tests, when we stop ranking and instead show posts in chronological order, the number of stories people read and the likes and comments they make decrease," Backstrom wrote.
Facebook's goal is to encourage as many likes, comments, and other indications of activity as possible from users. Not only does it demonstrate that users are enjoying the site, but it offers sparkling statistics to share with advertisers and brands. So it makes sense that today's update is about giving the news feed a longer tail.
What Comes Around, Stays Around
As changes are rolled out onto users' news feeds, they'll notice that if they forget to read earlier stories, those stories won't disappear.
"Previously, people read 57% of the stories in their News Feeds, on average," Backstrom wrote. "They did not scroll far enough to see the other 43%. When the unread stories were resurfaced, the fraction of stories read increased to 70%."
Facebook is clearly prioritizing ways to keep people on the site for longer. But the big win today isn't the new feature; it's the social network's attempt to show a human side and explain, clearly and transparently, what's happening behind the scenes.