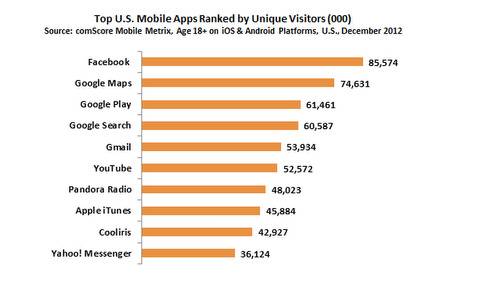 Well, it looks like Zuck might have had it right. Facebook may still be figuring out this whole monetization thing, but it is a mobile company. In fact, in the mobile app world, it's the mobile company.
Facebook Is Now The Most Popular App In The U.S.
According to new data from comScore, Facebook leapfrogged Google Maps in October 2012 to become the most popular smartphone app in the U.S (as measured by monthly unique visitors). Of course, Apple's decision last fall to swap in its own Maps app for Google Maps in iOS 6 mostly accounts for Google's sharp drop-off. The two apps had been neck and neck in mid-2012.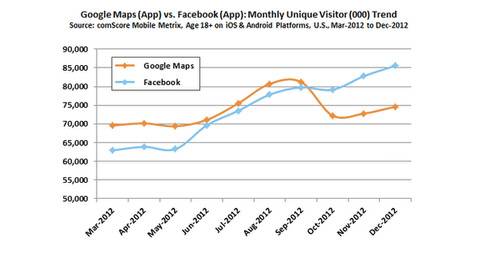 Facebook's Mobile Engagement Is Insane
Facebook's app has insane levels of engagement. The Facebook app alone accounts for a whopping 23% of time spent on mobile apps, according to the comScore analysis.
Next to Facebook, Instagram clocked out with 3% of total time spent on mobile apps. Add up the time spent on Facebook's app and time spent on Instagram, and Facebook soaked up over a quarter of the total mobile engagement in the U.S. as of December 2012. Whoa.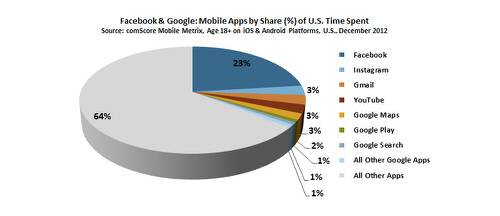 Facebook And Google Duke It Out
As of December, Facebook has its claws deep in position one, but Google is crowding the rest of the competition out. Google products account for the second through sixth most popular mobile apps across iOS and Android (Yahoo! Messenger, bafflingly, is #10).
Considering that Facebook just rebuilt its Android and iPhone apps, it should feel pretty good to be king. As its bevy of slick apps in top spots shows, Google lives and breathes mobile. But Facebook is just now figuring things out, shifting its weight toward mobile strategy and revamping its notoriously wonky apps in the latter half of 2012.
What will happen as Google Maps, now back in the App Store, marches up toward the top slot is anyone's guess. Facebook will sit pretty as the reigning king of mobile in the meantime – and even Google can't approach the epic levels of mobile engagement inspired by the biggest social network in the world.