Facebook has announced changes to its iOS app that let users take more control over their News Feed, the central stream of information around which the rest of the service is built. The same changes are coming to Android and desktop Web in the coming weeks.
The move is notable because of the way Facebook has relied on smart algorithms since the earliest days of the News Feed to work out what users are most interested in: who they interact with most, what kinds of content they skip past, the popularity of posts with mutual friends, and other factors are all taken into account.
This algorithmic approach has antecedents, like Amazon's purchase recommendations, and many, many imitators, in music, media, and other fields.
Now Facebook is handing some of that control is heading back to users—which should make anyone following Facebook's algorithmic lead have second thoughts.
"We know that ultimately you're the only one who truly knows what is most meaningful to you and that is why we want to give you more ways to control what you see," writes Jacob Frantz, a Facebook product manager.
Manual controls for tweaking the News Feed have always been available, but they've previously been difficult to find—and working out the effect they had wasn't always easy. Now the options to tweak what's shown in the stream are much more straightforward.
The most significant update gives users the chance to prioritize particular people or Pages: It's like a VIP list of updates that will always appear at the top of the News Feed. It should help you catch posts from close friends who don't use Facebook much—the kind of low-signal activity that Facebook's algorithm struggles to catch.
Users are obviously the best judge of what they want to see, but we're also notoriously reluctant to spend time and effort curating—take a look at the Google+ Circles experiment, for example. Facebook is likely hoping these changes help strike the right balance between control and convenience.
Beware The Algorithm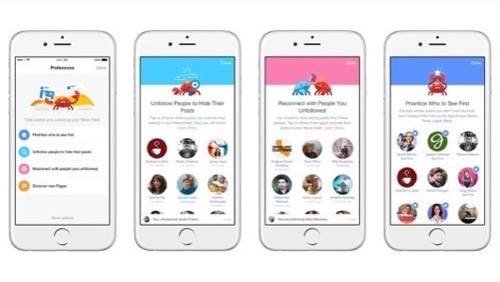 The beauty of curation controlled by software algorithms lies in the way it can chew through huge amounts of data smartly: It's everywhere from Amazon to Netflix, prompting us towards what we might like next based on what we've liked before.
It helps users avoid drowning in a deluge of content, whether that's posts from hundreds of friends, 30 million Spotify tracks, or a plethora of photos uploaded from a smartphone—no one wants to have to tag all those photos, but as Google has discovered, no one wants to be labelled a gorilla either.
For music streaming services, recommendations have become a major battleground, where the balance between human and software curation has become a key talking point: Apple Music's Beats 1 is very prominently staffed by real DJs, whereas Google Play Music's mood stations are all generated by a trusty algorithm.
Whenever some kind of selective presentation is involved, from Twitter's While You Were Away to YouTube's What To Watch, there's a need to mix human input with background smarts. If you're relying on computer algorithms, they need to work very, very well. If you want user feedback, make sure it can be done conveniently and intuitively. And if you use human editors, make sure they have an excellent, unrobotic feel for what the audience wants.
Microsoft's age-detection robot getting your age wrong might be something we can play off for laughs. Facebook automatically resurfacing tragic events you'd rather forget about definitely isn't. No matter how smart the algorithm, a little human common sense goes a long way—even on the Facebook News Feed.
Images courtesy of Facebook