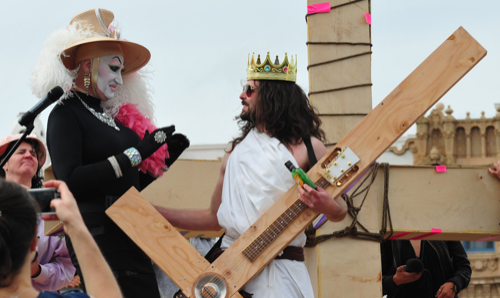 Facebook is forcing people to use "real" names, a move that could destroy the privacy of people who use stage names or pseudonyms online for both safety and personal reasons.
The social network has long had a "real identity" policy, requiring people to use their legal names. But enforcement of the policy seems to have stepped up recently. Facebook recently emailed some high-profile users of stage names or pseudonyms informing them that they'd be locked out of their accounts until they changed the name on their account.
How Real Are "Real" Names?
One of them is Sister Roma, a well-known member of the Sisters of Perpetual Indulgence, a San Francisco-based activist group whose members often appear in public in drag. Activists like Roma often use their stage names on Facebook, as that's how most of their friends and acquaintances know them.
Roma is now reluctantly going by her "real" name, Michael Williams. She wrote in a Facebook post that she is considering deleting her profile entirely.
In an effort to stop Facebook from targeting people who use pseudonyms on the social network, drag queen Olivia La Garce launched a Change.org petition asking the social network to let performers use their stage names on Facebook accounts.
She writes:
Although our names might not be our "legal" birth names, they are still an integral part of our identities, both personally and to our communities. These are the names we are known by and call each other and ourselves. We build our networks, community, and audience under the names we have chosen, and forcing us to switch our names after years of operating under them has caused nothing but confusion and pain by preventing us from presenting our profiles under the names we have built them up with.
La Garce also points out in a post on her personal Facebook page that thousands of people claim to have the name "Glen Coco," a fictional star in the movie Mean Girls.
Drag queens aren't the only users targeted by the "real name" controversy. Facebook forced Hawaiian Chase Nahooikaikakeolamauloaokalani Silva to change his name, too.
Google faced its own name controversy when it launched the Google+ social network and applied heavy restrictions on what names people can use. The so-called #nymwars ended in July when Google finally eliminated naming restrictions.
Danah Boyd, a social media scholar and researcher at Microsoft, calls the "real name" policies abuses of power. In 2011, she criticized Google+ and Facebook for their haphazard name requirements:
What's at stake is people's right to protect themselves, their right to actually maintain a form of control that gives them safety. If companies like Facebook and Google are actually committed to the safety of its users, they need to take these complaints seriously. Not everyone is safer by giving out their real name. Quite the opposite; many people are far LESS safe when they are identifiable. And those who are least safe are often those who are most vulnerable.
It seems quite obvious: Many people don't want to share their real names on the Internet. Yet social media companies still resist this reality.
Facebook told us that if people want to use a pseudonymous name, they have other options:
If people want to use an alternative name on Facebook, they have several different options available to them, including providing an alias under their name on their profile, or creating a Page specifically for that alternative persona. As part of our overall standards, we ask that people who use Facebook provide their real name on their profile.
That's not an acceptable answer for many. Facebook's proposal that drag queens, activists, and other name-variant individuals use Pages deprives them of several key features of the social network, including sending and accepting friend requests and writing private posts.
Considering Facebook's recent efforts to increase user privacy, and the social network's option to select from more than 50 genders when filling out personal information, its blindness when it comes to self-expression around something as private and personal as a name is confusing.
Earlier this year, Facebook CEO Mark Zuckerberg suggested in an interview with Bloomberg Businessweek that the company might soften its stance on real identity:
I don't know if the balance has swung too far, but I definitely think we're at the point where we don't need to keep on only doing real identity things. If you're always under the pressure of real identity, I think that is somewhat of a burden.
Here's how Zuckerberg could lift that burden: Facebook could ask for users' real names as part of their account information, then allow them to put privacy settings on who can see them (perhaps no one), while displaying an alternate name to the rest of the world.
That would satisfy Facebook's desire to know its users' legal names while protecting activists and others who prefer to serve up realness under a different name.
Photo by Chris Hunkeler