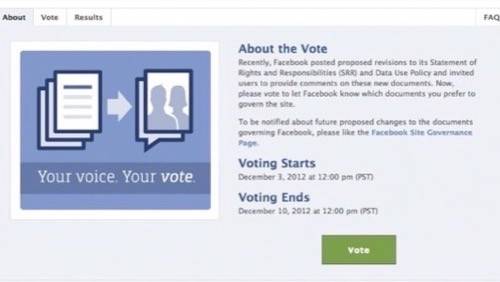 The pseudo-democracy of Facebook has invited its billion-plus users to vote on their own rights – but don't count on getting your voice heard.
On Monday, Facebook allowed users to weigh in on the site governance policy, namely whether it remains as is or if a set of proposed changes will go into effect. Facebook has opened the polls in the form of a third-party voting widget and is expected to send an email explaining the process to its entire user base.
It's even possible that some Facebook users might actually read it this time. (The last site governance email – embedded below – sailed into the collective inbox black hole on the eve of the U.S. Thanksgiving holiday.)
So what's the catch? The vote will be binding only if 30% of Facebook's more than one billion users weigh in. If they don't – and that's by far the most likely scenario – the results will be considered advisory and Facebook's proposed policy changes will go into effect as planned.
That Pesky 30% Threshhold
In other words, Facebook is asking users to vote on their own right to vote, but unless Hell freezes over, it'll be taking away that right. The poll will close on December 10 at noon Pacific time, so be sure to exercise your right to a faux democratic process before then.
Of course, the post-IPO Facebook is far more beholden to its stockholders than its users. Still, Facebook claims the proposed changes are ostensibly to fix the feedback system, which wasn't particularly effective to begin with. In fact, ReadWrite has been skeptical about it since 2009, when it had that pesky 30% clause tacked on:
"We encourage you to participate and make your voice heard. For this vote and any future one, the results will be binding if at least 30 percent of active Facebook users at the time that the vote was announced participate. An active user is someone who has logged in to the site in the past 30 days."
What The Vote Means
Want to weigh in anyway? Read up here on how the proposal will affect privacy, data ownership and some of those other hot-button issues that Facebook users like to get up in arms about.
Sure, it's not particularly easy for a beast as big as Facebook to collect and consider user feedback, but at this point the site's whole feedback system is as condescending as it is illusory – right down to this last vote.