Ten years and billions of wall posts and embarrassing selfies later, Tuesday marks a full decade of Facebook's existence on the Web. From a Harvard dorm room project to a social network with more than a billion registered users, Facebook has evolved to help people connect with their friends around the world—despite its fair share of missteps and controversies.
As we look back at how Facebook changed our lives—it has, whether or not we want to admit it—we must consider the massive scale to which it grew. And, by doing so, Facebook changed the social nature of the online landscape in ways even founder and CEO Mark Zuckerberg couldn't anticipate.
"It's awesome that there's this utility and community at our school, and one day someone will build this for the world," Zuckerberg said at the Open Commute Summit last week while describing a conversation with his friend in the early days of Facebook. "It didn't occur to me it could be us."
Facebook can lay claim to almost every personal aspect of its users' lives—from helping high school friends stay connected to documenting every literal step of our babies' lives, to even being our one-stop social login for other apps and websites. Facebook is now such a part of the social fabric that it's unlikely we'll ever see another all-encompassing, dominant social service quite like Facebook.
What Facebook has built will be its legacy: The last big social network.
From Social Network To Social Identity
Before Facebook arrived in 2004, the Internet wasn't an easy place to connect with the people around you. Sure, you and your friends could exchange email addresses or AIM/MySpace usernames, but both of those early social platforms were littered with strangers and spambots with no good solution for either problem. There wasn't a website where users could create their own social profiles, connect with others, but most importantly, feel safe enough to use their own names—to literally be themselves.
Facebook changed all that. By starting off as an exclusive platform for Harvard students that slowly opened up to more colleges (and eventually high schoolers) over time, Facebook offered a relatively safe, easy-to-use online platform for users and their friends to keep in touch, share their thoughts and photographs with each other, and, yes, even use their government names.
See Also: Facebook's Paper Splashes A New Coat Of Paint On The News Feed
The term "social network" is thrown around a lot to describe any site that connects people on the Internet. Twitter is a social network. LinkedIn is a social network. But Facebook is the original social network—the one website that brought together everything we wanted in an online space, and made "social network" as synonymous to Facebook as "search" is to Google.
Most social networks are specialized in some way: Twitter is great for posting status updates; Foursquare is perfecting check-ins; Instagram, now Facebook-owned, is the most popular place for sharing and consuming photos. Pinterest and Tumblr are advancing the visual web, and messaging services like Snapchat are overtaking the personal messaging landscape. But there's still nowhere quite like Facebook for connecting with friends, where so often we find ourselves scrolling through updates from friends we wouldn't otherwise be in touch with.
A recent Pew Internet study found that many users approach Facebook to share with a lot of people at once. It's true—there are very few online platforms that can boast hundreds of people you know personally all in the same place. And even though Facebook has found itself in hot water countless times over the last decade for putting profits before privacy (e.g. Facebook Beacon in 2007, sponsored stories last year), users continue to voluntarily offer up their data to Facebook—after all, where else on the Web can you conveniently find all your friends in one place?
Since Facebook is still the most popular platform where people use their real names, Facebook login is becoming one of the most popular forms of controlling and maintaining our online identities. The company is beginning to integrate with everything, meaning we need a Facebook account to use services like Lyft or Amazon Wish Lists. Soon, logging in with one's Facebook account could become the mainstream way to identify oneself online.
Do We Even Need A Social Network Anymore?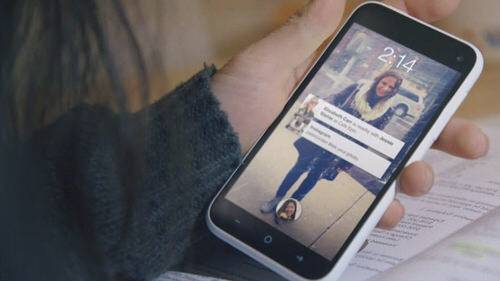 As the company pushes for more fragmentation, Facebook as we know it—a timeline of status updates, photos, news, and advertisements—is changing.
Facebook has provided its fair share of online offerings over the years—a messaging service, a photo-sharing service, and even a news service. Now, even though Facebook still offers its main site and mobile apps, many of those individual services have spun off to become successful standalone applications. Facebook offers Instagram and Facebook Camera for photos, Facebook Messenger for chatting with friends, and now Paper for reading news stories from Facebook and around the Web. These apps are a testament to how many people rely on Facebook in some capacity to connect with each other.
Facebook executives told Bloomberg Businessweek the company's recent efforts, including Paper, are tailored for smaller audiences, and won't see a billion users anytime soon. In fact, a Facebook spokesperson told ReadWrite the company will measure each platform's success based on how much—not how many—people enjoy sharing and consuming stories on the application.
As Facebook continues to evolve, so do its users and their habits. Facebook started as a glorified address book, but now we want Facebook to help make the rest of our online lives simpler. But Facebook isn't what many of us signed up for years ago. It has since transitioned into a platform for developers, advertisers and businesses, which encroaches on the initial concept of simply being a place for friends to connect.
Ten More Years
In 2004, we needed Facebook. In 2014, we don't need another one.
Google knows firsthand just how much people want, or rather don't want, another social network. Google+, the company's attempt to create an online identity to rival Facebook, has largely failed, in part because people are happy to stay on Facebook (but also because it's pushing features that alienate more users than they attract).
As for Facebook, it's likely we'll see the largest social network splinter even further as the platform continues to evolve. It's not because users don't like Facebook as an online identity manager, but rather because the world is becoming more digitally literate and we need more specialized apps and resources to reflect our specific needs and interests. A full-service social network isn't needed anymore; a variety of apps are.
See more: Facebook Formally Kills 'Sponsored Stories,' But You're Still Fodder For Its Ads
Facebook helped pioneer the social web as we know it, helping us connect to friends, family and acquaintances in ways we could've never predicted. And although consumers are the fuel for Facebook's success, at the end of the day, it is Facebook that does the heavy lifting and organizes, stores and manages our information for us.
Zuckerberg's vision for Facebook far exceeds simply "a mobile-first company" that empowers people to connect with one another. Zuckerberg sees a world with Facebook on every mobile device, where your Facebook ID enables apps and websites (powered by Internet.org) in countries across the world. He sees Facebook as the portal for the next billion people to connect to the Internet.
In the future, there might be a hub that organizes all our data in a master directory of our online lives. Wearable computers and connected home technologies could be connected to this hub, just like the friends we have across the Web. So why couldn't that hub be Facebook? We've already trusted it this long.
Images via Madeleine Weiss for ReadWrite