Twitter's new expanded tweets initiative does the highly improbable: It integrates photos, videos and music without disrupting the fast-paced Twitter experience. Expanded tweets make as much sense on mobile as they do on the desktop, and that's a huge advantage for Twitter over other places for sharing pictures, videos and the rest.
Expanded tweets are available only to some Twitter users, but you'll probably start seeing them soon. Basically, the new initiative expands on Twitter cards, which offer a preview of the stuff on the other side of a link. You might have noticed YouTube videos, Instagram photos or App Store previews when looking at a tweet in "Details" view. Expanded tweets add features to this view.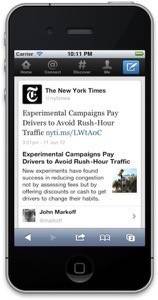 To showcase the program, Twitter has recruited an A-list of media partners including The Wall Street Journal, Breaking News, Time, TMZ and BET. It has also signed on tech startups like SoundCloud and Dailymotion, displaying their media players. These outfits can use expanded tweets to show off embedded media on Twitter's desktop and mobile sites, enabling them to draw in a mainstream audience without disrupting Twitter's traditionally terse presentation.
The Mobile-First Advantage
That combination – rich content in a compact format – is crucial to Twitter's future in a multiplatform world. Twitter was the first true mobile-native social network, and the constraints of the small screen have forced it to keep its service limited to essentials. There have been missteps – remember the QuickBar? – but all of Twitter's experiments have been efforts to do something valuable for users and advertisers, in the limited space of a phone screen, that can then expand to larger displays.
Twitter was initially designed around the imperative of allowing SMS-only users to participate. That's where the 140-character limit came from. But Twitter has outgrown some of its limits as it has become an indispensable real-time service for distributing the news of the moment.
Mike Brown, Twitter's director of corporate development, has admitted as much. He has described Twitter's text-only messages as "command line" style. Translation: The service's grassroots code of hashtags and @ mentions is mystifying to mainstream users.
"We have an opportunity to up-level the chatter on Twitter in a photo, video and narrative that helps people understand the story," Brown says. Sure, it's a promotional opportunity for media companies, but more importantly, it's more fun and interesting for Twitter users.
Twitter and Facebook on Parallel Tracks
Expanded tweets look a lot like Facebook's new mobile News Feed posts. But it's no coincidence that both Twitter and Facebook devised a similar approach at the same time. It works. As Josh Constine reported yesterday, Facebook's new Sponsored Stories get 13 times more clicks, earning 11 times more revenue than its desktop ads.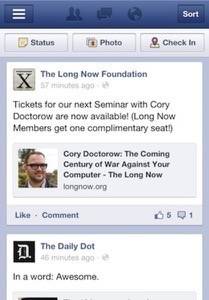 There is an important distinction, though. Facebook routinely makes all posts into rich previews (which can't be helping the crushing slowness of its mobile app). Twitter's expanded tweets are special events. This is a delight to Twitter users, and it's good for its media partners as well. It's an incentive to participate, because sites with expanded tweets will stand out. And, in the fast-paced environment that Twitter has created, users are more likely to act quickly on an interesting link, and that means clicking through to the partner's site.
Overall, sponsored tweets look like a win-win-win situation: Partners get to display embedded media, headlines, author Twitter feeds and so on. Users get a more interesting and entertaining experience. And Twitter adds another potentially profitable element to its rapidly evolving business model.