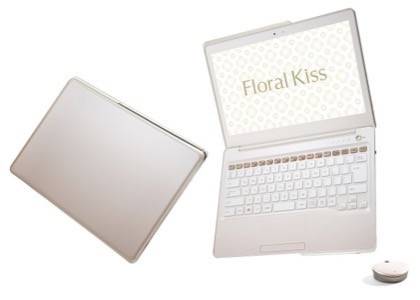 There are many examples where gender-specific marketing works: personal care, dietary supplements, alcohol. Then there are the examples that are just silly.
Last week two pink "female friendly" items were introduced — a laptop and an auto — both trying to get a piece of the female market in a way that's probably unnecessary. Both are from Japan and only available there for now.
Tickled Pink
The Fujitsu Floral Kiss is a laptop that's been "elegantly designed" with a woman in mind. Let's bypass the cringe-worthy name and just get into what makes the computer so lady friendly.
According to the press release, its smoothed, gold-trimmed top casing features a "flip latch that can easily open the display –even by users with long fingernails." It comes in three colors — pink, white, if you're feeling tomboyish, "luxury brown." To finish off the exterior design, a pearlized power button, diamond cut stone keys and zirconia adornments are also included.
An equally delicate mouse is available, no bigger than the palm of your tiny lady hand. Programs in the Floral Kiss include a scrapbooking app, a personalized diary that organizes Facebook and Twitter posts and photos in chronological order, and a daily horoscope.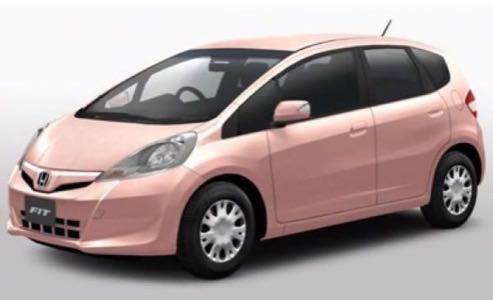 Generations after the Dodge La Femme, Honda sees a profit in building for the fairer driver. The Fit She's means well. It does more than throw on a coat of pastel paint and rosebuds. Though one of its women-folk features presumably would benefit everyone: a windshield that filters 99% of ultraviolet rays. The same can't be said for the "Plasmacluster," a gizmo that pumps wrinkle-fighting ionized air through its pink chrome-lined vents.
Want to guess what colors the She's comes in? Pink, white and brown. Honda says those shades complement eyeshadow. Wonder if it will ever come in smokey-eye?
It's important to emphasize that these are real products. The Floral Kiss comes with Windows 8 and houses a third-generation i5 core processor, comparable to most laptops on the market. The She's will share the Honda Fit's small and fast body style, gas-sipping mileage and well-equipped interior.
Pink Computer, Meet Glass Ceiling
It's not so weird to see a woman using something intended for a guy. We do it all of the time with their razors and tools, but seeing a guy driving around in a pink car or carrying a bedazzled computer would raise eyebrows.
This creates a dilemma for women because these devices are supposed to be tailored to our likes (albeit stereotypical ones), but they can be the very things that keep us from being taken seriously. You're not going to see Melissa Mayer carrying a Floral Kiss into her next meeting, same goes for just about any of the handful of women execs in the tech industry, or any industry.
First Do No Harm, Then Sell Stuff…
The teams that create these products aren't looking to put women into a pink box; they're looking to make a buck. That's fine, there's no finger-waving here when it comes to that. What's being questioned here is the need for that kind of marketing for something that's supposed to be accessible no matter who you are or what your gender.
If you're serious about the devices you use and the investment you make in them, you're not going to research one and think, "Is this appropriate for my gender?" You're going to be looking for what works for you as a person living their everyday life. Memory, processor speeds, weight, miles to the gallon and anything else that resembles the bang-for-your buck, these are the features that matter. Not skin-refreshing air conditioning and manicure-proof latches.