This post appears courtesy of the Ferenstein Wire, a syndicated news service. Publishing partners may edit posts. For inquiries, please email author and publisher Gregory Ferenstein.
Silicon Valley is racing ahead with its own alternative to college and new research from bootcamp review site Course Report suggests that graduates are out-earning some of their diploma-wielding peers.
Nicknamed "coding bootcamps," these offerings have become a cottage industry of fast-track private vocational schools for graduates looking to enter the competitive tech industry as software engineers, data scientists, and other in-demand jobs.
See also: Google Designs Low-Cost Online Degree On How To Build Startups
Many graduates hold college majors notorious for slim earnings potential (like English Majors,) and are now fully-employed in the tech industry making a lot more money.

English Majors earn $33,000 more after graduation (Engineering Majors earn $3,000 more, by reference). Many have no prior coding experience at all to attending the intensive programs, which average 10 weeks long and cost about $9,000 (though, they can last much longer and cost twice as much).
For a few years, there wasn't much data on whether these schools could reliably place graduates at top-tier tech companies, or with some high-paying job in the field.
For the second year in a row, Course Report finds that graduates snag a much higher salary ($18,000 on average) and have better prospects for full-time employment (from 53% to 63%).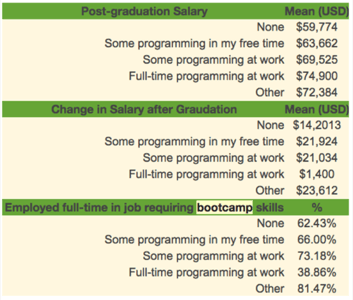 Course Reports should be taken with caution: These aren't your average students. They tend to be a motivated, self-selected group of students who want to change careers, hoping additional schooling will help them break into a competitive field with high-earning potential.
The report looks like a good sign that even colleges have been slow to adopt programs that actually get most of their students a job in their field of study, Silicon Valley can create its own solution.
For more stories like this, subscribe to the Ferenstein Wire newsletter here.
Lead photo courtesy of Shutterstock