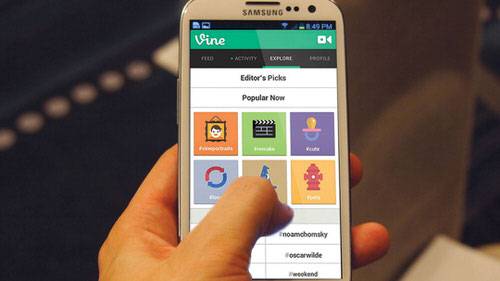 After Texas Sen. Wendy Davis had wound up her historic 13-hour filibuster, the clock struck 11:51 pm. It was the pre-agreed time for people watching from the upstairs gallery to start chanting in order to interrupt an impending vote on SB5, a GOP bill to limit abortions. It was then that Elizabeth Campbell of Austin, Tex., captured the moment on video with her Vine app:
That hypnotic six-second loop of the deafening crowd was the kind of moment we used to expect to see on CNN. But as media critic Rachel Sklar and others have ably documented, the established giants of video news—the cable and broadcast networks—were off the air in Austin that night. Twitter wasn't the second screen, a companion to TV for a big news event. It was the only screen.
Davis's stand is part of a new citizen video trend that's sweeping the globe. It was only in January that Twitter launched Vine, a mobile app that lets users shoot and share video blips. In early June, Twitter announced that Vine had reached more than 13 million downloads, a staggering number for any app.
While its six-second limitation was initially seen as a big disadvantage, it was befitting of a company that helped us distill our thoughts into 140-character blips.
How big is that consumer interest in videos? It's best captured in that classic YouTube stat of video uploads. In 2007, YouTube announced that eight hours of video were uploaded every minute. That figure has jumped to 100 hours of video each minute this year. That's a 13-fold increase in video uploads in six years.
This market was too big for Facebook to ignore, so it jumped into short video on June 20 by adding a video-capture button to Instagram. Instagram lets you record videos of 15 seconds in length.
See also: 8 Ways To Leverage The "I Like To Watch" Ubertrend
Yet short-video players had arrived much earlier. In 2011, Tout debuted a service that allowed users to record and upload 11-second videos. At the time, Tout CEO Michael Downing told me that most online viewers tended to abandon videos in less than nine seconds. Tout believed its 11-second "touts" were therefore optimized for our short attention span.
But another social video service, 12seconds.tv, was shut down in October 2010 due to lack of user growth, leading some to wonder about the future of short video.
Short Videos Cast A Long Shadow
Wonder no more. The new citizen video market is finally here, bolstered by the massive reach of Twitter's and Facebook's feeds, and it's ready to rewrite the rules of realtime reportage.
Downing now tells me that the company has launched a service for commercial users that allows clients to upload videos as long as 45 seconds, an eternity in a hyper-change age. It's all part of a trend that Downing says is the "TVfication of the Internet."
Such varied media as the Wall Street Journal, the San Jose Mercury News, and even the Dominican Republic's biggest newspaper now rely on short-attention-span video news. The Journal even dedicates an entire site to these fleeting moments, dubbed Worldstream.
The specialized needs of news media—chiefly authentication—are being addressed by such players as Storyful and Storymaker.
Meanwhile, consumers get to learn how to record ultra-short video messages that captivate their friends and family. One such service, Threadlife, believes that even six seconds is too long and limits your artistry to three seconds, although users can thread segments together.
It shows how vibrant the short-video market is that even as Facebook and Twitter battle each other, upstarts find room to grow.
As Campbell tells me: "It was an incredibly inspiring experience on an issue I can't believe we are still having to fight for. We'll be louder on Monday!"
The revolution is no longer being televised. In a world of Internet video gone mobile, there's no time to wait for that.