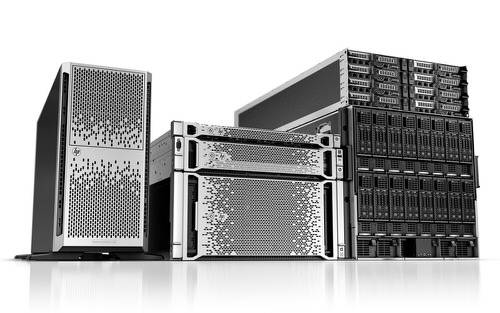 Who is the most successful server manufacturer today? Viewed one way, the answer is "no one". And that face is a dismal warning to traditional PC makers who are counting on servers to keep their businesses afloat as the PC market slowly disintegrates.
Hewlett-Packard, Dell, IBM, Fujitsu and Cisco sold the most servers during the fourth quarter of 2012, according to data released by IDC. But it's the "other" category that's scaring the pants off the others. That's a throng of second-tier and "white box" server vendors who collectively sold 879,711 servers during the quarter. Number one HP, by contrast, sold 663,598.
Look no further than IBM's reported plans to sell off its low-end serve business to Lenovo — likely Big Blue's attempt to escape an increasingly commoditized market while it still can.
True, IBM, HP, and Dell still each pull in more revenue than the the $1.86 billion amassed by the "others" horde. But that's cold comfort, given that low-cost unbranded servers are quickly eating into their markets. The commoditization trend is getting a hard push from companies like Google, Facebook and Rackspace, who are busily designing and building their own servers to power their huge data centers.
Server manufacturers are trying to shield themselves with software, services and support, three defenses against the Mongol horde of white boxes. Arguably, though, that hasn't worked for Big Blue, at least at the low end of PC-based servers. And there's no particular reason to think it will save HP or Dell over the long term, either.
On the surface, none of this will really disadvantage consumers or developers. It really doesn't matter to end users whose name is on the boxes that power Netflix, Evernote, Apple's iCloud, or Amazon. And there will always be a need for some sort of server, from somebody. In fact, commodization is an indirect but very real plus for users, since it lowers costs for Web providers, making possible an increasing lineup of innovative, and often free, Web services.
But it's definitely bad news for the server makers themselves.
This Has Been A Long Time Coming
Traditional PC manufacturers like IBM, HP and Dell have taken one hit to their businesses after another over the past decade or so. Desktop PCs started declining in price with the rise of the Internet, reducing the need to upgrade PCs. Then laptops ate further into that market as they began to rival desktop power while offering mobility.
Finally, tablets and smartphones tapped the cloud for computing and location, and far more cheaply, limiting the need for people to buy expensive laptops.
That left PC-based servers — and that market is now under siege as well. The days of the mainframes came and went, and most server infrastructure now runs on the Xeon processor, Intel's PC processor optimized for the enterprise. Traditional mainframe processors — IBM's Power, Oracle's Sparc — retreated to the ivory towers of research computing. Meanwhile, companies like former Taiwan motherboard makers Supermicro or Asus realized that they can assemble a notebook or server just as well as a Dell or HP, and for less.
As prices of traditional PCs fell, hardware makers turned to new tactics, loading up new machines with "crapware" ranging from trial versions of AOL to antivirus programs to games. Consumers hated it, but the revenue crapware provided, directly or indirectly, helped keep hardware makers afloat.
Unfortunately, there's no way to duplicate that strategy in the server space. IT managers don't want servers cluttered up with Adobe Flash, Cyberlink PowerDVD, Roxio Creator, or any of the other bloatware that Dell places on its PCs. They do, however, want some help just making sense of it all.
Geek Squad On Steroids
Enter "solutions," the jargon that dominates enterprise discussions. Suddenly, the PC turned server makers weren't selling a PC, monitor and printer; they were packaging together a server, associated storage, a network switch, security, migration, and engineering services and support to tie it all together. Put extremely simplistically, an enterprise solution is everything that the Geek Squad offers, just scaled up by orders of magnitude.
In 2012, for instance, Dell bought Clerity in order to help Dell Services "reduce the cost of transitioning business-critical applications and data from legacy computing systems and onto more modern architectures, including the cloud." In the PC space, that's called dumping the contents of Mom and Dad's old PC onto a USB key and loading it into Google Drive.
Then again, Dell's enterprise "solutions" business climbed 4 percent last quarter, and pulled in $19.4 billion for its last fiscal year — about a third of its revenue. Cha-ching.
The central idea of the enterprise solution isn't the packaging. It's the customization, and the investment. Hewlett-Packard, for example, offers a fairly substantive list of industry-specific solutions for aerospace, automotive, and media, among others, with each pitching an additional value-added service. This was a tactic the same companies never really deployed in the PC market, perhaps because they never saw the need — or couldn't justify the investment — in designing PCs optimized for, say, tax professionals.
Adding Value to a Commodity Business
Still, the "other" category is compelling evidence that a sizeable portion of the market seems to be unwilling to pay hardware makers for their services. Instead, they're pooling their resources. Massing and deploying large arrays of commodity hardware is the underlying principle behind everything from Hadoop — an open-source project for managing huge stores of data across distributed commodity servers — to the Open Compute Project. In that sense, the commodity server business is thriving.
And the PC makers themselves are helping it along, believing they can surf the trend by offering software and services on top of commodity hardware.
Dell's Data Center Solutions business, for instance, is a small but growing custom solutions business within Dell's larger server sales business. In January, Tracy Davis, the general manager of Dell DCS, attended the Open Compute Summit, whose principles include stripping the "vanity" logos from servers and replacing them with as much cost-optimized hardware as possible. Why would Dell participate in a forum seemingly designed to kill it off?
Davis told me that Dell is able to engage — and sell — everything from engineering services to Dell's ability to buy components all over the world. That's a competitive offering, not necessarily reflected in the bottom line, that still adds value to Dell's business versus a no-name, commodity server maker.
The Writing Is On The Wall
In some sense, things came to a head this week after CRN and other outlets reported that IBM was in talks with Lenovo to sell its low-end X86 server business for between $5 billion and $6 billion — an eerie parallel to the way Big Blue sold off its ThinkPad notebook business to Lenovo years ago. IBM hasn't confirmed or denied the talks.
"Assuming IBM divests [its] low end (low margin) x86 biz to Lenovo, HP and Dell should be concerned because Lenovo can make [money] and disrupt [the] space," Matt Eastwood, an IDC server analyst, wrote on Twitter. The idea, Eastwood and others suggested, was that IBM couldn't squeeze money from a commodity business. Lenovo can.
But what's the commodity? Generic servers? Not necessarily.
Solutions Can Be Commodities, Too
IBM's highest-profile service is Watson, the natural-language technology that beat several past "Jeopardy" champions and is being used in financial services and to help treat cancer patients. Watson and other related services run on servers based on its Power chips, not x86. Yes, IBM deploys a whole slew of services on its line of x86 servers — but they're awfully similar to what everyone else does, too.
Eventually, companies like ARM say, we'll all be running servers on the sort of low-power processors that power our cell phones, with the Web's basic functions — serving up static Web pages, for example — running on cheap, purpose-built machines. These aren't just commodity servers; these are commodity solutions. Meanwhile, companies like Google and Facebook are quietly building their own custom servers to fit their own, specialized needs.
Here's what IBM may be thinking. Since its highest-value, unique service offerings run on Power, they justify further investment. And if IBM can offer uniquely high-value services on top of the cheaper x86 boxes, then it should hold onto those, too. But if the company can't see customers turning to IBM for those solutions — either now or in the future — then IBM's justified for ditching them while the getting is good.
IBM led the way in pulling away from the PC in 2004, a controversial move at the time that now seems more than justified. If IBM takes the same approach with its x86 server business, it may be a similar harbinger of doom for other makers of x86 servers.
Image courtesy of Hewlett-Packard