Cloud and digital solutions provider Built.io has a new product to show off, one that reflects an increasingly connected digital world and a growing trend for services to help navigate it. Built.io Flow provides a way to link software, back-end systems, mobile apps, and even sensors and devices through a straightforward drag-and-drop interface.
Flow, previously available in beta, is now generally available to customers.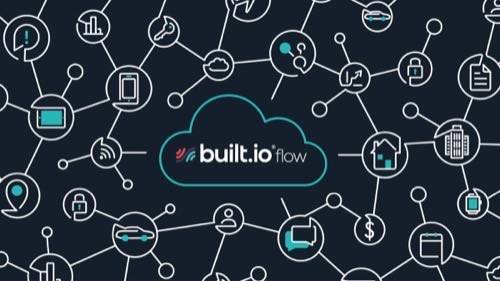 Built.io cofounders Neha Sampat and Matthew Baier gave ReadWrite a preview of Flow in April. Where Built.io's earlier products focused on letting nondevelopers participate in building mobile apps, Flow promised to "democratize integration," Baier told ReadWrite—specifically snapping together services via application programming interfaces, or APIs.
(Disclosure: Built.io is the sponsor of ReadWrite's Code section. Advertisers have no influence over ReadWrite's editorial coverage.)
You can think of Flow as a grown-up, enterprise-focused version of IFTTT (If This Then That), the free online service that builds recipes from triggers and actions. A new Dropbox edit can trigger an email, for example, or the location of an Android phone can trigger a Nest action (heating up your home nicely as soon as you leave the office perhaps). Zapier runs along similar lines.
The new Built.io Flow takes this idea and expands it.
"Built.io Flow allows any developer—and even nondevelopers—to connect software, systems, sensors and devices," explains the company. "Anything with a digital heartbeat and an API can now participate in automating business processes, boost the capabilities of mobile applications and enable faster innovation across the business."
Crucially, apps can be developed and tested quickly, saving time, effort and programming costs for businesses.
Built.io says the NBA's Sacramento Kings and YouTube are both already utilizing Flow to "power a new generation of connected experiences and ecosystems." As with IFTTT and Zapier, everything is accessed and run through the cloud, from design to deployment—there's no setup, installation or local software configuration to run through.
Trigger Happy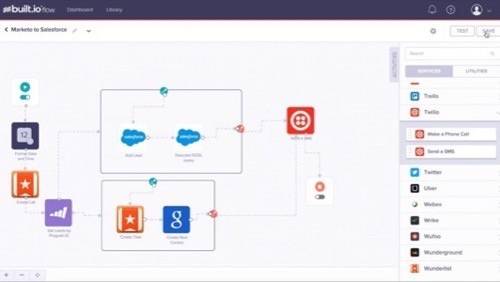 Enterprise customers can come to Built.io Flow to connect disparate elements—like a smart fridge and a cloud back-end—with a minimum of fuss. While IFTTT focuses on connecting consumer-friendly services like Instagram, Facebook, Dropbox, and Spotify, Flow features Amazon Web Services, Oracle, Slack, Marketo, and Salesforce as some of the platforms and services it can hook into.
The system uses application triggers to initiate workflows, triggers which can be visualized and tested in advance. An integrated Enterprise Gateway solution allows for the easy linking of firewalled systems to external cloud and Web-based services, while the visual designer interface is capable of producing sophisticated systems through straightforward flowcharts.
An advanced API builder allows for multiple API calls to be wrapped in a single entity, while Built.io says there are several hundred preconfigured, out-of-the-box connectors to popular enterprise software packages (including those we've already mentioned).
The fact that that integration extends to the Internet of Things gives Built.io Flow a physical foothold in the real world that expands the possibilities of the platform, from the cloud to mobile apps to gadgets. Flow is available to try now at www.built.io/flow.
Images courtesy of Built.io