As CEO of the sprawling blog network known as Cheezburger, Ben Huh is easily the master of memes. Since he purchased the funny cat picture blog I Can Has Cheezburger in 2007, Huh has steadily cultivated his media empire, which now includes sites such as The Daily What, FAIL blog and Know Your Meme.
Huh has expanded outside the funny Internet business, too. His mobile news publication Circa recently made headlines by hiring Reuters social-media editor Anthony DeRosa as editor in chief.
Huh's business prowess and easy-breezy philosophizing on Internet culture and humor have made him a conference panelist favorite, not least because he's managed to make a healthy profit off user generated "content" where YouTube and 4chan have so far failed.
ReadWrite caught up with the South Korean Internet-turned-mainstream celebrity to discuss everything from Huh's reality TV show and why he gets so much hate for his sites to his favorite meme. Here are some edited highlights from the conversation.
ReadWrite: First off, how closely are you actually related to Psy?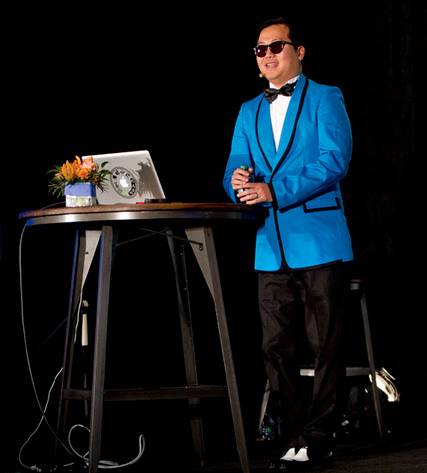 Ben Huh: [laughs] I think I am closely related on the resemblance side, but not in any kind of family tree. But even my mother says I look like Psy.
RW:So what's behind Reuters social media editor Anthony Rosa as the new Circa editor? That sent the press into a tizzy.
Huh: [laughs] I can't be happier—Matt [Galligan, the co-founder of Circa] has always liked Anthony, his style, his ability to leverage social media. I tweeted jokingly that a social media editor position can now lead to an editor position, but I really mean that.
I have a personal philosophy to live a very interesting life.
We live in a world where Twitter breaks news, and Anthony brings a strong voice, perspective, and he has an amazing ability to break, consume, and edit down news.
RW:You've also been in the news for laying off two dozen staff to focus on mobile strategy.
Huh: Yes, it was a very careful planning process, where we looked at revenue numbers and how much runway we had. People focus on the trauma of layoffs, but every single one of them was incredibly thought out, including, "how do we treat them fairly?"
It always sucks—it sucks the most for the people losing their jobs—so we arranged for outside companies to hold interviews [with our laid off employees] in our VP offices, and had HR help them re-write their resumes, anything we could.
RW:So what is the Cheezburger mobile strategy?
Huh: So we've reached the #1 mobile spot in the consumer entertainment category, which is great, because I don't consider it a mobile-first company like Circa.
People focus on the trauma of layoffs, but every single one of them was incredibly thought out, including, "how do we treat them fairly?"
We're currently deliberating, figuring out consumer content, because the phone and desktop experience are different—literally, people do different things, want different things on different platforms.
RW:Are you working on an algorithm right now to recommend content?
Huh: I really like human beings. So no, we won't have an algorithm to recommend content.
RW:Your Cheezburger media empire was the subject of a reality TV series, LOLwork this fall. What was that like?
Huh: Yeah, when a major TV network comes to you and says we'd like to do a weekly half-hour show on your company, you go, "let me think about how much marketing I can get out of it," and then you go, "Yes! I would love for you to do that!" [Laughs]
It was great marketing for the company, and we reached the people who don't live on the Internet. I have a personal philosophy to live a very interesting life.
You don't get a lot of offers to do a reality show, and even though I didn't have a big part in it, I thought it was fun to do. I had to negotiate to shrink my part down because I wanted to run the company and I didn't want the cameras following me around, but it was fun.
RW:I Can Has Cheezburger is no longer alone in the "aggregate and profit from funny and cute content from the Internet" realm. Buzzfeed, for instance, is quite aggressive, if not a competitor, and mainstream outlets now cover Internet culture, too.
Huh: Years ago when we got into the space, one of the big predictions I made was Internet culture is going to merge with pop culture. There is a transformation in the media being consumed, and that will change the culture that we appreciate.
To stay competitive, Cheezburger is becoming more consumer friendly, the audience has diversified, and we're putting a bigger and bigger effort on diversifying content.
RW:You've been criticized time and again for making money off of other people's free work, their intellectual property. At last year's ROFLCon, for instance, you had some men troll-protesting you for this very reason.
Huh: I view my business as no different than Twitter or Facebook or WordPress. Fact of the matter, my job, and the money I make, is because I provide a place, a platform for people to share their creations. This is about the new form of media and business, where we're all moving towards becoming enablers and aggregators and distributors versus the people doing the work themselves.
We were actually one of the first companies to have a meme generator online, in early 2007, and hundreds, if not millions of image macros have been created through our meme generators. That enablement is what allows us to be here today, and we're going to continue to do that.
For us, making money is a means of investing back into our business, and grow this idea of making people happy for five minutes a day.
RW: You also have to take criticism like that in stride.
Huh: Oh yeah, any business that hits a reasonable size scale gets criticized for something. We are not perfect, but I do find that argument to be really fascinating because user generated content as a method of generating money has been around for many years and is the dominant way social media works today.
But for some reason, because we use memes and we aggregate memes, we don't get the same kind of cred like Twitter or Facebook in the way we do our business. For example, Google built a technology that scrapes Internet websites and puts ads next to them. They're an enabler, and they are seen that way, but people don't tend to see us as an enabler, and I plan to change that.
RW:How?
Huh: You'll see. I can't say, except we're going to make remixing even easier, and we're putting our foot on that gas pedal and becoming more and more of an enabler.
RW:So not only are you cataloging and profiting off of memes, you are creating and reshaping meme culture.
Huh: I see my role here as a person whose job is to make playgrounds and keep them open. What you do on that playground is up to you, and what is awesome is watching people have a great time on that playground.
I am not moot [aka 4chan founder Christopher Poole], I am not doing Inception. I don't get to pick what becomes a meme, but I can make a place where me, my parents or my friends and their kids can come together and understand and accept meme culture as part of something they enjoy.
To stay competitive, Cheezburger is becoming more consumer friendly, the audience has diversified, and we're putting a bigger and bigger effort on diversifying content.
In 4chan's place, you can't do that. Kids should not go to /b/ [the shock-value "Random" imageboard on 4chan; Wikipedia link is SFW]. So it is just a different flavor of how to make internet culture accessible.
RW:Besides being off limits to children, what are your thoughts on /b/?
Huh: The /b/ board is like splitting the atom—it is incredibly powerful, yet you don't know if it is going to be used for good or bad. Is it going to be a nuclear weapon, or is it going to be used for nuclear energy? No one really knows.
RW:You compared Internet memes and culture to bad art, and explained how bad art can be beautiful, at the Museum of Contemporary Art in Chicago this winter. Can you recap?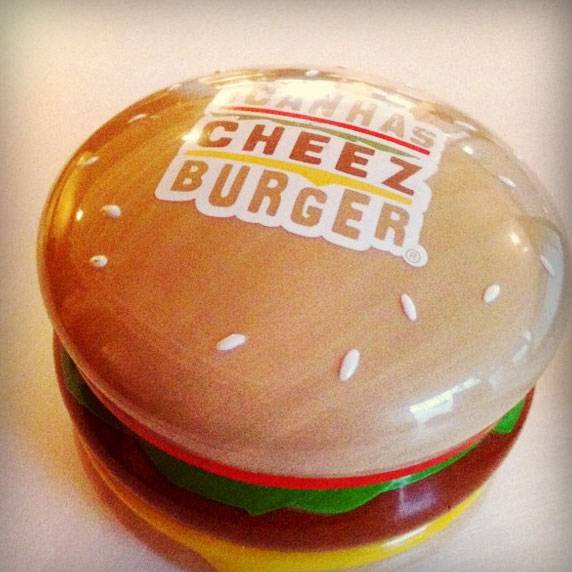 Huh: I use bad art as a way to discuss people's criticisms of Internet art, so image macros, viral content, Instagram photos, to talk about how cheaply they are made—art should take more effort than just putting a filter on an image, and art should be more than putting bad captions on a cat photo.
Yes, true, but we are entering an age where there is very little in the way between an idea and an expression online, and that means more and more people are participating in ways of expressing themselves. What we do is encourage that artistic expression even if we don't recognize their creations as "fine art."
Human beings have this incredible desire to connect and express themselves and that is what is filling up our time on the Internet, and I don't think that is bad. It is actually a wonderful thing.
RW:There are many people right now who hate the word "meme," like Evgeny Morozov, who recently tweeted about banning the word. Why do you think that is?
Huh: [laughs] Yes, let's have a writer suggest banning a word.
RW:I don't think he was serious—more reacting to its overuse.
Huh: Yeah. It is an overused word, and when you call everything one word, that word starts to lose its meaning. But memes exist whether we like it or not. That's like saying "I hate information, let's ban the use of the word information."
RW:What is your favorite meme?
Huh: One of my personal favorites is the lesser known "brushie brushie brushie"—where it's basically a picture of a bat being cleaned with a toothbrush. It's adorable and the bat looks pissed.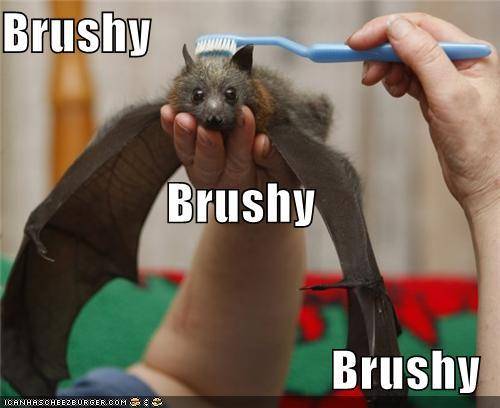 Image of Huh dressed as Psy courtesy of Emily Huh; LOLWork image via Amazon.com; cheezburger image via Flickr user turoczy, CC 2.0.