The city of Bangkok has implemented its first real-time traffic platform, able to help road users choose the faster route home on busy days.
Thailand's Highway Department (DOH) turned on some of the sensors, which detect Bluetooth or Wi-Fi signals in cars, earlier this year. It did so in preparation for Songkran, the country's three day New Year festival, which started on April 13 this year.
See Also: German regulators could clear the road for self-driving cars
During Songkran, millions in Bangkok leave the city to celebrate the event with families. In the past, that has caused road blocks lasting for hours, which is intolerable in Thailand's hot climate.
Traffic reduction had real impact
The reduction in traffic this year was noticeable, enough that the DOH asked for an expansion to the project to cover 250km of Bangkok's highways with more than 100 sensors.
Blip Systems, the Danish supplier of BlipTrack sensors, said the trial "showed great results" and the DOH were "very please with how fast the installation has been, the ease of configuration and the hardware reliability."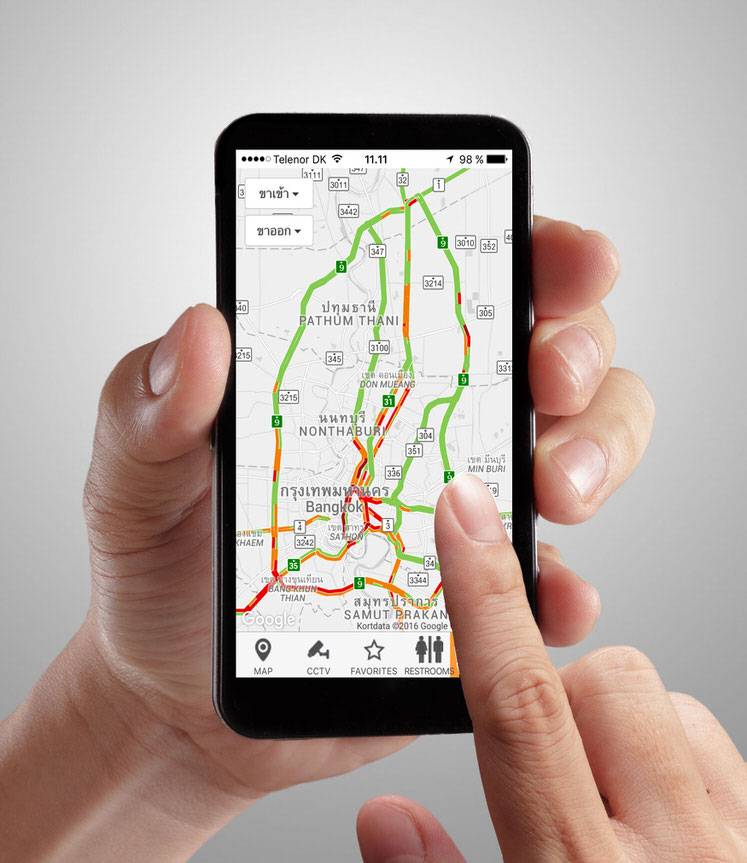 Drivers are able to see the real-time traffic on their phone, which also provides navigation across the country. A third of the population own a smartphone, and even more are now using feature phones that offer smart functionality, like Google Maps.
"BlipTrack helped Thai citizens to travel home faster during two major traffic events: Songkran and New Year holidays. The system allowed not only road users to decide route choices via travel time info online but also the Thai Highway Police to manage traffic in real-time," says Songrit Chayanan, Director of Samut Sakhon Highway District.
The DOH plans to use the data gathered by BlipTrack to optimize traffic flow, possibly by creating new routes or diverting traffic during rush hour.
Implementation of the real-time traffic system could be hugely impactful for the country, reducing congestion and pollution in the city center. This directly benefits businesses that receive and send parcels and improves mobility for workers in rural areas.
It is not Blip Systems first attempt at this, it has built similar traffic systems in Australia, Canada, the United Kingdom, and the United States, but this is one of the company's first successful endeavors in the developing world.