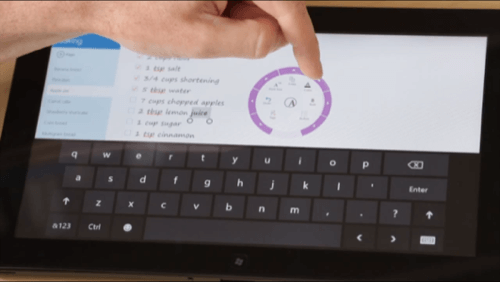 Friday, Microsoft launched two of its first apps truly optimized for touch and Windows 8, including the first use of its "radial menu" for Microsoft OneNote.
Both OneNote and Lync are available in the Windows Store, Microsoft said Friday in a blog post. While Windows RT includes OneNote, it does not include Lync. On the other hand, Microsoft has confirmed that people can download Lync from the Microsoft Store, and use it on Windows RT tablets, including the newly released Surface with Windows RT.
Microsoft has said the Windows RT tablets would receive a "final" version of Office soon, which is actually available via Windows Update as an optional update. That update should automatically download after a day or so, although people can also manually download it, as well.
Technically, all versions of Office, including the preview version that's built into Windows RT, have been retrofitted for touch. While both OneNote and Lync were designed to work well with mouse or keyboard, they were specifically redesigned to take advantage of touch, Microsoft said, a subtle difference.
In Outlook, for example, a feature called Touch Mode is turned on by default in "properly configured tablets," Microsoft said this summer. This increases the size of the Quick Access Toolbar and Ribbon tabs, adds spacing around small buttons in the Ribbon, increases the height of the status bar, turns on the Outlook touch triage action bar and adds space to expanded folders in Outlook, said Gray Knowlton, principal group program manager within the Office unit, in a blog post.
OneNote, however, tries something new: a radial menu that orients the commands around the user, rather than making him or her negotiate the legacy drop-down menus that populate the remainder of the new Office.
What is the Radial Menu?
When creating the new Office, Microsoft said that designers tried to accommodate different input methods.
"For example, a physical keyboard is optimal for large amounts of typing (still significantly faster than an on-screen keyboard for most people)," wrote Knowlton in a blog post in July. "A mouse is optimal for precise targeting, and touch is great for broad strokes such as scrolling and zooming. In some postures, such as standing, touch is the preferred input, while the efficiency of typing at a desk is hard to beat. Each posture and input characteristic is great for some jobs and not as good for others. We wanted to make sure Office apps felt intuitive, natural and comfortable as across different postures and different kinds of input."
However, Office for Windows 8 and RT takes a couple different approaches to touch, rather than one unified interface. he said this summer, for example, that Lync and OneNote would automatically invoke the software keyboard, for example, while the other desktop apps would use new specialized APIs. The APIs push content out of the way, so that the virtual keyboard doesn't cover what you type. Office also saves your popular document locations across devices, so that you don't have to negotiate document menus.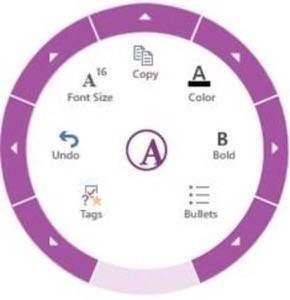 But the most intriguing element is the radial menu, which can be manually invoked. As the name suggests, the radial menu allows you to swipe, rather than tap, outward in a circle: instead of tapping a command to bold text, for example, you swipe right.
Continuing the swipe outwards brings up second-level commands. It's a bit different than the so-called MiniBar, a rectangular menu that accompanies frequently used commands in Word, for example. The two are quite similar, except that Minibar requires a tap, while the radial menu uses a swipe. That actually might make a difference in a jouncing train, where commuters are holding the Surface on either side.
In a way, OneNote and Lync are a bit like specialized versions of Word and Skype, respectively; OneNote allows you to create lists, capture items, and send information to others, while Lync is a business collaboration tool that includes video as well.
Will the radial menu replace Office's Ribbon? Almost certainly not, as there are only so many directional options that the interface allows for. But it might be a unifying element that pushes Office ahead.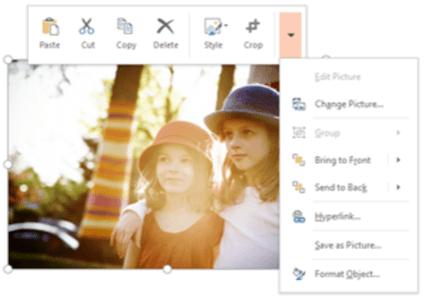 Office still seems somewhat caught between its legacy interface and the new Metro or Windows UI; Fast Company's Austin Carr has blogged about the discrepancies before, making the point that he finds it unlikely that data-driven programs like Excel will be more efficient on a mobile device; "don't expect Goldman Sachs to start forcing its M&A bankers to learn pivot tables on a Samsung tablet anytime soon," he writes.
But, as Knowlton notes, users have a variety of different ways of interacting with Office content, including touch and the traditional keyboard. OneNote's radial menu might not necessarily be the right direction, but recall that previous versions of Office have lionized the Ribbon interface, for example. And — this might have played a role — both Google and Apple were issued patents for radial menus in late July and August, respectively, just days after Microsoft publicly revealed its Office plans.
Microsoft hasn't said how broadly the radial menu will be adopted. And a pessimist might wonder at the combination of interfaces within Windows 8: the horizontal swiping found within the Metro environment, the more traditional menu-driven desktop mode, and the MiniBar and radial menus that Microsoft has adopted within its apps. Still, there's no question that the radial menu feels fresh, as Windows 8 itself does. Is the Radial menu a trial balloon, or the way forward? It may be the latter.