Welcome to the wild new world of third-party watch bands for the Apple Watch, one that will encompass everything from design accessories to straps that attempt to add new functions to Apple's smartwatch—at least one via a "hidden" port in the watch itself.
Apple just formally welcomed accessory makers to the party with its official Band Design Guidelines. These set out the measurements and materials third-party firms must use if they're to get the "Made for Apple Watch" badge of approval.
The guidelines are accompanied by some exacting environmental requirements and a comprehensive set of technical drawings, but there's no mention of the hidden 6-pin diagnostic port on each watch that could provide charging and data transfer capabilities.
This port has been one of the most intriguing subplots in the Apple Watch story so far: Does it exist? (Yes.) Will it make it to retail models? (Yes.) What does it do? (We're still not exactly sure.)
Apple has never made any official reference to the port—neither in its band guidelines or during its various public events—so we don't have much to go on. The iFixit teardown confirmed the port is there, and the general assumption has been that it's intended for developer and technician use only.
As far as straps are concerned, Apple's new guidelines suggest it wants accessory makers to focus on alternative looks and styles for the timepiece rather than adding any specific new functionality. The bands must be durable, resistant to the elements and able to keep the watch in contact with the wearer's skin, Apple says.
Officially approved bands are also required to be non-magnetic to avoid interfering with the heart rate sensor built into the new wearable.
The approach contrasts with Pebble's more open strategy, where smartstrap makers are encouraged to add as much functionality and extra gadgetry as they can. GPS, Wi-Fi and battery packs are all on the table, not just different colors and styles.
The Reserve Strap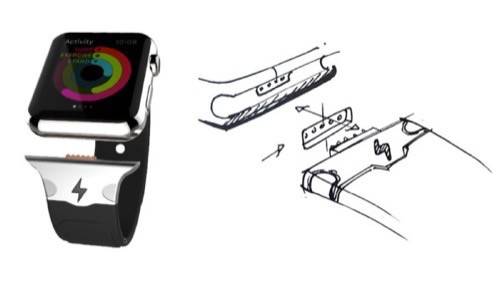 Whatever Apple's guidelines say, at least one company is planning to create an Apple Watch strap that can boost the device's battery. The Reserve Strap, a project by Mutual Mobile, was first conceived as a chunky band that wrapped around the watch with cut-out holes for the sensors.
Since the Reserve Strap team has had time to play with an actual Apple Watch, they've refined their prototype product to make it thinner, lighter … and reliant on the 6-pin diagnostic port. That move is sure to test the limits of what Apple is prepared to allow from watch accessories.
By using the port the Reserve Strap can charge faster and store more power, according to its makers.
"We just confirmed our prototype device is capable of charging the Apple Watch," Mutual Mobile founder John Arrow told ReadWrite in an email. "Based on initial testing we are extremely confident that the Reserve Strap will be able to extend the Apple Watch battery life by up to 125 percent for both the 38mm and 42mm models."
"The best part is that our current prototype design now makes use of the 6 pin 'diagnostic port' built into every Apple Watch," he continued. "This means that the Reserve Strap will NOT block any of the Apple Watch's sensors and will be even slimmer than the original renderings on the Reserve Strap website."
Preorders for the Reserve Strap are open now—for the substantial sum of $249—but development is still at an early stage, and there's no fixed launch date. The company says it will provide a tool with each strap to enable users to open up the 6-pin port on their watches.
It's going to be interesting to see whether or not Apple allows this kind of accessory, or indeed if it can do anything to stop it—presumably the port could be disabled or tweaked in a future OS update, but at this stage it's difficult to know for sure.
Lead image by Shinya Suzuki; Reserve Strap image courtesy of Reserve Strap