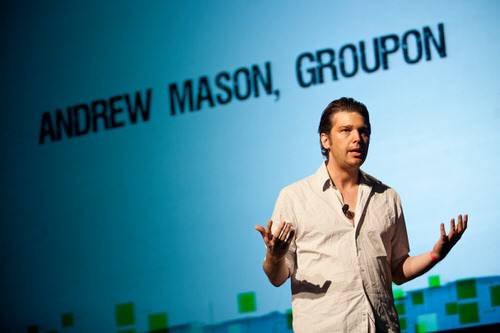 Andrew Mason finally found out that running the controversial deals site Groupon was no bargain. Mason, who founded the company, was unceremoniously ousted as CEO earlier on Thursday, following a rotten earnings report on Wednesday that capped more than a year of problematic performance and clashes with the SEC at the once-hot startup.
Mason bluntly told Groupon employees in a statement he apparently made public: "I was fired today. If you're wondering why… you haven't been paying attention." (The text of that statement — notable for its honesty, self-effacing humor and a faint echo of Conan O'Brien's announcement following his defenestration from the Tonight Show — follows below.)
Mason's departure has been the subject of speculation and outright investor hostility for some time. Groupon shares, which had fallen almost 80% since the company's $20-a-share IPO in 2011, jumped roughly 8% in after-hours trading on the news of his ousting. A couple of hours later, the stock's bounce had evened out to roughly a 4% increase, up 16 cents to $4.68.
The Groupon board named the company's executive chairman Eric Lefkofsky and vice chairman Ted Leonsis as interim co-CEOs, and said it has already started looking for a new permanent CEO. For the moment, though, that leaves Groupon in the hands of a former carpet salesman turned billionaire entrepreneur and the former vice chairman of AOL. Hard to see what could go wrong there.
How The Deal Went Sour
Founded in 2008, Groupon went public with a bang three years later in the company of other hot tech startups such as LinkedIn and Skype. Fevered trading on its first day as a public company pushed Groupon's market valuation to $16.7 billion — seemingly justifying the company's decision a year earlier to spurn a $6 billion acquisition offer from Google.
(See also: Groupon Stock Goes On Fire Sale, But What Went So Wrong?)
Groupon's underlying issues, however, predated its IPO. In a tactic reminiscent of the dot-com bubble, the company downplayed its actual reported income and instead emphasized a made-up figure called ACSOI, or "adjusted consolidated segment operating income" that excluded a few costs — inconsequential things, really. Like marketing expenses. But some stick-in-the-muds insisted on pointing out that since Groupon's deals machine actually leaned rather heavily on, y'know, marketing — those inescapable daily-deal emails didn't write themselves — the company's insistence on ACSOI was just a tad problematic. Eventually, the SEC agreed, and its pointed questions eventually forced Groupon to drop the whole thing.
There were other issues, of course. Like the way Groupon decided to spend almost 85% of all the venture capital it had raised — the princely sum of $941.7 million, in other words — not to build up its business, but to cash out founders and other early backers. Or the way it so many people kept concluding that its business model strongly resembled a Ponzischeme.
Groupon Adapts — Or Maladapts
Over the past year, Groupon has struggled to adjust to its diminished expectations. In a tacit acknowledgement that the daily-deals space was looking a bit overfished, the company de-emphasized deals on services such as yoga sessions and spa treatments and instead expanded into offering deeply discounted offers on actual products — an even lower-margin business that contributed to the company's earnings misses in both the third and fourth quarters.
Likewise, Groupon aimed to take on the likes of Square by offering its participating merchants a new electronic payment system, another initiative that would have taken more time than Mason had to produce a real return of any kind.
Which leaves Messrs. Lefkofsky and Leonsis with a couple of awkward questions. Can they find anyone to run this ongoing mess of a company? And why would anyone want to?
Here's Mason's statement:
(This is for Groupon employees, but I'm posting it publicly since it will leak anyway)
People of Groupon,
After four and a half intense and wonderful years as CEO of Groupon, I've decided that I'd like to spend more time with my family. Just kidding – I was fired today. If you're wondering why… you haven't been paying attention. From controversial metrics in our S1 to our material weakness to two quarters of missing our own expectations and a stock price that's hovering around one quarter of our listing price, the events of the last year and a half speak for themselves. As CEO, I am accountable.
You are doing amazing things at Groupon, and you deserve the outside world to give you a second chance. I'm getting in the way of that. A fresh CEO earns you that chance. The board is aligned behind the strategy we've shared over the last few months, and I've never seen you working together more effectively as a global company – it's time to give Groupon a relief valve from the public noise.
For those who are concerned about me, please don't be – I love Groupon, and I'm terribly proud of what we've created. I'm OK with having failed at this part of the journey. If Groupon was Battletoads, it would be like I made it all the way to the Terra Tubes without dying on my first ever play through. I am so lucky to have had the opportunity to take the company this far with all of you. I'll now take some time to decompress (FYI I'm looking for a good fat camp to lose my Groupon 40, if anyone has a suggestion), and then maybe I'll figure out how to channel this experience into something productive.
If there's one piece of wisdom that this simple pilgrim would like to impart upon you: have the courage to start with the customer. My biggest regrets are the moments that I let a lack of data override my intuition on what's best for our customers. This leadership change gives you some breathing room to break bad habits and deliver sustainable customer happiness – don't waste the opportunity!
I will miss you terribly.
Love,
Andrew
Lead image via Flickr user TechCrunch, CC 2.0