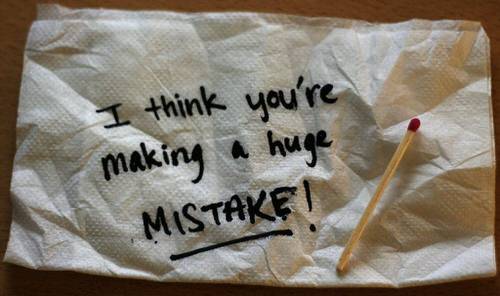 Failure can be devastating, but business owners who dust themselves off after a decision gone awry are often better for it. Learning the hard way can lead to better processes, stronger hires and improved customer retention, to name a few upsides.
We asked several successful entrepreneurs from the Young Entrepreneur Council (YEC) to share which decision of late had truly terrible consequences—and what they learned from it.
1. Assuming I Knew What My Customers Wanted

I made the mistake of putting time into a new feature that none of my customers liked. The new feature provided our customers with an RSS feed to read instead of delivering email alerts.
I quickly realized that none of my customers used RSS readers, which was a surprise to me. Plus, the new feature we added crowded our user interface.
We decided to hide the new feature, but it's still available to anyone who requests it. Now we never spend time developing a new feature unless some of our customers find it valuable. —Lee McNiel, ReviewPush
2. Miscalculating My Team's Capabilities

In the early stages, I tried to get my CFOs to take an active business development role. I was looking to expand my business development capabilities and thought that having a team of professionals assisting in this effort would be helpful.
It wasn't. My CFOs are fantastically knowledgeable financial professionals; they are not salespeople. From this mistake, I realized that you can't expect your team to take on roles and responsibilities that they are not well-suited for. Instead, I've had to take a fresh approach to business development. —David Ehrenberg, Early Growth Financial Services
3. Pigeonholing My Demographic

The single worst mistake I made with my startup was not knowing my market properly. While we had one demographic in one location, it changed in a new location. I didn't adjust anything when moving; I just re-setup the same inventory and expected the same sales and profits. The same products that would sell well in the older location sat stagnant.
Once I understood the reason behind the drop in sales, I had to mark the products down and clearance them, sometimes selling at a loss. It was costly learning the new market and providing customers with goods that they actually wanted and not what I thought they wanted. It was the single best lesson learned and stemmed from my worst business mistake: always know your market. —Jay Wu, Best Drug Rehabilitation
4. Overvaluing Experience, Undervaluing Personality

In the early days, I trusted an industry veteran's advice to change our hiring profile from personality- and capability-based hiring to skill-based hiring. This led to a significant waste in resources and a negative change in culture, which slowed company growth.
Once we recognized the issues with our hiring methods, we combined both strategies to better inform our hiring decisions going forward. —John Berkowitz, Yodle
5. Hiring the Wrong Person
This is a fairly common mistake. I would be hard-pressed to find an entrepreneur who has never hired the wrong person.
After I had established my personal brand and was beginning to see steady income from my efforts, I decided it might be time to bring in someone else to manage the day to day of things. Despite what I thought was excellent training, the individual simply did not have close to the passion I had for my platform and subsequently soured multiple relationships with organizations because of poor communication and a non-professional approach.
In hindsight, I should have positioned more scenarios to potential hires during the interview process and tested their responses out to determine if they would have the handled situations in the way I wanted. —Michael Costigan, Youth Leadership Specialist
6. Choosing Cheap

When I was first designing TheBeautyBean.com, I chose to save money by working with a less expensive developer/designer. Big mistake! I ended up having to walk away from that deal and start all over again. Sure, saving money and finding cost-effective solutions is important in a startup, but make sure you're not pinching pennies now in a way that will ultimately cost you more later. —Alexis Wolfer, The Beauty Bean
7. Hiring Based on Previous Experience

I hired a top-shelf COO who took a company from 10 people to more than 600 in the course of eight years. I learned that pasts do not equal futures, and it's much better to hire someone at a much lower salary who has most of the qualifications for the job and is eager to prove himself. If you nurture someone and help him grow in your organization, he will typically be loyal and dependable. —Ziver Birg, ZIVELO
8. Picking the Wrong Partners

When you're starting up, it's only natural to seek out people who can join you along the journey. Ultimately, I found that I was better off on my own, though I've been lucky enough to find a few good people along the way. In other cases, I let people into the business a little too easily, making for a headache later when it didn't work out.
I implore entrepreneurs to first asses the value of any potential partner, ensure there are very clear expectations for what each partner is to deliver and to have an out if worse comes to worst. The business needs to always come first. If someone is not positively impacting the business, that needs to change or the person needs to go. —Andy Karuza, brandbuddee
Lead image via Flickr user doobybrain, CC 2.0