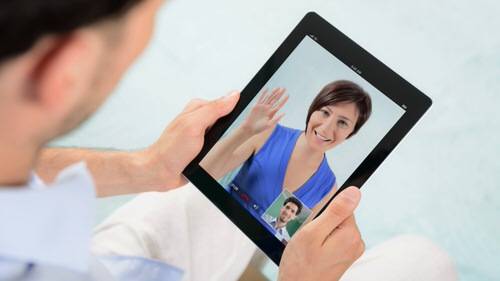 If you are bored with the likes of Skype, FaceTime or Google Hangouts or simply want to see what else is out there, here is some fun new video-chat candy to check out.
Skype? Dinosaur. Airtime? Flop. FaceTime and Google Hangouts? Bland. As defaults, they are just there with an Apple device or a Google account. Workable, sure, but are they going to blow your mind in terms of functionality? Maybe a few years ago. If you're ready to see the latest in the world of video chat (and even if you aren't), I've got some goodies for you. Here are a few of my favorite video chat applications as of late. I know you were always told not to take things from strangers, but I promise, this candy for your eyes is totally safe.
Perch
Perch bills itself as an always-on video portal. This is perfect for a remote workforce. Let's say you work from home (sorry, Yahoo workers) and you want to stay in touch with the rest of your design team at company HQ. Simply mount an iPad on the wall in your workspace and mount another near a colleague's desk in the office. Fire up Perch and it's like you're there. Perch auto-detects a person looking at the screen and knows it's time to unmute and let you talk. With multiple connected devices it's easy to switch between different locations.
Sqwiggle
Sqwiggle is very similar to Perch in that it functions as an always-on video connection that is perfectly suited for the remote workforce. It differs in a few interesting ways, though. First, Sqwiggle lets you break out into teams (group video chats) rather than focusing on one individual portal. Additionally, the entire team can use a feature called stream (a chat box on the side of the screen) to share things like links, code, photos or video. It's a lightweight version of something like Teambox (which just added video chat, too).
Rabbit
Rabbit has positioned itself for the non-business consumer set. It's geared toward letting you hangout with your friends when you are all in different places. Like what? You can actually watch videos or listen to music together with your friends online. Want to share your photos with your friends in real time? With Rabbit you can.
Glide
Nope, I haven't forgotten about your smartphone. Enter Glide, an app that facilitates video texting. This is a really cool concept that lets you send your friends video messages that can either be viewed live or later. Since everything gets saved in the cloud, you don't have to worry about being out of the loop if you are offline for any reason. Glide lets you talk to your fiends either individually or as a group. No need to schedule anything in advance. The autoplay feature lets you relive conversations as they happened. If you need it, texting through Glide is still an option.
ooVoo
ooVoo tries to do it all. It works on your desktop (Mac and PC), as well as on your mobile. It does group video chat (with up to 12 people) and lets you record all the action for later. ooVoo lets you leave video messages up to five minutes long for those absent. You can share files, chat, share your screen or consume content together. On top of all of that, you can make free voice calls. Note: the PC version is currently much more robust than the Mac version.