Google has officially revealed Jump, an open-source VR platform that includes plans for a 16-camera array capable of filming 360-degree, three-dimensional pictures and video.
Clay Bavor, the creator of Google Cardboard and a vice president of product management at the company, announced the new platform at Google I/O Thursday. Here's how he described it:
It's about capturing and sharing these real-world experiences, like the great wall, the coral reef, in an entirely new way, one that looks and feels like you're actually there. Because the world is filled with all these awesome places and events, like Great Barrier Reefs, and Golden Gate Bridges, and birthday parties and mountain tops.
Jumping In With Hardware And Software
There are three main components to Jump: the aforementioned 16-camera rig that relies on "very specialized geometry," an assembler that takes raw footage and compiles it into VR video, and a player—which Bavor revealed will live inside Google-owned YouTube.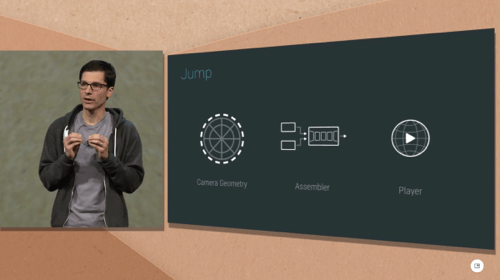 The plans for the array itself will be made available to anyone who wants to make one, meaning that, just like Google Cardboard's launch from 2014, any company will be able to make and sell a Jump array.
Moreover, users can buy any still or video cameras off the shelf and slide them into the rig to start taking 360-degree 3D videos, though Google also announced a partnership with GoPro, which will result in what's likely to be the highest-end iterations of the Jump camera set up. No word yet on when we'll see that, or how much it'll cost.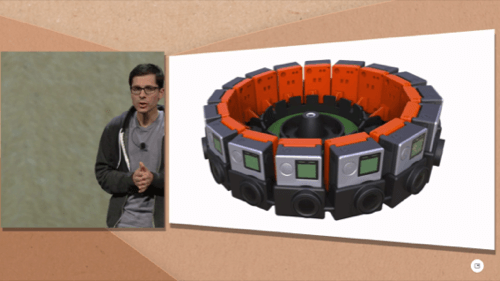 With regard to the assembler, which pieces all 16 cameras' footage into one VR video, Bavor explained it relies on "computational photography, computer vision, and a whole lot of computers to recreate the scene as viewed from thousands of in between viewpoints everywhere along the circumference."
The result is not just a circular video, but a stereoscopic one, meaning that it'll offer users full 3D video in whatever headset they decide to use. And since the videos will be available on YouTube, there will be very few barriers between content and potential viewers.
That's what makes Jump such a huge reveal: Google has managed to offer a solution to the big VR content problem. Having a virtual reality headset is all fine and good, but unless you have something to use it with, it'll gather dust. With Jump, professional and amateur video creators will suddenly fill the VR void with tons of videos on YouTube.
We're about to enter the first VR video boom.
Cardboard and Expeditions
While Jump was the biggest reveal of Bavor's presentation, he also offered up exciting details about the future of Cardboard, and a new educational initiative called Expeditions.
Since 2014's Cardboard model was built for midsized phones, 2015's model takes the phablet craze into account, supporting handsets with displays of up to six inches. The new Cardboard's construction has also gotten a lot simpler, with the magnetic ring being replaced by a single button, and a three-step construction process.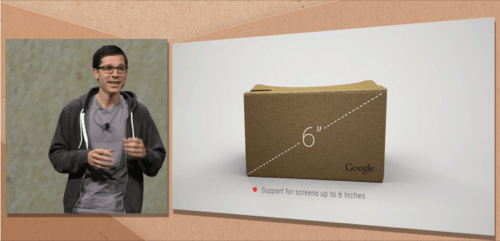 Best of all, the new Cardboard will also be compatible with iPhones, revealing a willingness on Apple's part to let Google through the App Store door for its virtual-reality efforts.
Expeditions, meanwhile, will bring Cardboard headsets and handsets to schools looking to dive into a virtual reality-based curriculum, controlled by one teacher tablet.
While it's too soon to say whether or not Expeditions will truly take off, it seems like a low-cost way to prove the educational possibilities of virtual reality in general, and mobile VR specifically.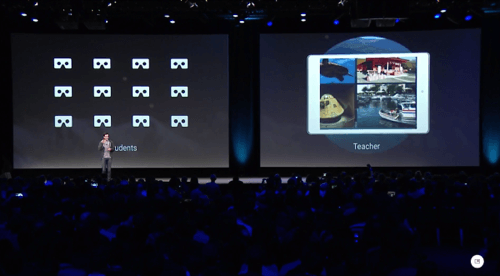 Expeditions will start to roll out to more schools later this fall, while Jump will get underway this summer. The VR revolution seems to be just around the corner, and Google looks to be leading the charge.
Screenshots by Brian P. Rubin for ReadWrite