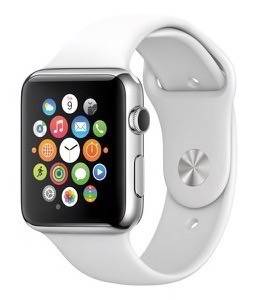 We already knew that the Apple Watch, due to finally launch in April, will feature fitness applications. Now it may have its first health-related app as well.
Over the weekend, the Wall Street Journal reported that a new Apple Watch app is on the way from DexCom, a California company that provides diabetics with devices for continuous glucose monitoring, or CGM. According to the WSJ, the app will display real-time glucose readings in a "simple graph that is just a glance at the wrist away."
Although Apple hasn't yet officially approved any third-party apps for its smartwatch, the WSJ reports that DexCom's app will launch when the Apple Watch itself does. Thanks to recent regulatory changes, the app doesn't require advance FDA approval, although DexCom's software developers still have to follow the agency's regulations with regard to medical devices.
The WSJ story, however, leaves several important questions unanswered. It's not clear, for instance, exactly how the watch will pull in glucose data, whether it will have to pair with an iPhone app, or where it will store that data.
Simplify, Simplify—Or Not
Perhaps the biggest question is how—and by how much—such an app can actually simplify life for diabetics. Particularly, that is, for the "type 1" diabetics this app is aimed at, who must routinely monitor their glucose levels in order to adjust their insulin dosage throughout the day.
The DexCom CGM system consists of a small sensor with a fine needle and an associated handheld monitor (see photo above). Diabetics attach the sensor to their body, where it takes glucose readings under the skin and sends data to the monitor.
For technical reasons, type 1 diabetics using CGM systems still have to carry conventional glucose monitors, which take readings from a small drop of blood. Many also wear insulin pumps—small devices that automatically deliver medication without the need for syringes.
In other words, type 1 diabetics are already festooned with devices. The new app looks likely to add more—and without lightening the load of existing gadgets, either.
On Monday, the site 9to5Mac published a purported DexCom image that shows glucose data simultaneously appearing on an iPhone and an Apple Watch. Similarly, late last month DexCom announced FDA approval of a CGM system that wirelessly transmits data from the CGM monitor to other mobile devices—specifically smartphones.
So getting glucose data all the way to the Apple Watch will almost certainly involve an ungainly daisy chain of devices and wireless connections—for instance, CGM sensor to CGM monitor to iPhone to watch. Even if the watch app can communicate directly with the CGM monitor, that's still three different devices users have to keep with them, two different wireless connections that have to work at least passably well, and a complex new constellation of interactions for average users to troubleshoot if and when things go wrong.
Richard Hayes, a type 1 diabetic who commented on the WSJ story, rejoiced that "Dexcom's watch software is going to give me back my left pants pocket!"—presumably by making it unnecessary for him to carry the CGM monitor. Unfortunately for Hayes and other diabetics, that seems unlikely to be the case.
Still, it's a start. There's no word yet on whether DexCom plans on releasing a wearable-compatible app for Android Wear devices, but wearable medical innovations like this one are just the leading edge of a new trend. Don't be surprised to see other health conscious apps making their way to the world of wearables over the next few months.
Lead photo courtesy of Apple; glucose monitor photo courtesy of DexCom