Sometimes an untruth is so breathtaking in its audacity that you have to at least admire the chutzpah that gave it birth. Take, for example, IBM's claim that it now does $7 billion in "cloud revenue," making it the world's "largest cloud provider," as a spokesperson told GigaOm's Barb Darrow.
While IBM is a credible cloud provider, its claims are wishful thinking, at best.
In fact, the only serious cloud competition to Amazon Web Services (AWS) remains Microsoft, with Google also mounting a challenge. IBM? Not so much.
Everybody Wants To Rule The World
Not that IBM is alone in its myth-making. Just six months ago Microsoft went on the offensive, touting its overall cloud numbers as a multi-billion dollar machine. This led at least one analyst to proclaim Microsoft the top cloud by revenue.
If only.
As it turns out, Microsoft was (openly) adding in things like Office 365 to that overall cloud number. While fair, when we're crowning cloud providers most tend to think of Infrastructure-as-a-Service (IaaS) or Platform-as-a-Service (PaaS), not Software-as-a-Service (SaaS).
Or, in the case of IBM, its crufty old managed hosting business or other "cloud" outsourcing deals.
This isn't the first time that IBM has fudged the numbers to make its cloud business look bigger than it is. Back in 2013, IBM launched a marketing campaign around AWS re:Invent with a variety of bold claims, none of which had much grounding in fact. One claim, for example, asked, "Whose cloud powers 270,000 more websites than Amazon? If your answer is IBM, you're among the well informed."
Well, no. If you answered that, you're among the Big Blue-wearing gullible.
Not only is IBM a relatively tiny cloud compared to AWS, it's also not nearly as enterprise-ready, as an analysis by Gartner shows. AWS covers 92% of the enterprise use cases delineated by Gartner as essential. Microsoft Azure, a distant second, hits 76%. IBM? It sits well behind the pack, despite its enterprise DNA.
Big And Getting Bigger
Martin Schroeter, IBM's senior vice president and chief financial officer, touted IBM's cloud growth on the company's recent earnings call:
Together cloud, analytics, mobile, social and security generated $25 billion in revenue, which is 27% of IBM….Analytics was up 7% on a large base. And with 60% revenue growth, our cloud business is substantial. It's now $7 billion in revenue, and we exited the year with an annual as-a-Service run rate of $3.5 billion. That's up from $2.2 billion a year ago.
That's great (once we parse the "cloud" numbers correctly), but it pales in comparison to AWS' dedicated, cloud only business.
As Benedict Evans captures, Amazon's "other" revenue, which is mostly its AWS business, is on a tear, and is 100% cloud: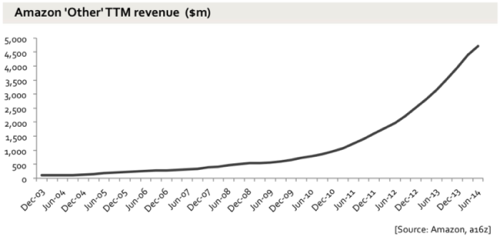 While AWS may have given a little ground—as of 2013 it was estimated by Gartner's Lydia Leong to be five times the utilized capacity of its next 14 largest competitors combined – it still dwarfs IBM and every other vendor. Such "relentless economies of scale," as Redmonk analyst Stephen O'Grady notes, makes for "daunting" competition: AWS' cost advantages just keep getting better, even as it builds out proprietary networking and other infrastructure to ensure top performance.
What does this scale look like? As AWS engineer James Hamilton declared recently, "Every day, AWS adds enough new server capacity to support all of Amazon's global infrastructure when it was a $7B annual revenue enterprise (in 2004)."
In other words, enough capacity to support IBM's so-called $7 billion cloud business. Every. Single. Day.
Stick To The Facts
None of which is meant to disparage IBM's cloud business. Softlayer, the underlying infrastructure powering IBM's IaaS business, is awesome and likely to keep getting better.
But IBM poorly serves its customers when it dupes them into believing it is more successful than it is. Fortunately, as a Piper Jaffray survey indicates, few are fooled:
IBM, like Microsoft before it, would do better to focus on building out its cloud to rival AWS in functionality even as it carves out its own approach to cloud. Microsoft's Azure cloud business has soared as a result of this strategy, generating real, substantial growth. So long as IBM keeps pretending to a throne it doesn't deserve, it will remain an also-ran in the battle of the clouds.