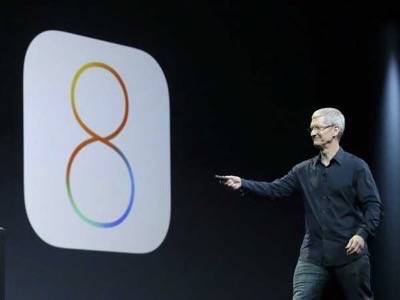 iOS 8, Apple's highly anticipated free software upgrade for iDevices, has finally dropped. There are some great features we're looking forward to, including HealthKit, family sharing, and wireless document sharing between Macs and iDevices.
Upgrading to iOS 8 won't be as visually jarring as upgrading to iOS 7 was last year—the changes are more technical than aesthetic. You might already be chomping at the bit to upgrade in order to reply in-line to drop-down notifications from the Notification Center or to send voice texts to your friends on iMessage.
See Also: Apple's iOS 8: What You Need To Know About Its New Features
The upgrade sounds great, and for many iDevice users, it will be a welcome upgrade. But there are some good reasons to hold off for a while unless you just can't help yourself.
So, don't upgrade if—
You Haven't Backed Up Your Device
Before doing anything, connect your device to iTunes and back it up. Many users have the option to back up their phone automatically, but double check your settings to make sure you don't lose anything while upgrading. If you do, you'll be able to access it from iCloud or a local hard drive—wherever your backup is stored.
You Have An Older iDevice
Older iOS devices may suffer the same fate many iPhone 4 users experienced when they upgraded to iOS 7: laggy response that can border on outright failure.
According to a report from Ars Technica, the iPhone 4S doesn't benefit from new features in iOS 8, and its small 3.5-inch screen makes the new operating system, which is built for bigger screens, seem cramped.
The iPad 2, first generation iPad Mini, and fifth generation iPod are also able to upgrade to iOS 8. But considering the sluggishness most older devices experience when upgrading operating systems meant for iPhones with greater processing power, it might be a good idea to hold off. This could change with future updates, but for now, you might want to stick to iOS 7.
You Expect Perfection
There are bound to be some bugs in this first release, and if you don't want to deal with the hiccups, don't upgrade yet. Apple will deal with them over time.
You Want To Keep Your Jailbreak
Jailbreaking provides iDevice users with a range of options not provided by the operating system itself. The iOS 8 jailbreak isn't available yet, so if you want to keep your customized iPhone, hold off until you can download the untethered jailbreak.
On the other hand, iOS 8 offers many of the advantages you could previously only get by jailbreaking, such as "actionable" notifications and the ability to choose a new keyboard. So this point may be less important to many users than it used to be.
Your Favorite Apps Aren't Also Upgraded
Although most developers have had their hands on a beta version of iOS 8 getting their apps ready for the public release, chances are some aren't optimized for this latest software upgrade. Whether they're stuck in the Apple approval queue or delayed in optimizing for the features available in iOS 8 like Family Share, some apps might not be ready for iOS 8.
That doesn't mean they won't work at all, just that they might look less-than-perfect on the bigger iPhone 6 screens and that they won't take advantage of new iOS 8 features. This Daily Dot report notes that many app developers may be slower than usual to update their apps for iOS 8, quoting one anonymous developer who calls the Apple software development kit "a freakin' headache."
You Think You Might Change Your Mind
If history is any guide, it will be difficult-bordering-on-impossible to downgrade back to iOS 7 from iOS 8. So make sure you're really ready to take the plunge before you do.
Lead image by Apple